Location Tracking for Mac devices
At times it becomes important to collect the location of the devices while they are on field. With the Scalefusion MDM agent application for Mac, you can track locations of macOS devices.
This document explains settings that need to be configured for tracking locations of Scalefusion managed Mac devices and view them on Dashboard.
Prerequisites
The devices should have Mac version 10.15 and above
Mac devices should be enrolled with Scalefusion.
Scalefusion MDM client v1.1.0 or above should be installed on Mac devices.
Step 1: Configuring Location Settings on Dashboard
Login to Scalefusion Dashboard.
Navigate to Location & GeoFencing > Location Settings.
Following settings can be configured for mac devices:

Enable/Disable Location Tracking: Enable this setting to turn on Location tracking and set other configurations.
Location Tracking Mode: There are three modes for tracking Location:

Basic
High Accuracy
Fleet Tracking
These are accessible based on the plan you have purchased.

Location Collection Frequency: Choose a frequency in which the locations should be synced with server and reflected on dashboard. Frequencies differ on the basis of the Location Tracking Mode you have chosen


| | |
| --- | --- |
| Tracking Mode | Frequency (in Minutes) |
| Basic | Choose one from the following: |
| High Accuracy | Choose one from the following: |
| Fleet Tracking | Choose one from the following: |

Once you have chosen the configurations, click the button SAVE SETTINGS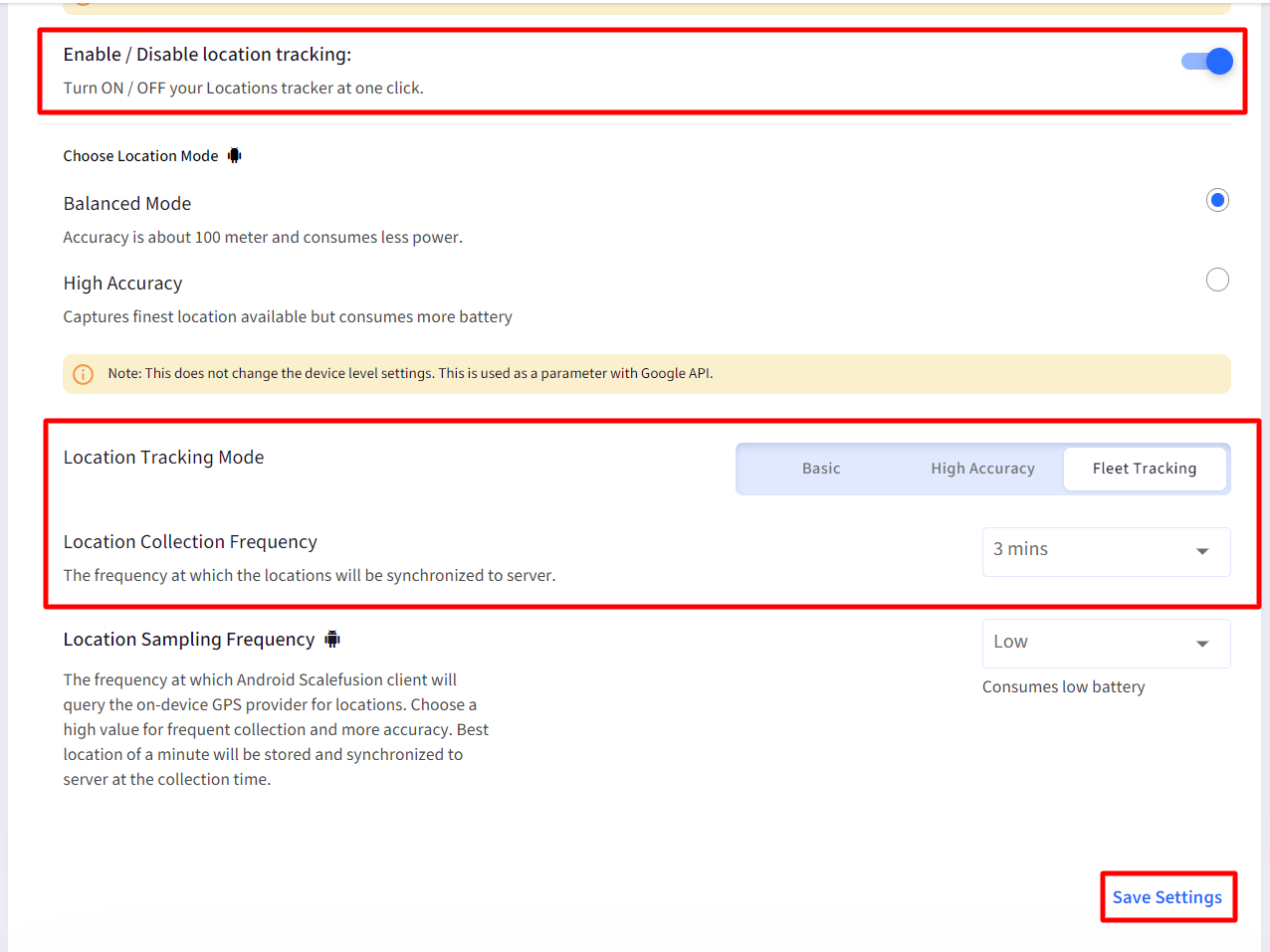 Step 2: Grant Location Permission on device
Once you install the Scalefusion MDM client app from Dashboard, you need to grant Location permissions on the device. To do so,
After installing Scalefusion MDM client app, on the top bar you will find the icon for MDM Client app. Click on it and click on Settings.

The red dot next to Settings indicates that the Location permission is not granted yet.

Under Settings tab, click on Grant Permission in front of Location permission.

This will open System Preferences window. Click on Security & Privacy

On Security & Privacy window, click on the lock icon at the bottom. In the small window that opens, enter administrator password to unlock Security & Privacy preferences.

Under Location services, put a check in front of Scalefusion-Agent to give Scalefusion MDM client app access to location services.
The configurations get applied and accordingly the locations of devices can be viewed in Locations section on Dashboard, as explained below.
Viewing Locations
Login to Scalefusion Dashboard.
Navigate to Location & GeoFencing > Locations 
This page will show you a Map with all of your devices pinned to their latest location.
Click on each Device to view their location history.

Location History of devices is reflected on the dashboard based on the plan you have purchased:
Enterprise Plan: 90 days
Business Plan: 30 days
Starter Plan: 7 days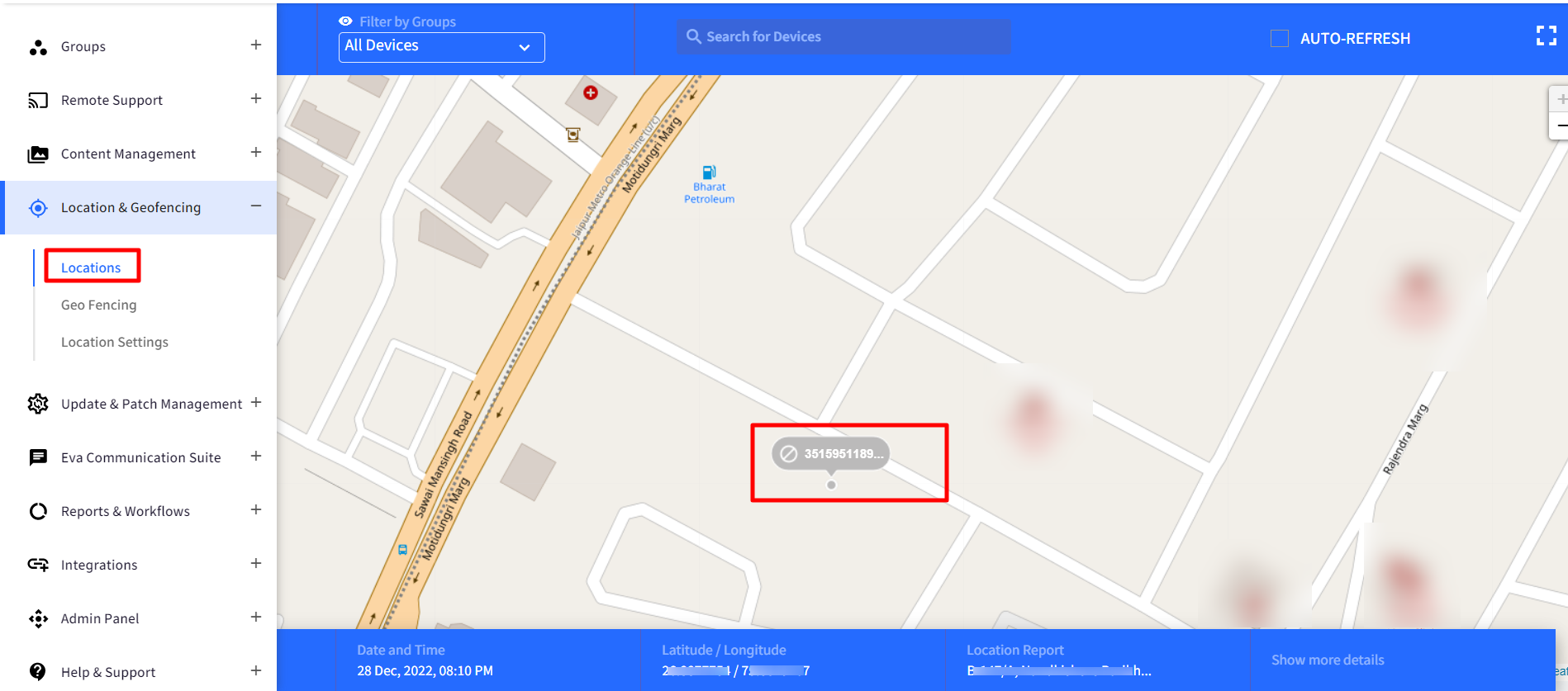 Google Maps API key
There is option to switch to Google Maps for all map related features if you wish so. Switching to Google Maps would require a Google Maps API Key which would require valid Gmail account and setup of Google Cloud Billing platform. To know more about how to use this feature, please click here
Known Behavior
Location for Mac devices cannot be tracked if device is in sleep mode or device's lid is closed.
---
---