Deploy Office 365 Apps to Windows Devices from Scalefusion
Scalefusion's integration with Windows Business Store allows IT Admins to sync the application inventory and install them to managed Windows 10 devices. However, Windows Business Store does not offer a mechanism to deploy O365 apps.
Now Scalefusion also provides feature to remotely install O365 Apps onto managed Windows 10 devices. This is implemented through the Office configuration service provider (CSP) which enables a Microsoft Office client to be installed on a device via the Office Deployment Tool (ODT).
The document describes the configurations required to be done on Scalefusion Dashboard side and publish them that ultimately lead to O365 apps' installation on devices.
Before You Begin
Users should be subscribed to Business or Enterprise Plan
For deploying Office 365 apps, you should have Windows 10 version 1709 or above. The feature works on Windows Pro, Home, Enterprise and Education Editions
Windows 10 devices should be enrolled on Scalefusion
To activate the Microsoft 365 Apps deployed through Scalefusion, you must use Microsoft 365 Apps licenses.
Step 1: Create App Configuration
The first step is to create App Configurations on Scalefusion Dashboard. To do so, follow these steps:
Sign In to Scalefusion Dashboard
Navigate to Application Management > Windows Business Store and click on the tab Windows App Catalog

Click on the card Office 365 Suite or View Details beneath the card. This brings up the Office 365 Suite panel on the right.


Here, you will see two tabs, viz.,
App Information: Contains a brief set of instructions and a link to to Create App Configuration

App Configurations: If any configurations are created, they are listed here. It also contains CREATE link to create App Configuration.

You can either click on CREATE APP CONFIGURATION button on App Information or CREATE button under APP CONFIGURATIONS. Both open the Configure Office 365 Suite window wherein you specify details to create App configurations.
Configuration Wizard
Clicking on Create opens the Configure Office 365 Suite window. Here, following configurations need to be done:
Configure Office 365 Suite - Basic Configurations

Setting

Description

App Configuration Name

Enter a name that identifies this configuration

Select Office Suite

Select the version of Office 365 Suite as displayed in your Office portal. Following are the options to choose from:

O365ProPlusRetail
O365BusinessRetail

For more information on this, click here

Select Office Apps to Deploy

Select the Office apps that you want to assign to devices by choosing the apps in the dropdown list.

Word
Excel
Powerpoint
Teams
Outlook
OneDrive
OneDrive for Business
OneNote
Access
Skype for Business
Publisher

Select Other Office Apps

You can select Additional Apps if you own their licenses. Following additional apps can be selected:

Microsoft Visio Online
Microsoft Project Online
Configure Installation Properties - This section allows you to configure installation properties,

Setting

Description

Select Architecture

Select the architecture (32-bit or 64-bit edition) of Office 365 Suite that needs to be installed, from the following options:

Auto-select - Selected by default. This automatically chooses the best suited version
32-bit
64-bit

If Device is running a 32-bit/64-bit edition of windows or has less than 4 GB RAM then ODT will default to 32-bit edition.

Update Channel

Define the channel to be used for installing Office and future updates. Following are the options to choose from:

Current - Selected by default
MonthlyEnterprise
SemiAnnual

For more information on update channels, click here

Remove Older Versions

This is a toggle and is set to ON by default. It removes earlier installed O365 apps' versions and configurations if any.

Version to Install

Select the version of Office 365 App(s) to be installed, from the following

Latest - Installs latest version
Specific Version - Select a specific version that should be installed

Version Number

This gets enabled only if you select the option Specific Version in the above field. It lets you specify the version number to be installed. For eg. 16.0.8201.2193

Setting

Description

Enable Shared Computer Activation

Enable this option when multiple users share a computer. To use shared computer activation, you need an Office 365 (or Microsoft 365) plan that includes Microsoft 365 Apps and also supports shared computer activation.

By default this option is set to OFF

Accept Microsoft EULA on behalf of Users

This is a toggle and is set to OFF by default. Enabling this lets Scalefusion accept License agreement on behalf of the users
Click SAVE to save the configuration
The Configuration gets created and is listed under App Configurations tab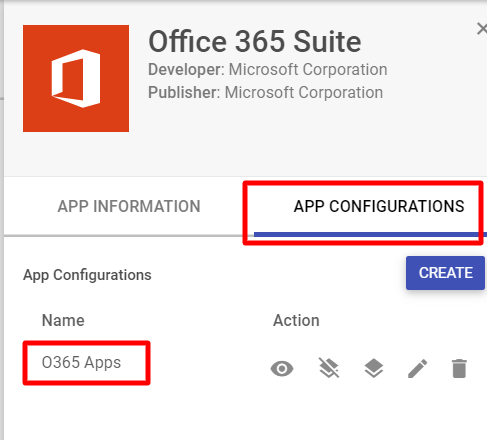 Step 2: Actions on Configuration
Once configuration is created, following actions can be performed on it:
View: It lets you view the status of installation across devices where it was applied. Clicking on View opens the Installed App info box where you can check the status and other details. The status is displayed under APP STATUS column

The status shows as Pending or In Progress if it is in process or displays Error if there is any error during installation

Unpublish: It lets you unpublish the configuration from devices. The Unpublish App Configuration dialog box lists only those device profiles on which configuration has already been published. Select the ones from which the App Configuration has to be unpublished and click UNPUBLISH.
Publish: It lets you Install the configuration to a Device Profile. On the Publish App Configuration dialog box, select the device profiles on which the App Configuration has to be published and click PUBLISH. By publishing you can push the configurations on devices.

The configuration will be auto-sent on devices once published to a profile and also on new devices that enroll to that profile.

Edit: It lets you Edit the configuration like select/deselect apps to deploy and other changes, if any. Clicking on Edit opens the Edit App Configuration box with all the configurations (that were done at the time of creation) pre-filled. Make the changes and click SAVE. The new changes become applicable to device profiles.
Delete: Deletes the configuration. Once you delete this app configuration, you can no longer access your app configuration settings.
If device is switched to a different device profile then the configurations (on new device profile) will apply on device.
Deployment on Devices
Once a configuration is successfully published to target devices via device profiles through  Office configuration service provider (CSP) it will reflect on your managed devices.
In the Installed App Info, the App Status would show as Installed once the configuration's installation succeeds.
For example, as shown in Step 1 if you have selected Word as one of the Office Apps to deploy then it will reflect on your Windows managed device once this configuration is published and successfully installed.
This is how Scalefusion enables adding Office 365 apps on its managed Windows 10 devices.
Known Behaviors
Due to known limitation of Windows MDM protocol we cannot fetch the individual app versions and hence they would not be displayed in the App Version report.
---
---