Oneteam Overview
In present times specially in the remote working era, communication between employees of any organization is one challenge. With the employees working from various geographic locations across the globe, bringing all of them together at one common place is the need of the hour for effective decision making. The communication has to be smooth, stable, easily accessible and most importantly secure.
Oneteam is one such product by Scalefusion which makes any organization's virtual team communication experience, a real one. A complete package in itself, Oneteam offers interesting features like Instant messaging, VoIP calling, Channels Management, Broadcasting to name a few.
Why Oneteam
Instant Messaging allows team members to interact in real time, share audio and video files. Recording and sending Voice messages and VoIP calling eases communication and makes it faster.
To keep it more secure, you can also create individual channels (Public and Private) for different business units and interact within that premise with the ability for users to subscribe/unsubscribe to those channels. Users can also add vendors and prospective customers to these channels.
Not only this, if you want to make any important announcements to a specific set of people there is Broadcast feature available.
These kind of features can be beneficial for effective team collaboration in a variety of sectors be it healthcare, government, education.
Follow the links and guides below to learn more on how you can use Oneteam for your organization's team communication activities.
Platforms supported
Oneteam is well supported on Android, iOS and Web platforms
Installation
On Web, Oneteam is accessible on https://oneteamapp.com/
On Android and iOS, the Oneteam app is to be installed from Google Play Store and App Store respectively
Getting Started
To start using oneteam, the first step is to Sign up on it.
Sign Up on Web
To sign up on Oneteam, follow these steps:
Visit https://oneteamapp.com/ and on the Sign Up page, enter the following:
You can enter your organization details here
First Name
Last Name
Email Id: You will receive a verification email on the email id you enter here
Phone number: Your mobile number. This is optional.
Put a check on Terms & Policy and click CREATE ACCOUNT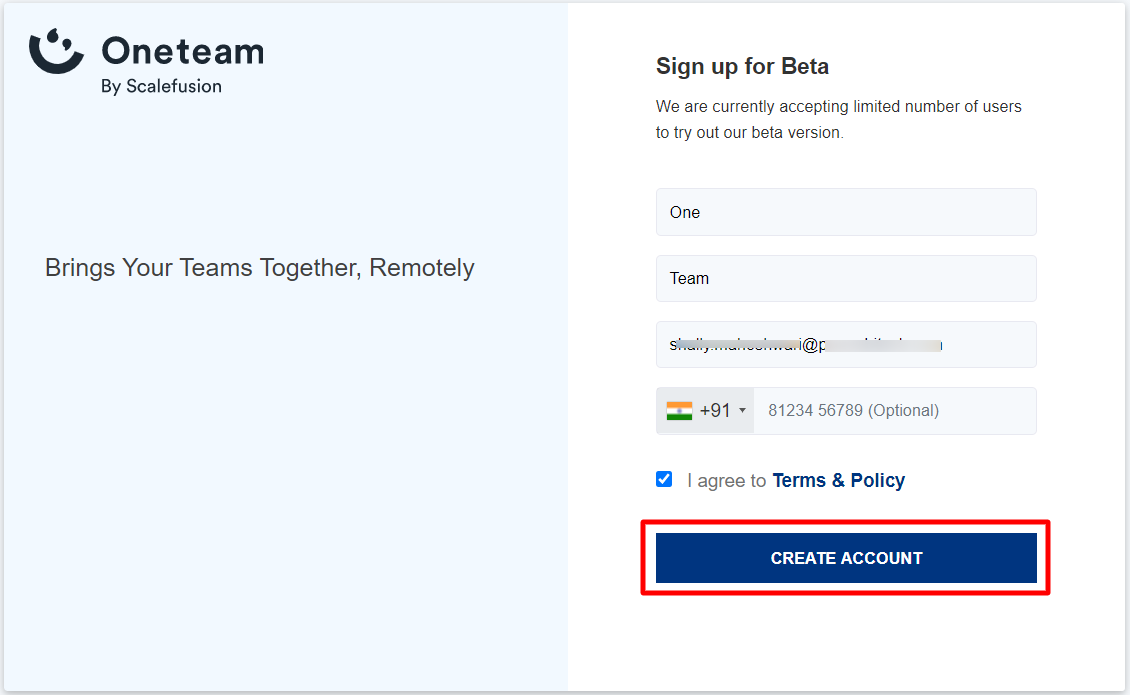 You will receive a verification email. The email contains a verification link. Click on the Verify email link in the email.
You can also directly Sign in on the Oneteam application and enter OTP which you receive in the email.
Once you click on the Verify email link in the email, you will be led to a page showing a confirmation message that the email has been verified. It will also prompt you to proceed to login.
On the next page, enter the same email address which you entered at the time of creating the account (point #1) and click Log In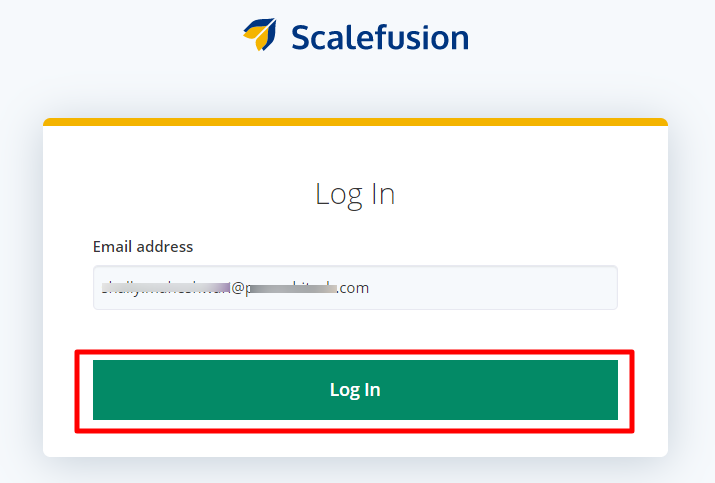 You will get a page to enter OTP.

Every time you log in on Oneteam, an OTP would be sent on your registered email id. You need to enter the OTP here and click Log In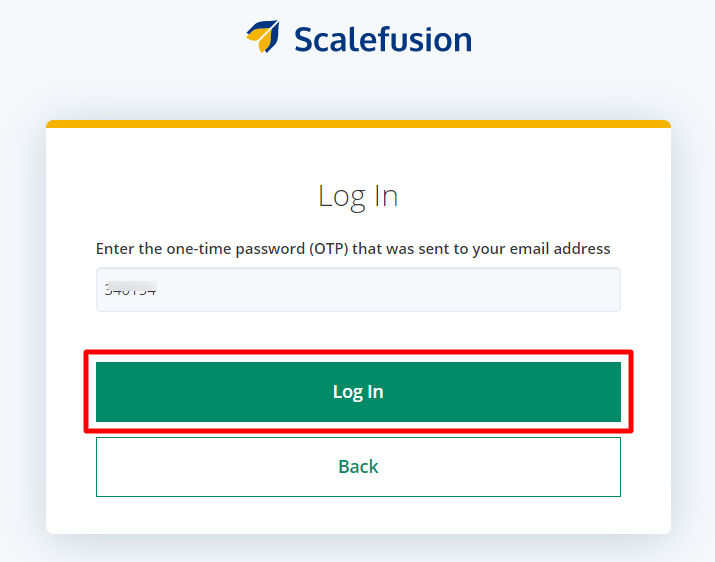 You will land up on the Welcome page for Oneteam.
This completes the Sign Up process and you are logged in to Oneteam.
Sign Up on Device
Install the Oneteam app on your device. You will be redirected to the Google Chrome browser for login.
Enter your email id and tap Log In.

This user should be already added under the Users section of Oneteam with the same Email Id

You will receive the OTP on the email. Enter OTP and tap Log In

You will be again redirected to the Oneteam app. Tap Allow on the permissions asked. You should get the following screen.
This completes the Sign Up process on the Oneteam app.
After login, you will see the following tabs on the left panel.
Chat: Allows instant text messaging with your contacts along with sending voice messages, files, and more
Users: Add, remove or edit users in your organization
Channels: Add and manage channels for common group discussions
Broadcast: Broadcast message to a set of users
Feeds: Compose and post newsfeeds to all users in the organization
Settings: Set actions and media settings
Help: Visit the help documentation for Oneteam
A Super Admin gets access to all tabs (chat, channels, broadcast etc.) while a User role gets access to only the chat and feeds tabs.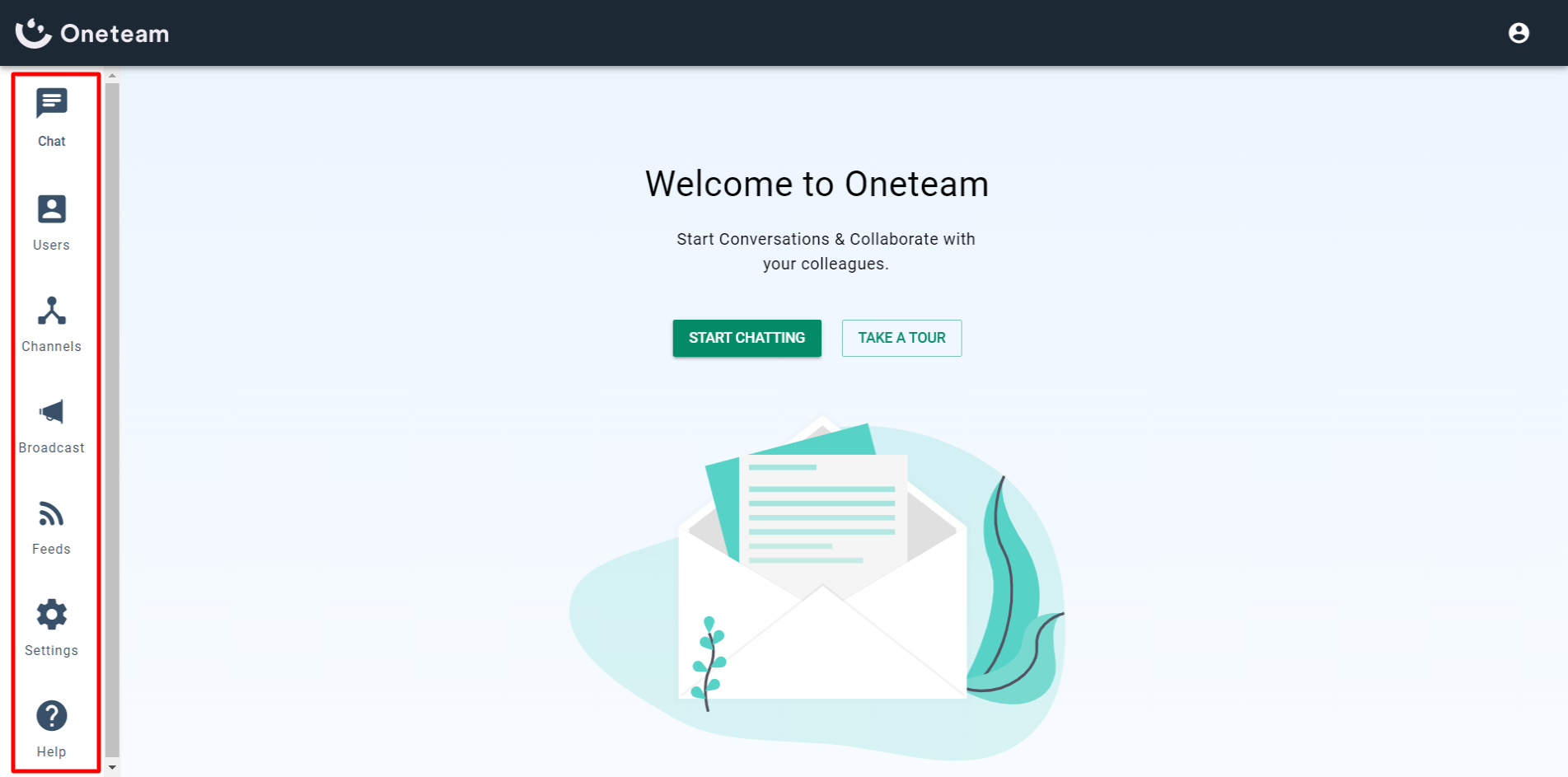 These features are explained in further documents.
---
---