Enrolling Huawei Devices
Huawei devices no longer come with GMS services, that is, they don't have the Android Enterprise bits in their version of Android. This essentially means, one cannot use the 6-time tap or Zero-touch to enroll these devices. As a result, Scalefusion does not have the powers to, 
a. Provide a Safe & Secure Kiosk experience 
b. Silently Install/Uninstall ES apps 
c. In some cases one cannot even complete setup even in legacy mode 
Considering the above limitations, Scalefusion has developed its own add-on application for Huawei devices named as HuaweiAssist, which provides an alternative to manage Huawei devices and provide for core Company owned use-cases. 
This document guides you through the process of enrolling Huawei devices simply using QR code configuration and Huawei Assist app.
Enrolling through a QR Code DOES NOT skip the permissions page. These device level permissions need to be given manually like earlier.
Before You Begin
You have created at least one Android Profile on Scalefusion Dashboard.
Huawei device with Android OS 10 & above.
Scalefusion app has been installed on device.
Please create a QR Code configuration as described here.
Huawei assist app (under Application Management > Scalefusion apps) should be published on the device profile which is to be applied on the device.
How It Works
In brief,
Administrators of Scalefusion Dashboard can create QR codes and distribute it to their employees or IT team.
Employees or IT team can download the Scalefusion apk, install it and scan the QR Code.
Once the QR code is scanned, you get a prompt to install Huawei assist app and then permissions page is shown directly.
Step 1: Create a QR Configuration on Scalefusion Dashboard
Once you are logged into Dashboard, navigate to Enrollment Configurations > QR Code Configurations.
Click on Create Config.
This will open a Dialog where you need to do the following,

Enter a Configuration Name.
Choose either a Device Group OR an Android Profile OR an Apple Profile.
Specify a Device Naming Convention that will be used to auto-generate device names.

For this demo, Enter a Configuration Name, choose the Android Device Profile that you have created earlier an a naming convention. Once you have entered the details, click SAVE.
Once the configuration is saved, it will appear in the list.
For Android devices, click on Android. This will show the QR code which can be used to scan using Scalefusion app on your device and enroll it.

Following additional actions can be performed on a configuration:

Download - This will download the configuration file that can be used to auto-enroll Android devices, by copying them to /sdcard/.
Email - This will send an email to your account with QR Code and the details on how to set up.
Edit - Helps you in editing the Configuration. Note that editing won't impact the devices that are already enrolled.
Deactivate - If you no longer wish to use this configuration or think it is compromised, then you can deactivate the config.
Rotate - If you think that the configuration is compromised, you can use this option. This will generate a new QR Code and URL. Note that the previous QR Code and URL will no longer be valid.
Step 2: Install Scalefusion app and scan QR code
Install the latest Scalefusion app by downloading Scalefusion apk from https://app.scalefusion.com/apk/ORG-ID
Open the QR Code image or view it on Dashboard, clearly.
Launch Scalefusion app.
Click on Enroll button and select Scan QR Code
You would be shown a Camera View. Point this Camera to the QR Code on your screen so that entire QR Code fits in the frame and can be scanned.
Step 3: Enroll the Device
On scanning the QR code, you may see this screen. Click Agree

You would be prompted to grant Unknown sources to Scalefusion because we are about to install HuaweiAssist. Please grant the permissions,

You will get a prompt to install Huawei Assist app. Click Install Now.

Click Install once you see this dialog

You would see the progress dialogs indicating that the Wingman app will be installed.

The message says installing Wingman app as HuaweiAssist is codenamed Wingman

Once setup is done, you will land on the permissions screen. Grant all the permissions and complete setup.

Notice that the Device Admin permission is already enabled.

The device is enrolled.
Once on the QR Code scanning screen on device, the options to on-board the device using Sign-In credentials and/or License Key can be accessed by clicking on the 3 Dots Menu and switching to the landing page.
Question: What if an IT Admin forgets to publish HuaweAssist to the profiles before enrollment?
Answer: In case an IT Admin does not publish the HuaweiAssist app pre-enrollment, then
They can publish it after enrollment assuming that IT Admin could complete setup using Scalefusion in legacy mode.
Once Published, it would be downloaded and shown on Scalefusion Home screen like any other app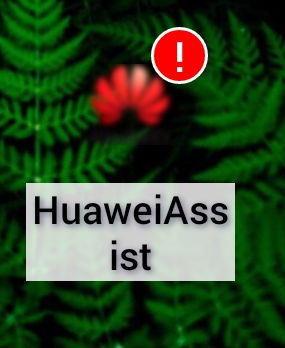 Click on the icon (shown above) and once installed, the HuaweiAssist based features will/should start working if the device supports Huawei SDK.
---
---