Password Policies for Mac (macOS) Devices
Securing enterprise Mac devices is a very important aspect of managing them. A quality password acts as first line of defense in protection against unattended access and stolen/lost devices.
Scalefusion helps you define a password policy, that can be applied to the devices thereby forcing the users to create a password that complies with your organizational policies. In this document, we will walkthrough on how to configure and publish a password policy.
Password Policy
Creating a Password Policy
Navigate to Device Profiles & Policies > Passcode Policy and click on the Mac tab.
Enable Require Password to start defining the password policy.
The table below shows the Password options applicable for Mac (macOS) devices,

Setting

Description

Known Behavior

Require Password

Enable this setting if you want to enforce a password.

Select Password Type

Choose between Numeric & Alphanumeric.

Minimum Password Length

Select a minimum Password length that is enforced.

Accepted values are between 4 to 16.

Change Password at next login

With this setting, user(s) will be asked to reset password at their next login.

We recommend keeping this option enabled so that users are prompted to change their password on next login as required.

On certain macOS versions enabling this flag may cause the user to reset the password on every login in which case you can relax (disable this setting) this to prevent the behavior.
If password policy is modified with having this setting enabled then the system preference activities on the device may become unlockable during existing session (before next login). In these cases, the user should reset the password first.

Enforce Complex Password

Select if you want the password to contain Symbols

Select Password Expiry (in days)

Select an optimal period after which the password should expire and user is enforced to set a password.

Maximum Password History List

Choose an optimal value on how often user can repeat the passwords once they expire.

Maximum Failed Attempts to Factory Reset

Select an optimal value for unsuccessful attempts after which the account will be locked.

After maximum failed attempts, Mac device is locked and a message is shown that the "Account has been blocked, contact your administrator".

Set Maximum Inactivity time

Select a time interval of inactivity after which the device will auto-lock and ask for a password.

Click Save Policy once you have set the password policy.
Publishing a Password Policy
Once you have created a password policy, you can publish it to the Device Profiles. To do so, navigate to Device Profiles & Policies > Passcode Policy and click on Apply to Device.
Select the Device Profile(s) where you want to apply the policy on and click on SUBMIT.
Please make sure that Allow Password Change is enabled under macOS Device Profile > Restrictions > Security & Privacy.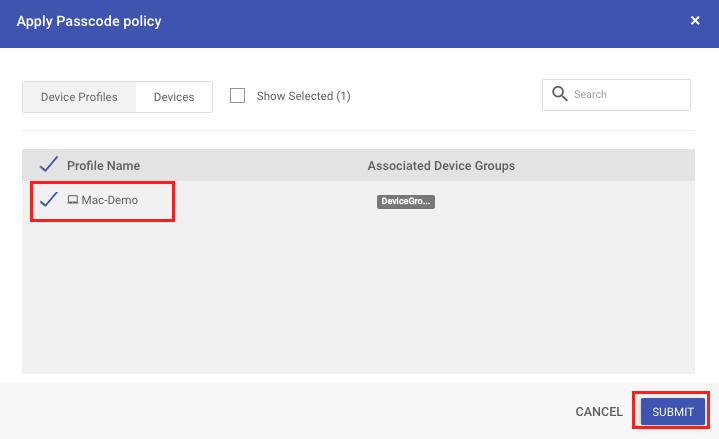 End User Experience
The Password policy takes effect or is enforced in the following two cases,
When the users subsequently login to the Mac device.
When the user attempts to Change Password from System Preferences.
---
---