Installing FileDock application
FileDock is an enterprise application that extends the kiosk feature set offered by Scalefusion, and a gateway into content management on a locked device.
Any content that you upload via Content Management on Scalefusion dashboard, is visible on the device only through FileDock app. Hence FileDock is a medium that provides a source enabling you to upload any file / folder / presentation on your managed devices through Scalefusion dashboard. Your content is secure and can be shared over-the-air right from your desktop.
This document describes how FileDock application is installed on managed devices.
Before You Begin
Following are the minimum requirements:
Windows - Windows 10 version 1803 and above. Windows Pro, Enterprise edition
The devices should be enrolled
How to Install FileDock
Login on Scalefusion Dashboard
Navigate to Application Management > Scalefusion Apps
Under Scalefusion Apps, click on FileDock card

For Windows, click on the FileDock card with the Windows icon. For Android, click on the FileDock card with the Android icon.

This opens a new section on the right side. Here, click on Publish button.
While installing Filedock App, you can view its Status while installation. On clicking Publish, a
View Status
link comes up clicking on which shows the status. See details
below
A new pop-up opens where you need to select the device profiles on which FileDock has to be published. Select the device profiles and click Publish

FileDock for Android - You can select Device Groups / Device Profiles / Devices for publishing FileDock app.
FileDock gets installed on device(s) on which the selected device profile is applied.
With FileDock installed:
Users can view and open respective files and folders (on their devices), which are published through Content section in Scalefusion Dashboard.
Users can view, not control, the content of a presentation that is published through Presentations section in Scalefusion Dashboard. 
Status while Installing
You can always view the Status while installing FileDock App from My Apps. On publishing, a View Status link comes up.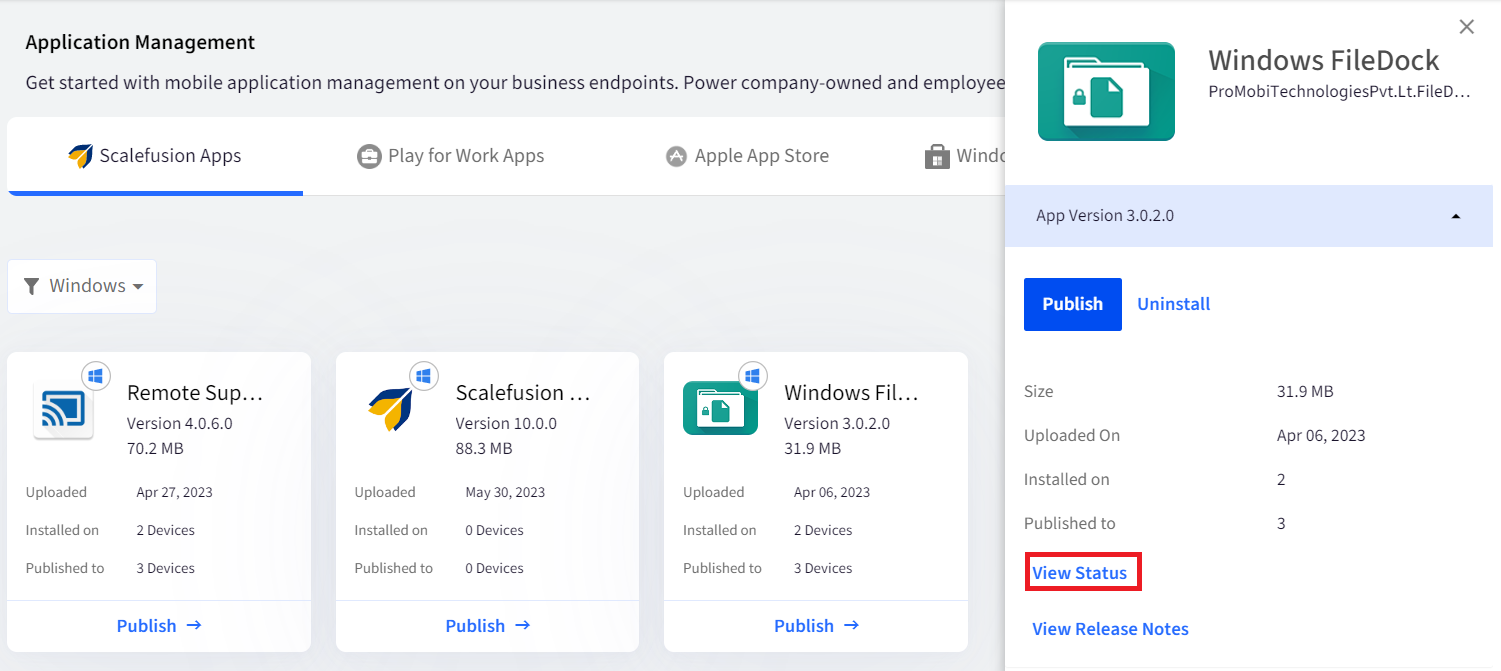 Clicking on View Status opens a new popup window.
Three types of Status have been defined:
Pending: When you click Publish to install FileDock.
Download Complete: Once FileDock gets downloaded.
Installed: When FileDock is successfully published and accessible on the device.
For some reason, if FileDock does not get installed, the App Status shows Download Failed
Once FileDock is installed, you can push the content on your devices. To learn more about how to push content, click here.
FileDock is also used to make any Presentation run on your Windows device turning your device into a Digital Signage Kiosk. To learn more about this, please visit Scalefusion Presentation mode for Digital Signage Kiosks.
The FileDock application will not be auto-published to a Device Profile/Device Group (newly created or otherwise) even if it is enabled in the Device Profile > Select Apps section.
Known Issues
If there are multiple users on a device, and you uninstall FileDock, it gets uninstalled from the current logged-in user's account. To remove it from other users' accounts, you need to restart the device.
---
---