Allowing Websites on Android
Scalefusion provides an option to restrict the user by allowing them access to only specific website(s). This can be done by allowing them on the dashboard. The Scalefusion browser will block the URLs that are not allowed.
Let us learn how this can be done.
Before You Begin
✅Have a valid Scalefusion dashboard account.
✅ Android Device Profile exists.
Overview
Add websites and their respective URLs to allow websites
Apply Android Settings (if required)
Publish the URLs on to device/device profiles or enable them from Device Profile Settings -> Select Browser Shortcuts
Allowing a Website
To add the websites and URL shortcuts for allowing, follow these steps:
Navigate to Device Profiles & Policies ➞ Allowed Websites and click on the button Allow a Website.

A window will appear where you need to add the URL details:

Enter the name of Website
Enter Website link/URL: To publish two or more unique URLs on a device, custom fields can also be entered here (For eg. $device.<fieldname>).
Visible on Homescreen : This is a toggle button to make the website's shortcut visible on the device's homescreen.
Click Next

On the next page choose URL settings for Android devices
Settings

Description

Enable JavaScript API access for this URL

Allows you to access some data from your device using JavaScript only when running in Scalefusion browser.

Enable Popup windows for this URL

This enables the URL to allow popup windows

Enable Zoom control for this URL

The user can zoom in/out the website content

Autoplay videos for this URL

Allows autoplay of videos when the website loads.

Set font size for this URL

You can set a font size which will be used as base font size for this webpage.

Refresh website

Reloads the website after a specific time interval

Cache Downloaded Files

Allows caching of downloaded files

Audio and Video Settings

If enabled, this setting allows the webpage to access your device's audio and video automatically

Location Setting

If enabled, this setting allows the webpage to access your device's location automatically.

Check this only if you trust the website

Allow Auto Form Fill

Allows web page to fill a form automatically, if enabled.

Default to Desktop Mode

The website will open in desktop view by default, even on your device.

Auto Publish

Automatically publishes the website on the device(s) even if they do not have any profile applied on them.

Always Load from Root URL

Once enabled, this reloads the webpage from root URL every time its icon is clicked on home screen.

Third party cookies

Allows third party cookies on the website

Remove Identifying Headers

Enabling this option removes the identify headers and allows rendering a webpage properly.
Once you have done the settings, click Next and then click Save
The website will be displayed in the list of Allowed websites.

Follow the same steps as above to add more websites. There is no limit to the number of websites that can be Allowed.
Managing Allowed Websites
Following functions can be performed on allowed websites:

Edit: Clicking on Edit button will open the URL settings window with all details pre-filled which you did while setting up this allowed website. You can make changes to the settings and click Save.
Publish: Once a website is allowed, you need to publish it onto your device. To do so, click on Publish button. This will open a new window. Here, select the Device Profiles and/or devices on which you want the website(s) to be allowed. After selecting, click Submit.
If auto publish in settings is set to On, the website will automatically publish on the devices even if they do not have any profile applied on them.
Once you allow a website it is also available under Device Profile Settings -> Select Browser Shortcuts. So either you can Publish it or enable from Device profile settings.
For enabling through Device Profile:
Go to Device Profiles & Policies -> Device Profiles.
Here, go to your Android Device Profile and click on Edit Device Profile.
Under Select Browser Shortcuts, Toggle on the website(s),
Click Next and Update Profile.
The websites will be allowed.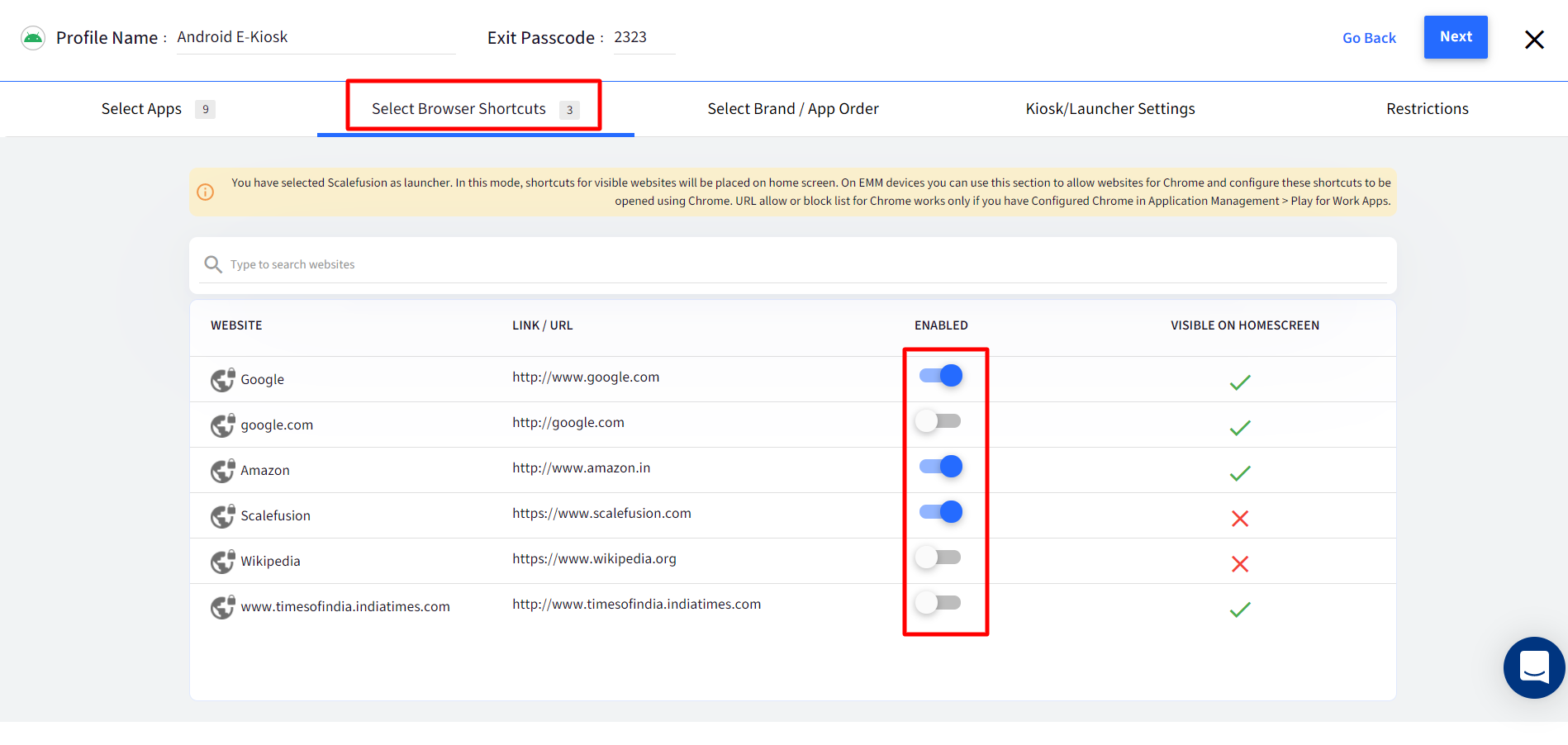 Unpublish: Removes the allowed website from the selected device profiles and/or devices on which it was published earlier. Clicking on Unpublish will open a window where you can select the device profiles/devices from which you want to unpublish the website.
Delete: This deletes the URL from the list of allowed websites.
Browser Settings
In addition to Allow a Website, you can also do some browser settings from here which are applicable on Scalefusion browser for Android.
Navigate to Device Profiles & Policies ➞ Allowed Websites and click on the button Browser Settings.

This opens a new window. Following settings can be done:
| | |
| --- | --- |
| Setting | Description |
| Display Browser Address Bar | Allows display of address bar for users but only for allowed websites |
| Allow Tabs | Allows user to open multiple tabs in the same browser. Enabling this option will also enable display of address bar. |
| Enable Incognito Mode | Allows the browser to be opened in Incognito Mode |
| Always fit the content by the width of the Webpage | This is mainly for non-responsive websites where the browser will try to fit the content by the available width of webpage |
| Disable Back Buttons (Hardware and Navigation) | Back navigation buttons can be disabled with this setting. However, user can use browser's back button. |
| Allow users to Load Desktop Site | Enabling this will load the desktop version of website |
| DPAD and Function Keys | Enables the user to interact with the website by using DPAD and Function keys. |
| Allow opening non network URLs | Enables the browser to open a URL that does not start with 'http://www'. |
| Auto clear browser cache | Clears the browser cache on a periodic basis. You can specify the time interval. |
| Enable/Disable print option on browser | Enable this option to allow printing a webpage from the browser |
| Enable auto form fill on ML browser | Enables the auto form fill function on browser. Auto form fill helps you to fill long web forms. |
| Remove Identifying Headers | Enabling this option removes the identify headers and allows rendering a webpage properly. |
To apply these settings, Scalefusion browser has to be enabled from your device apps or android device profiles.
Once you have done the settings, click Next and then click Save
Clear Cache
This clears cache of Scalefusion Android browser. To clear browser's cache, simply click on the button Clear Cache. On the confirmation box that comes up, click Ok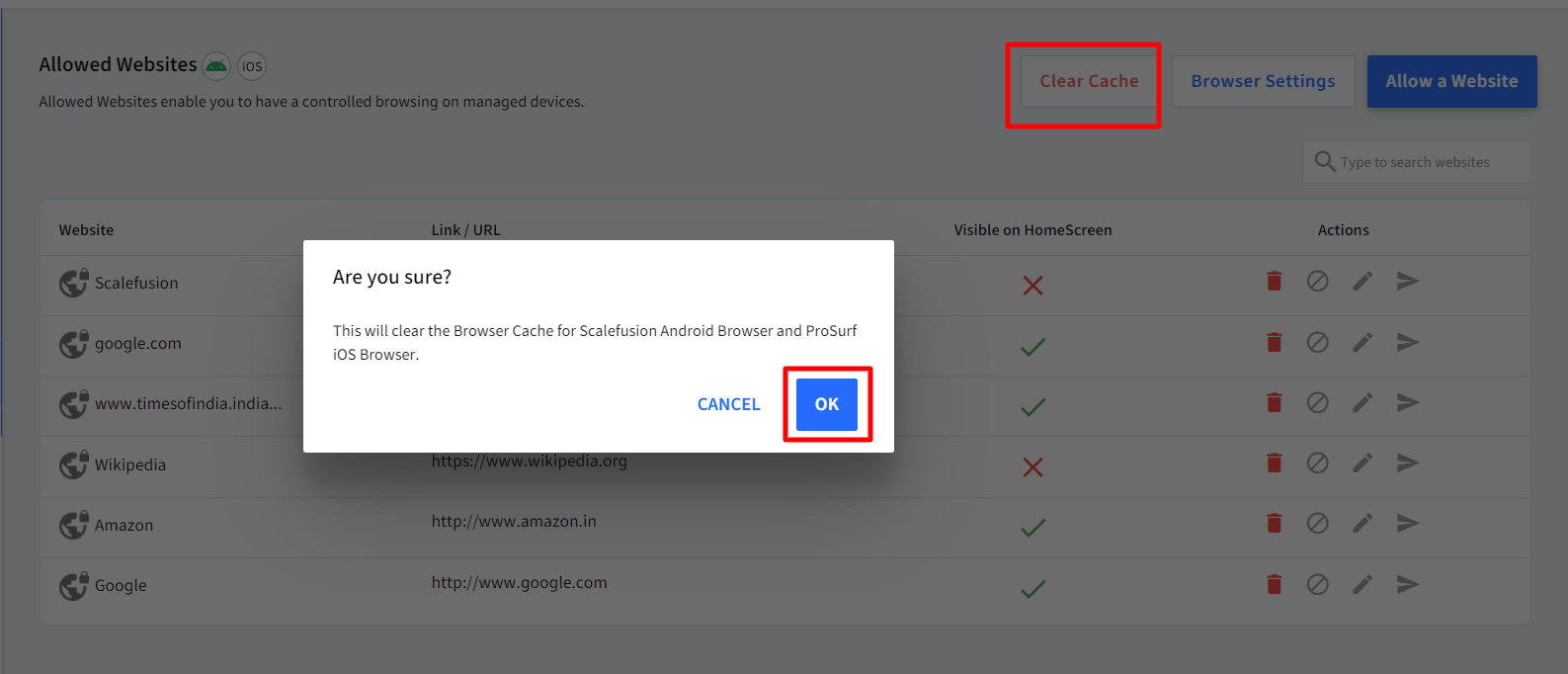 Frequently Asked Questions
When I launch an allowed website on the device it gives the error message "your administrator has blocked access to this website."
Answer: This could be because of one of the reasons below:
a. Your allowed website is redirecting to another site which is not yet allowed. Make a note of the URL to which it is redirecting, and allow it. Or,
b. The website is allowed but not published on the device profile which is applied on your device. In Device Profiles & Policies -> Allowed Websites click on Publish button in front of the website for which you are getting the error message, then select the device profile in the dialog box that opens, and Submit.
I have allowed websites and we need the user to input text on that site. However, Scalefusion browser doesn't seem to open the keypad.
Answer: On your Device Profile settings, go to Kiosk/Launcher Settings -> Homescreen settings. There are two settings here:
Hide the navigation bar from screen
Set device screen in full screen mode
These two settings should be disabled.
---
---