User Groups
Once you have added the users, for better and easier management of users you can group them under User Groups. This gives you the flexibility to see all the devices of grouped users under one section. You can easily change the profile of a group and change the policies on all the devices at one-shot. Follow the steps below to create a group and add users,
Sign In to Scalefusion Dashboard and navigate to Device Management > User Groups
Click on CREATE NEW GROUP, give a name for your group and click SUBMIT. This will start the group creation wizard.
This wizard has 3 sections as mentioned below,

Select Users: First select all the users that you want to be a part of this group.
Choose Android Profile: Select the Android BYOD Profile that you have created earlier. This profile will be applied to all the Android devices of the users in this group.
Select Admins: Choose the Admins that will be managing this group on behalf of you.

Click on CREATE USER GROUP button to complete the creation of group. Once the group is created it will be listed in the User Group listing page.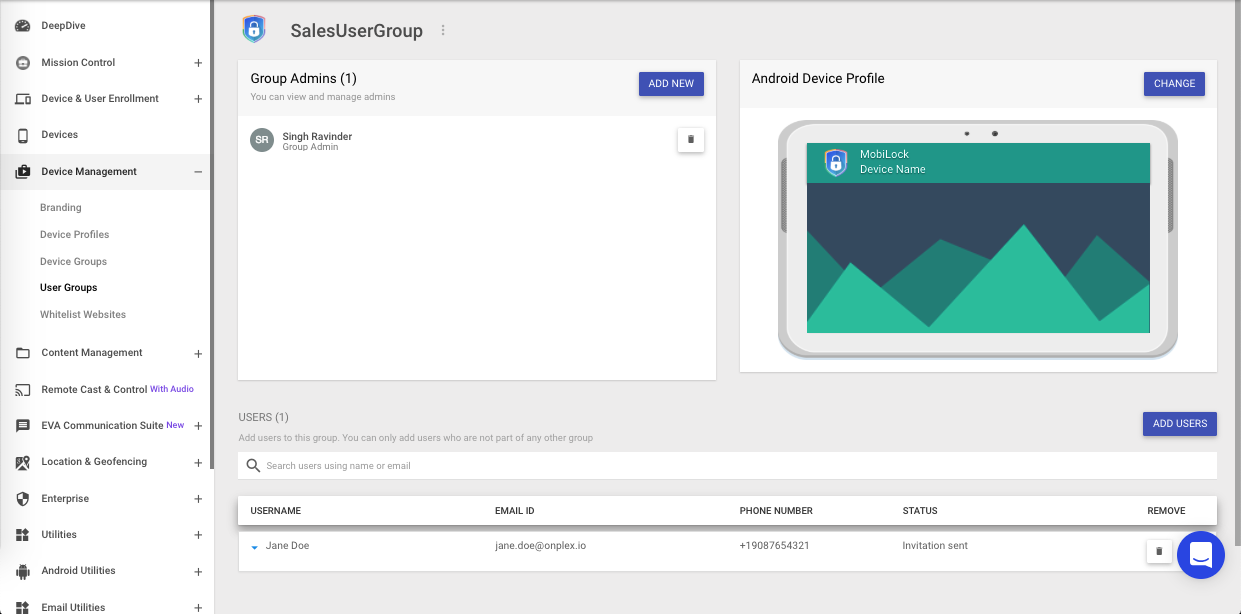 1. To view the users of the group click on View Details.
2. In the Group Detail view, use ADD USERS to add new users to the group.
3. In the Group Detail view, click on CHANGE to change the BYOD Profile for all the users in this group.
User Group Level Options

Scalefusion offers group level actions that can be used to perform quick actions across the users in the group. The options can be accessed on the Group Details page. Here click on the three vertical dots next to the User Group name. Following options are available:
Rename User Group - Change the name of the group.
Delete User Group - Delete the user group. All users will retain their last Device Profile and will still be in Locked state.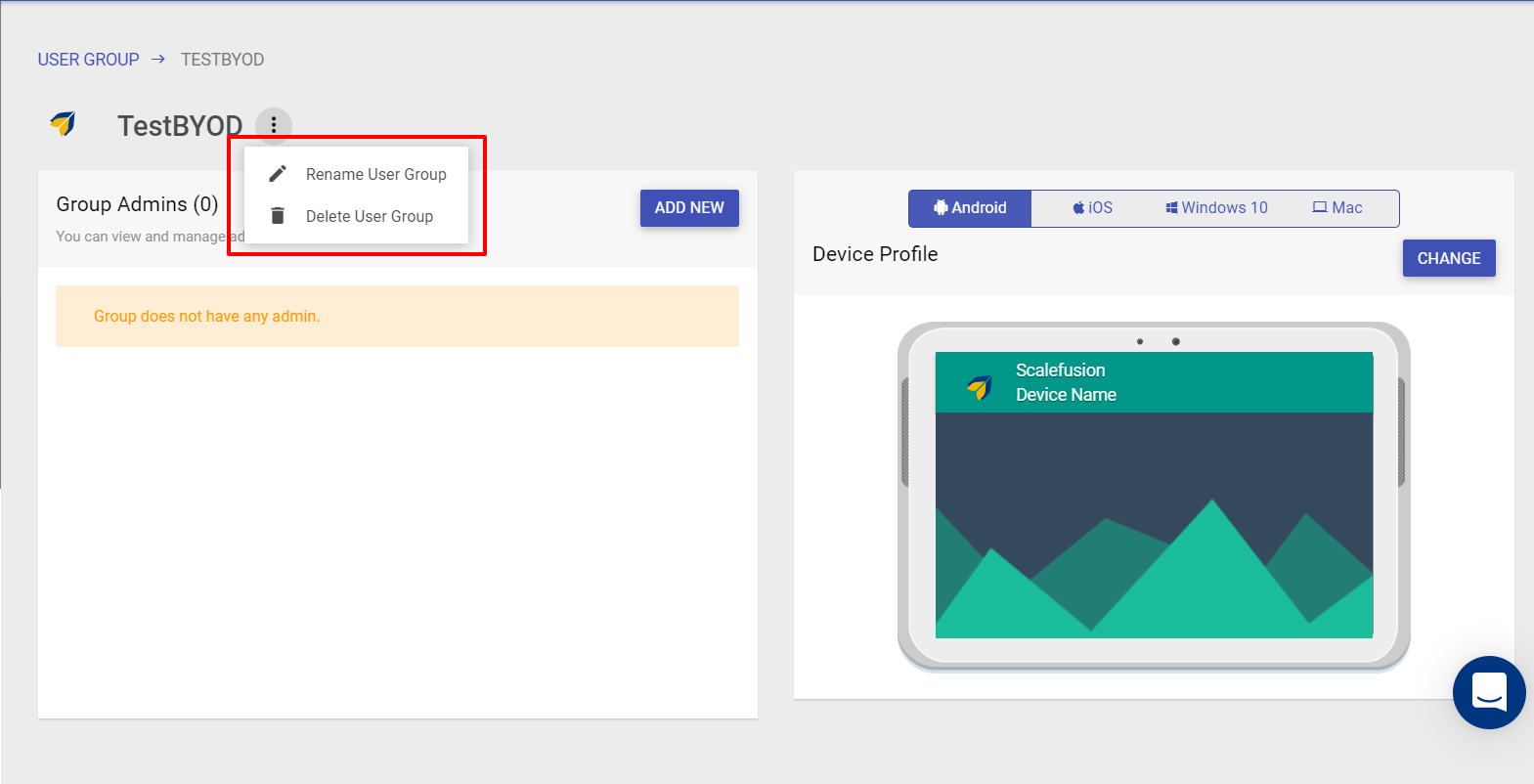 User Subgroups
You can also create sub-groups under User Groups. Sub-Groups can be created with any of the following two ways:
Create SubGroup at Group Listing Page
Log in to Scalefusion Dashboard.
Navigate to Device Management > User Groups
In the group listing page, click on the widget over the group under which sub-group has to be created.

This takes you to the Sub-group creation flow (explained below)
Create SubGroup at Group Details Page
Log in to Scalefusion Dashboard.
Navigate to Device Management > User Groups
Click on View Details of the device group under which Sub group has to be created

On this page (Group Details), scroll down and you will find a button NEW SUB GROUP. Click on it

This takes you to the Sub-group creation flow (explained below)
Subgroup Creation
Enter a Name for the sub group. Click on SUBMIT.

Clicking on Submit takes the user to the Sub-Group Creation page which is similar to the usual group creation flow,

Select Users: The users that don't belong to any group will be shown

Sub-Groups are entities which have their own users. Hence, only those users can be added that are not part of any other user group.

Select Android Profile
Select iOS Profile
Select macOS Profile
Select Windows Profile

On all the above platforms, by default parent profiles are inherited unless they are assigned with a new BYOD device profile.

Select Admins: Only the Admins that are not the admins of the parent group are listed here.

The Subgroups also inherit all the admins from parent user group. More Admins can be added after Subgroup creation

Click CREATE USER GROUP to create the Subgroup.
Once a Subgroup is created it is listed in the Group Details view, just like a User Group
Clicking on View Details opens the Subgroup details view and has similar features that exist in a user group
Important points on Subgroups
A User group can have unlimited Subgroups
A Subgroup can have unlimited Subgroups under it
Importing GSuite / O365 User Groups and Subgroups
Admins can import their GSuite / O365 User groups and send invitations to the users to enroll their devices with G Suite / O365 account. To import:
Only subscribers to Legacy and New Enterprise Plan can import GSuite / O365 user groups. Rest of them will get an option to upgrade.
Navigate to Device Management > User Groups
Click on the button Group Management and select Import Groups
Group Management button will be visible only to users who sign in with their GSuite organization id or O365 account who are not signed in with SAML.

This opens the Import Groups page which lists all the GSuite User groups and subgroups.

For O365 users who are logged in with their O365 credentials, the Import Groups page would list all O365 User groups and subgroups

Select the groups / subgroups which have to be imported and click Import.

You will be redirected to User Groups page on dashboard and it will show the GSuite / O365 groups you have imported.
If there are any users in the user groups, they also get imported to Scalefusion.
On GSuite / O365 User Groups, no additional actions can be performed through Scalefusion Dashboard
Rename Group(s)
Delete Group(s)
Add / Remove Users
Create Sub Group
Only Device Profile and Group Admin(s) can be added.
Sync Groups
Any actions that take place on user groups at GSuite's or Office 365 end (rename, delete etc.), to ensure that the changes reflect on Scalefusion dashboard so that both are in sync, Group Management > Sync Groups can be used.
---
---