Introduction to Integrations
Scalefusion InterOps enables IT teams to streamline their mobile device management operations like never before. It helps IT administrators fix mobile device issues, support modern workforce by integrating with ITSM solutions and drive effective communication across business divisions.
InterOps lets you integrate with popular ITSM tools, which allows the IT Teams to raise support tickets right from Scalefusion Dashboard along with complete device details. We are also working on building widgets that can be used with these ITSM tools, which will give you the flexibility to pull information from ITSM dashboard.
This document covers the various integration options that InterOps offers. Click on the links to learn how to configure them.
Freshservice is a popular ITSM tool that provides a cloud based IT service desk solution. We have often heard from our customers using Scalefusion to manage devices, pull device information or troubleshoot an issue with Remote-Cast and then raise a support ticket in Freshservice. With this integration, you can automate this process and do it right from Scalefusion Dashboard. Click here to learn more.
If you are looking for a specific integration, do let us know by navigating to the Utilities > Integration tab and using the Service Integration Request form.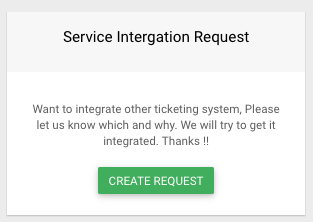 ---
---