Remote Cast for iOS
Scalefusion Remote Cast for iOS helps IT Admins remotely troubleshoot the devices on field or help educational institutions with guided sessions on students iOS devices. We have also added additional features that allow you to take Screenshot, record screen cast sessions and raise a service desk request, on the managed devices.
Before You Begin
Make sure that you have either an Enterprise Plan subscription or if you are IN-Trial then you have requested the access for this feature.
An iOS device has been enrolled to Scalefusion
Supported Devices
Remote Cast for iOS works on iOS 11 and above.
Remote Cast for iOS works either on non-Supervised or Supervised devices.
Device Profile Settings
Before you start using Remote Cast for iOS, please note that this feature works only if Screenshot is allowed on the managed devices. To make sure that this setting is allowed,
Navigate to Device Profile > Restrictions > General Settings and make sure Allow Screenshot is enabled.

Step 1: Installing & Setup Remote Cast
Installing & setting up Remote Cast app is the first step to use this feature. This can be done by the end-users, even when the devices are field as the process is simple, however for corporate owned devices we suggest setting up beforehand so that there are no issues while the devices are in field. To install & setup Remote Cast, please follow the steps below,
Navigate to Application Management > Scalefusion Apps and click on Remote Cast for iOS
Click on PUBLISH to view the install wizard. Select the Device Profiles where you want to install the application and click PUBLISH
This will initiate the installation of the application on the managed iOS device. Note that users will be asked to Sign-In to their iTunes account to download and install the application.
If you are an Apple Business Manager customer and use Volume Purchase Program, then you can automate the installation of the Remote Cast by procuring the licenses of the application.
Once the application is downloaded, click on the Remote Cast icon to launch the application. The application will auto-configure itself on first launch.
On first launch the application will also ask for Notification Permission: This is required to show the initiate screen cast notification request. click Allow

On Supervised Devices, Notification Permission will be automatically granted.

If the application is successfully setup you should see the screen below,
Remote Cast & Control Settings
When Remote Cast is used in security and privacy concerned domains like tablets with kids or with people in hospital care, if somebody takes a remote cast session, companies normally want to enforce recording of that session as a checkpoint for the agent taking the RCC session to make sure that everything is recorded.
To enable this, following settings have been provided that can be configured from Dashboard before starting a session and can be used as global settings for all admins.
The settings can be accessed from Settings button available in Remote Cast & Control on Scalefusion Dashboard. Clicking on Settings opens a dialog box where admins can configure them.
Admins with only Write access to Remote Cast can edit these settings.
Setting

Description

Auto-Record Remote Cast sessions

Enabling this automatically records the remote cast sessions. After the session is completed the recording gets downloaded to the IT Admins PC/Laptop.

If this setting is ON, session recording cannot be stopped.

Auto-Enable Voice Call in a Session

Enabling this starts a session with calling functionality enabled.

This setting sets the default for the session. IT Admins still have to start the call during the session.

Allow Users to stop session

This setting when enabled allows users to stop the session before the IT Admins start.
Step 2: Initiate Remote Cast
Once you have setup the Remote Cast, you are now ready to start the remote cast session from Dashboard. To initiate a remote cast session,
On the Dashboard, navigate to "Remote Cast & Control". The list of iOS and Android devices where the Remote Cast client has been setup will be displayed. Select a device and click on START SESSION

A Remote Cast session can also be initiated from Device Details page. On Device Information card there is a shortcut icon for Remote Cast before the Gear icon, clicking on which directly takes you to the Start session screen.

You will be navigated to the screen casting page with the following components,

Cast Console: The area where the mirrored screen appears.
CREATE TICKET: Create a Service Desk ticket - Supported only if you have integrated your ITSM tool.
Start Session: Click on this button to start the session.
Start Recording: Use this option to start recording the session once it is started.

Click on 'Start Session' to initiate the cast session. This will result in a a notification to be sent to the device as shown below.

Clicking on the notification will launch the Remote Cast app and give a heads up to the user on the next steps as shown below,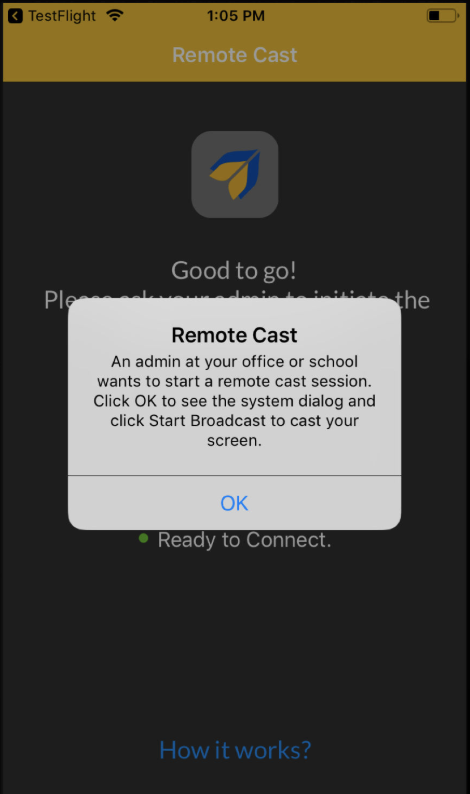 NOTE: If the Remote cast app was not setup as described in Step 1: Install & Setup Remote Cast, the user would have to perform these steps now.
Clicking on OK at step 4 above, the iOS native broadcast screen will be started. Select Remote Cast & Click on Start Broadcast



For the first session, the permission to grant Microphone access will be asked. Click OK. This will start the broadcast and in about 3 seconds the device screen will start mirroring on the Dashboard.

Once the cast session is started, the Dashboard will keep updating basing on the user-interaction on the device. This screen also offers additional options, as shown below,

Broadcast Operation Indicator: On the device the user will see a red-bar as long as the broadcast session is ongoing.
Switch to Full Screen: Use this option to switch to full screen view.
Snapshot: Take a snapshot of current frame that will be saved to your computer.
Stop Session: Stop the ongoing session.
Start Recording: Record a video of the ongoing session
Device Level Actions: During remote session if admin wants to perform actions like rebooting device or lock/unlock device then they can do it from the same screen. Clicking on Settings button pulls a menu with following actions to choose from

Refresh
Lock/Unlock Device
Full Device Information
Do reach out to us on support@scalefusion.com if you have any questions or are facing any issues during setup or usage of this feature.
---
---