How to Setup Volume Purchase Program (VPP)
Volume Purchase Program by Apple allows an organization to find, purchase and distribute applications in bulk and then use an MDM like Scalefusion to install them onto the corp-owned or employee devices. Organizations can choose to procure even Free applications using VPP program and distribute it via their MDM.
Apart from the fact that VPP is the only option to distribute paid applications in an organization, the other main advantage of using it is that it enables you as an administrator to silently install, update and uninstall applications on devices. This removes the dependency on configuring an iTunes account on each of the managed device and requires no user-interaction.
This document is the first of a two-part VPP help guide, and here first we focus on configuring VPP and then look and how to view, manage VPP assets.
Note - Scalefusion supports only distributing Business Store applications purchased under Volume Purchase Program. It does not support Education Store applications yet.
Note - Scalefusion supports only device assignment for VPP applications, that is applications are assigned to a device and not per user.
Before you Start
You would need an Apple-Id that is provisioned for Apple VPP access. To learn more about Apple VPP program and how to enroll your organization, please visit, https://deploy.apple.com/qforms/open/register/index/avs
Complete the APNs registration part as described here.
Video Guide
Please watch the video below to get a visual walkthrough.
Step 1 - Configuring VPP in Scalefusion
Sign In to your Scalefusion Dashboard.
Navigate to Getting Started > Apple Setup.
Click on the VPP tab and then click on ADD VPP ACCOUNT button.

If you are using Apple Business Manager, you need to generate VPP token and download it. To do so, follow these steps:

Login to Apple Business Manager Portal at https://business.apple.com
Click on Preferences (You will see Preferences on clicking your Profile name on the bottom left)

Go to Payments & Billing. Under Apps and Books tab, you will see the Location tokens under Server Tokens.
Click on the the token for the Location you manage and had configured in Scalefusion, to download it on your system.

Please note this token is unique and can be used on one MDM at a time

Now navigate back to Scalefusion Dashboard. Click NEXT.

Upload the token that you downloaded from Apple Business Manager (under Step #4), by clicking on Browse Files and click NEXT.

The following screen indicates that the process of setting up VPP with Scalefusion is complete. Scalefusion now attempts to sync the VPP applications that you may have already purchased under VPP program and the number of VPP Apps will be updated accordingly.
Renew VPP token
When you setup VPP on Scalefusion to manage your devices a server token is generated which has an expiry of one year. Hence, the token has to be renewed before expiry so that Scalefusion can communicate and continue managing the VPP purchased apps. To renew the token:
On Scalefusion Dashboard, click on Renew VPP Token under VPP

Follow the same process to generate new VPP token (Step #4 onwards) and upload it on Scalefusion Dashboard, described above in configuring VPP. This renews the VPP token.
Please ensure that from Apple Business Manager you re-download the server token for the same Location that was used while configuring VPP
Step 2 - Sync, View & Manage your VPP assets
Once you have configured VPP, one of the next steps is to sync your VPP applications. Additionally you may want to view additional information related to your VPP applications like the number of licenses available and the devices where is it assigned. To facilitate this Scalefusion provides a VPP Assets page. The following steps guide on how to use the VPP Assets page.
Sign In to Scalefusion Dashboard and navigate to Device Enrollment > Apple Setup > VPP tab.
Once on the VPP tab click on the number displayed next to the VPP Apps label as shown below to navigate to VPP Assets page.

You will see the following page.
VPP Assets page offers you the following,

List of All the VPP applications that you may have purchased using VPP.
SYNC NOW - Scalefusion auto-syncs your VPP app details every 6 hours, but if you want Scalefusion to force-sync the applications then you can use this option.

Please note, sometimes it takes around 5-10 minutes for the newly purchased app to appear in Scalefusion VPP Assets page.

Refresh Page Icon - A nifty shortcut to refresh the page

Clicking on the Gear icon next to each application gives you the following options,

View Assignments - Use this option to check on which devices this application has been installed.
Sync Licenses - Use this option if you have just purchased new licenses and want to sync it with Scalefusion dashboard.
Purchase Licenses - Use this option as a handy shortcut to navigate the Apple VPP portal and buy additional licenses for this application.
Frequently Asked Questions?
Question: How much time does it take to sync my VPP applications?
Answer: Scalefusion automatically syncs every 6 hours and updates the VPP applications. However you can force sync the VPP applications at any time, by navigating to the VPP Apps/Assets page and clicking on SYNC NOW button.
Question: Which Distribution Type should i select when purchasing a paid application?
Answer: When you are buying a paid application you would have to select the distribution type. You will be presented with the following two options,

Please select Managed Distribution option. Scalefusion only supports managed distribution of paid applications. If you would like a quick visual guide, please refer to this video https://youtu.be/6NTMpRIc0Pg .
Question: How do I reclaim the app licenses that I distributed with my previous MDM Provider?
Answer: If you are migrating from another MDM provider, then there might be a use-case where the VPP App licenses are still consumed by the older devices and are not free. You can "Reclaim" by navigating to the VPP Assets page and then clicking on View Assignments option of the app as shown below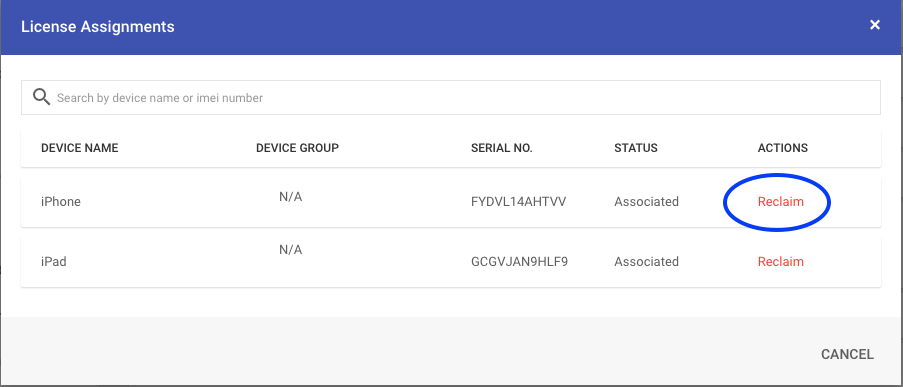 Question: What happens to VPP applications once VPP token is deleted?
Answer: VPP once deleted will remove all macOS apps. iOS apps will be converted to normal apps. Licenses consumed so far will not be removed and they need to reclaim them if they are using the same token in another VPP account or another MDM.
---
---