Google Play Protect Impact on Enterprise Store Applications
Google Play Protect
With the recent release of Google Play Services v12.5.0 and above, a new feature of Google Play Protect has been added. This security update by Google scans the device for malware and enhances the overall security of device. You can read more about it here.
Although this is quite a good addition by Google, it has caused conflicts with MobiLock Enterprise Store application installation on devices. This document details the issue.
Issue
When the end user clicks on the App logo with red-badge on the MobiLock Home screen and tries to Install the application, then a system dialog is shown which is blocked by MobiLock.This system dialog is shown by Google Play Protect which looks like this,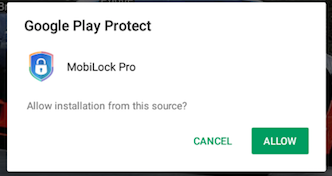 Since Google Play Application is not Whitelisted or Enabled in Device Profile, this dialog is minimized and user cannot continue with installation.
Affected OS Versions
Devices running Android 6.0 and greater.
Not Affected Devices
Devices where MobiLock supports silent app-installation will continue to install applications without user interaction.
If you have already enabled Google Play Store application for your end-users.
Workaround
Login to MobiLock Dashboard.
Enable & then Hide the Google Play Store application in all the Device Profiles as shown below and UPDATE the Profile.
If you are using devices without Device Profiles, then Enable & Hide Google Play Store application on all the devices as shown below,
Permanent Fix
We have added a workaround from MobiLock Android Client app v3.6.7-635 to be released on 8th August. This will take care of fresh installations.
For Existing devices please upgrade to this version using the workaround and once all devices are updated to this version, the Google Play Store application can be disabled from Device Profile.
Please contact Dashboard Support for any queries.
---
---