Android Enterprise (Android for Work ) setup with Scalefusion EMM
Android Enterprise or formerly Android for Work is a Google-led initiative to bring the best of Android management features to enterprise using Android Enterprise devices.
Android Enterprise was earlier called as Android for Work and hence you would see the words Android Enterprise and Android for Work used interchangeably. Also sometimes it is abbreviated as AE or AfW or AFW.
With Android Enterprise setup, you can access all the advanced management EMM features that Scalefusion offers both on Company Owned devices and Employee Owned devices. Some of the features of using Android Enterprise setup are,
A simple OOB Experience. Install Scalefusion right when you are unboxing your device.
Silent Install/Uninstall on devices with Android OS greater than 6.0, irrespective of the make/model of device.
Search And Publish applications from Google Play Store on your AfW managed devices.
Configure per-app Restrictions/Permissions from dashboard.
Enforce password policies on your devices.
Use Android Zero-touch Enrollment
Before we start accessing all Android Enterprise features for your devices, we need to bind your organisation with Scalefusion. For this purpose you would need a Gmail Id. We recommend using a separate corporate Gmail account for Android Enterprise setup.
Before You Begin
Sign In to Scalefusion Dashboard
You will need one Gmail id (a non GSuite). We suggest creating a new Gmail id/account for setting up Android Enterprise(Android for Work).
Note: GSuite account based Android Enterprise setup is currently not supported by Scalefusion.
Visual Guide
A quick two minute video that guides you the process of Android Enterprise(Android for Work) setup.
Enrolling Steps
Login to Scalefusion Dashboard and navigate to Mission Control > Android Enterprise Setup.
Click CONFIGURE ANDROID FOR WORK.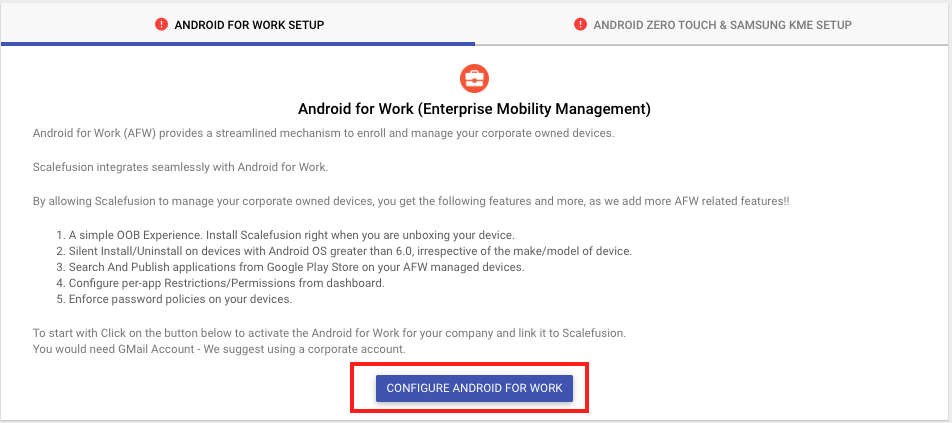 You will be redirected to Google Play page.On the Google Play page, click SIGN IN. Use the GMail id and complete the sign-in process.

If you are already signed with your own gmail id, sign out and sign in with the corporate gmail id.
Once you are signed-in, you will be redirected to a page with an option of GET STARTED. Click on GET STARTED.

Enter your organisation/company name and click Next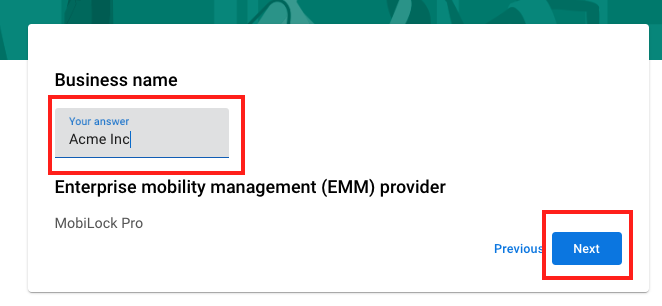 In this step, fill in the DPO and EU representative details as applicable. If you do not have DPO details or these are not applicable for your organisation, select I have read and agree to the Managed Google Play agreement and click Confirm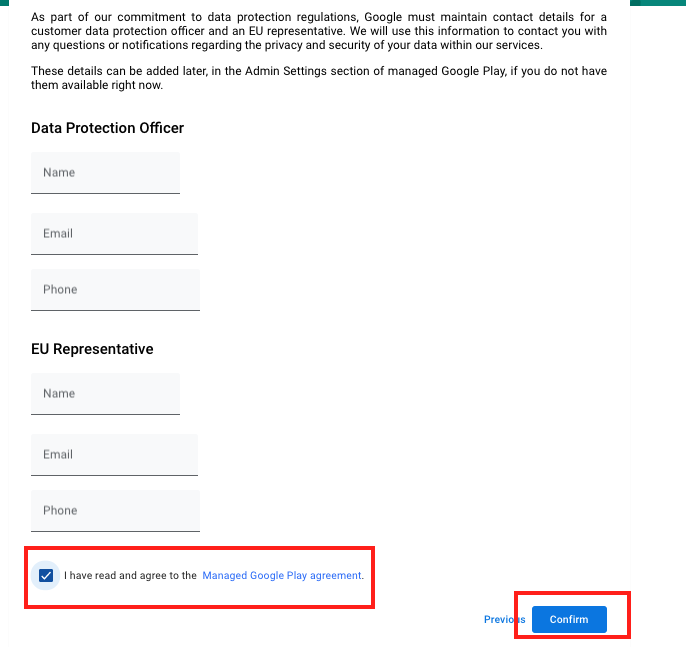 The following screen confirms that the registration/enrollment is complete. Click Complete Registration to navigate back to Scalefusion portal.

Post successful setup you will be navigated back to Scalefusion and see the following screen. The Gmail account that you used for enrolling along with Google assigned Enterprise ID will be displayed here.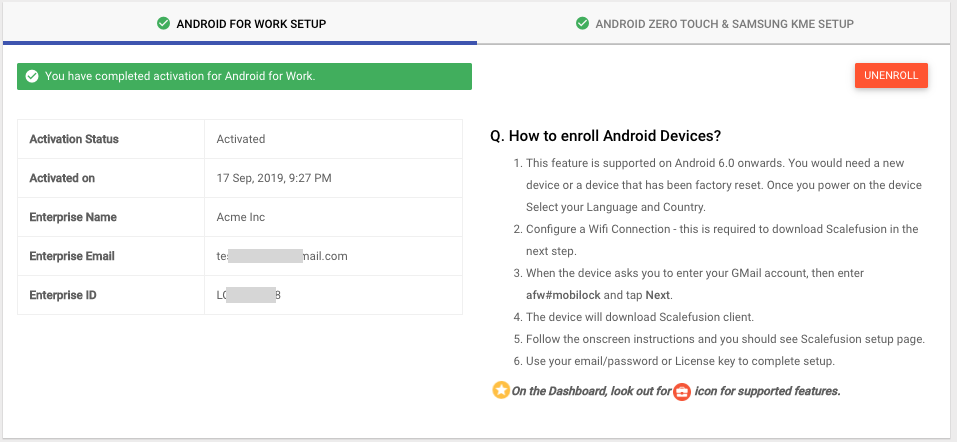 That is it, now you are ready to start using MobiLock to manage your corporate and employee owned devices. Refer to our Company Owned Device Management guide or Employee Owned Device Management guide for further steps.

---
---