Remote Support for Windows 10 devices
Scalefusion supports remote device troubleshooting on its managed Windows devices, through its Remote Cast and Control feature. The feature allows the active device screen to be shared between the device user and the IT admin wherein the latter can direct, guide and assist the user to resolve a specific device issue or to raise a ticker for further escalation.
As a result, Remote Cast & Control feature offers a number of benefits. To name a few:
IT Admins can easily troubleshoot any problems faced by end users on their Windows devices, remotely.
Educational institutions can conduct guided sessions
In the document we will describe how Scalefusion's Remote Cast & Control feature is implemented and works on managed Windows devices.
Prerequisites
Windows OS - Windows 10 with minimum version 1809 or above, should be installed on User's Device. The device should be managed one.
Edge Browser - Latest version of Edge Browser (Chromium-based) is required. Minimum required version is 79.0.309.
Setup
Step 1: Install & Setup Remote Support app
The first step to use Remote Cast & Control on Windows devices is to install & setup the Remote Support UWP app. The app acts as a primary entity which authenticates user's device and Remote Cast & Control Session. Please follow the steps below to install:
Navigate to Application Management > Scalefusion Apps. Click on Scalefusion Remote Support App for Windows and select PUBLISH

Select the Windows Device profiles on which you want to install the application. Click on PUBLISH to confirm the installation.

It will take few minutes for the app to get downloaded. You can check the status on dashboard from My Apps. If installed, it will show the status as 'Installed'

The users on their device need to launch Remote Support app. For this, they should navigate to Start > Search for Remote Support > Click on it and it would launch the Windows Remote Support app

Running the app once is required in order to get this device listed on Scalefusion Dashboard > Remote Cast & Control page.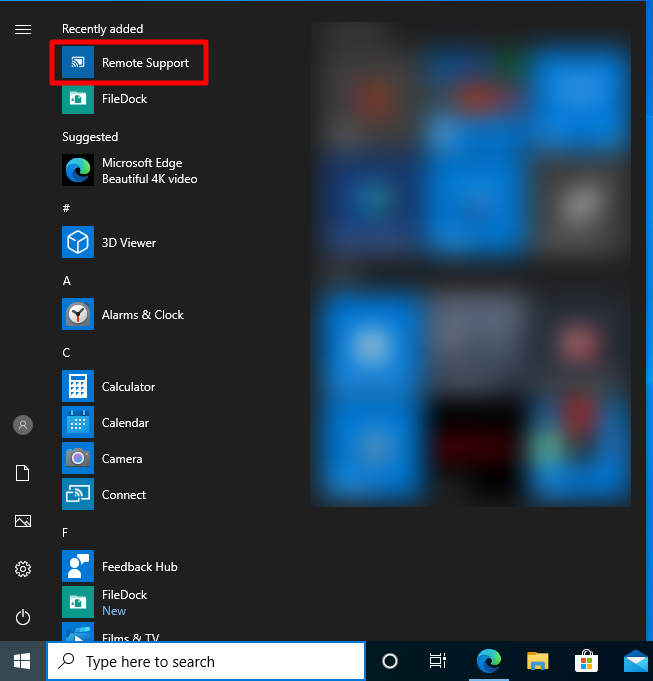 Until admin doesn't start session from dashboard, the following screen would be displayed on the user's device once Remote Support app is launched.
Remote Cast & Control Settings
When Remote Cast is used in security and privacy concerned domains like tablets with kids or with people in hospital care, if somebody takes a remote cast session, companies normally want to enforce recording of that session as a checkpoint for the agent taking the RCC session to make sure that everything is recorded.
To enable this, following settings have been provided that can be configured from Dashboard before starting a session and can be used as global settings for all admins.
The settings can be accessed from Settings button available in Remote Cast & Control on Scalefusion Dashboard. Clicking on Settings opens a dialog box where admins can configure them.
Admins with only Write access to Remote Cast can edit these settings.
Setting

Description

Auto-Record Remote Cast sessions

Enabling this automatically records the remote cast sessions. After the session is completed the recording gets downloaded to the IT Admins PC/Laptop.

If this setting is ON, session recording cannot be stopped.

Auto-Enable Voice Call in a Session

Enabling this starts a session with calling functionality enabled.

This setting sets the default for the session. IT Admins still have to start the call during the session.

Allow Users to stop session

This setting when enabled allows users to stop the session before the IT Admins start.
Step 2: Initiating a Remote Session
Once you have setup the Remote Support application as described in Step 1, follow the steps below to initiate a casting session.
Clicking on Remote Cast & Control on the Dashboard will show you the list of devices that support casting and control. Click on Start Session option next to the device you want to start a screen sharing session with.

The Remote Control column indicates if the device supports control feature or not. A cross (X) indicates that the device does not support and a tick (V) mark indicates that the device supports control.
A Remote Cast session can also be initiated from Device Details page. On Device Information card there is a shortcut icon for Remote Cast before the Gear icon, clicking on which directly takes you to the Start session screen.
You will be navigated to the screen casting page with the following components,

Cast Console: The area where the mirrored screen appears.
Session Details: Displays the windows device name and model with which the session will happen
CREATE TICKET: Create a Service Desk ticket - Supported only if you have integrated your ITSM tool.
Start Session: Click on this button to start the session.

Click on START SESSION to start the session.
Wait for the End user to accept the remote session request and start the session. This is done by clicking on Start Session button.
The user should accept the request within one minute as the dashboard has a timeout
Start Session launches the Edge browser. As soon as it is launched on browser, it shows a dialog to select the area you want to share. There are three options here:

Your entire screen: The entire screen is visible. Whatever activity is performed on the device is visible to the admin.
Application window: Only the application that is opened by the user, is visible. If the app's window is minimised, black screen would be visible to the admin.
Microsoft Edge tab: Choose one particular tab on Microsoft Edge browser that should be visible

Make a selection and click on button "Share"

If the steps above are executed properly, then the screen that is currently running on the device will be shown on the Scalefusion dashboard. The options while in an ongoing session are,

Remote Control: As the device supports remote control, the admin gets complete control of user's device, click anywhere on the screen, access apps etc. and perform required checks on his device, all remotely
Full Screen: Use this option to go full screen.
Take Screenshot: Use this option to take a screenshot of the shared screen.
Stop Session: Use this option to stop the session.
Start Recording: Use this option to start recording the session once it is started. After the session stops, the recording gets downloaded and can be accessed later.
Device Level Actions: During remote session if admin wants to perform actions like rebooting device or lock/unlock device then they can do it from the same screen. Clicking on Settings button (next to full screen) pulls a menu with following actions to choose from:

Refresh device
Reboot Device
Full Device Info
The user can also stop the session from his end
Handling of Website Whitelisting
Edge being allowed or not allowed in Whitelist, we whitelist Remote Cast related URLs so that Remote Sessions can be performed.
If Device has the minimum Edge version required

If Edge is Not Allowed in Whitelist:

We Whitelist Edge, that is, allow it in Whitelist policy
We whitelist only Remote Cast related URLs so that users cannot access any other website
Edge will be auto whitelisted in CSP, its icon will not be added on the start layout

If Edge is Allowed in Whitelist but has Website Policy Applied:

We append RC related URLs so that users can access their current Whitelisted sites and additionally RC session
We make sure of this whenever WL policy changes

If Edge is Allowed in Whitelist or Blacklist but NO Website Policy is Applied

We don't do anything as all URLs are allowed.
We make sure of this whenever WL policy changes

If Skip Application Policy is selected

We don't do anything as all apps and URLs are allowed
Observations / Known issues
There are certain known issues which we are working on and improvise in our next updated version:
Notifications do not come up as notification feature is disabled in Whitelist apps. This feature cannot be modified.
When a new user logs in, Remote Support app should be opened once for pushing notification.
For new Users, Edge's welcome URL blocks opening of RC's URL. To solve this, manually open edge, then Start Session. If unable to, then copy URL. OR, Sign-out/sign-in once.
If Start session button does not appear:

Close Remote Support app and open again, wait for sometime to sync and then try.
If it still doesn't appear, sign out once and sign in again. Open the app then try.

There are certain keys and key combinations that are not supported currently when a Remote Control session is on. They are:

Ctrl
Alt
Windows Key
PrtSc/SysRq
Combinations like Ctrl+C, Ctrl+V, Ctrl+X, Ctrl+Alt+Del
Mouse Middle Button Scrolling
Mouse Middle Button Click
Mouse drag
Run as administrator pop-up
---
---