Enrollment Configurations for Company Owned Windows Devices
Device Enrollment Configurations are a quick and easy way to enroll your Windows devices. By creating a configuration, you can choose the default Group or Profile and a naming convention for the devices that are enrolled using this configuration.
For each Kiosk/Corporate enrollment configuration, there is one unique URL generated which can be used on all the Windows devices that you want to enroll using this configuration. You can create as many enrollment configurations as you want depending upon the number of Device Profiles that you have.
Before you Begin
Create a Windows Device Profile.
Create an Enrollment Configuration
Enrollment configurations are useful to create basic rules for enrollment like device naming convention, the default device profile or group of devices and a default license that should be applied. Once created you can get a QR Code for your enterprise mobile devices and a URL for Windows 10 devices. Follow the steps below to create a configuration,
Navigate to Enrollment Configurations > QR Code Configurations. Click on Create Config.
In Basic section, give a name for your configuration and select a naming convention for the devices that enroll using this configuration. Click NEXT to go to next step,

Device Configuration: These settings are for Android devices. For Windows these can be skipped. Click Next

Selecting Use OS Name as name prefix, prefixes the device names with their OS types. For example a Windows device will be prefixed with Windows- and an Android device will be prefixed with Android-

In the Group/Profile section, under Windows Device Profile dropdown, select the windows profile that we created as a pre-requisite.
Apply Enrollment Rules: If any enrollment rules are defined in Global settings, they get applied when a device is enrolled using this configuration. Disable this setting to skip applying the rules for enrollment using this configuration.
Click NEXT

You can use the same configuration across Android, iOS and Windows devices.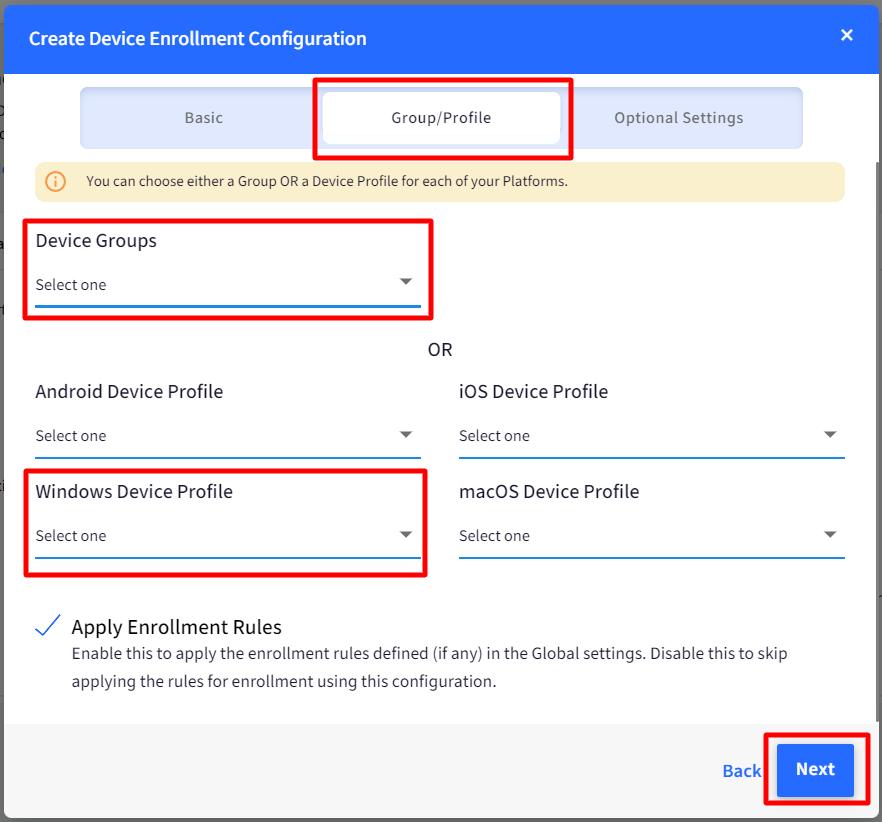 The Optional Settings section helps you set a default license for the devices enrolled using this configuration. This is an optional section and can be left blank. If the selected licenses has no free slots or this option is left blank, then the next available license is used to enroll the device.
Configure Wifi: Configure Wifi settings which will get applied to the device when it gets enrolled with this configuration.

Enrollment Network Settings are configured to speeden up the enrollment process when you are enrolling via 6-times tap and scan a QR.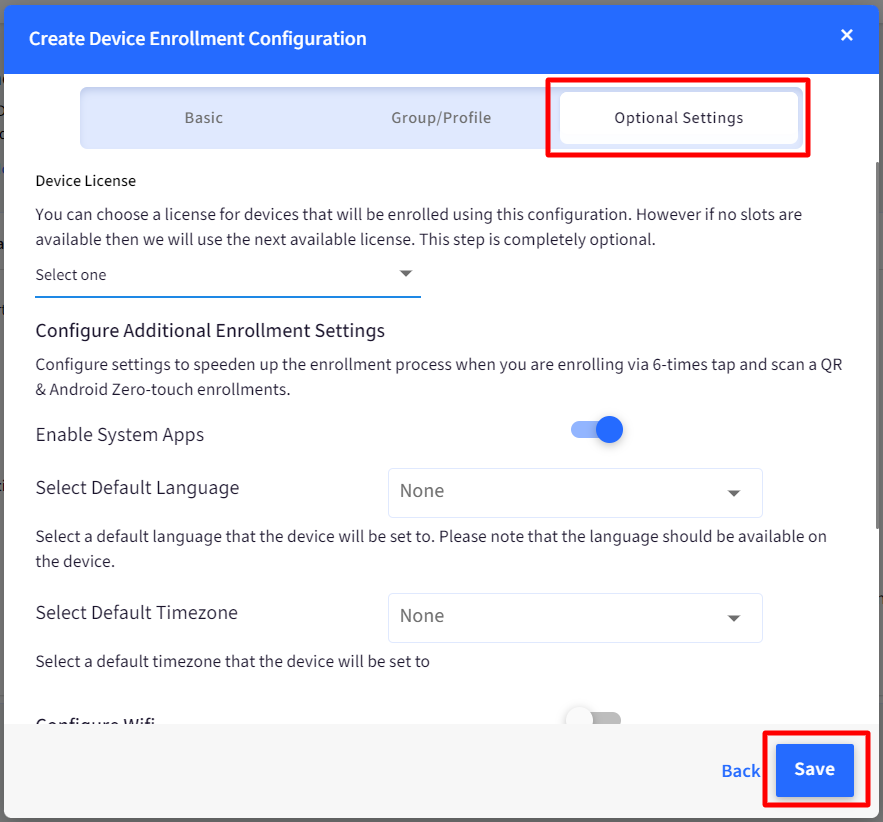 Click on SAVE to create the configuration. Once a configuration is created it will appear in the list of enrollment configurations.
To enroll your Windows 10 and 11 devices, you would need the enrollment URL. To get the enrollment URL, expand the configuration from the list and click on Windows.
This shows the Enrollment URL and Enrollment Code. Open IE11/Edge and type in the Enrollment URL shown and press Enter.
Windows OS
7 and 8.1
can be enrolled by downloading
Scalefusion MDM agent
. Please
visit here
to learn the process of Agent Based Enrollment.
Use the Email
option from the action panel, to have the enrollment URL & steps sent to your registered email.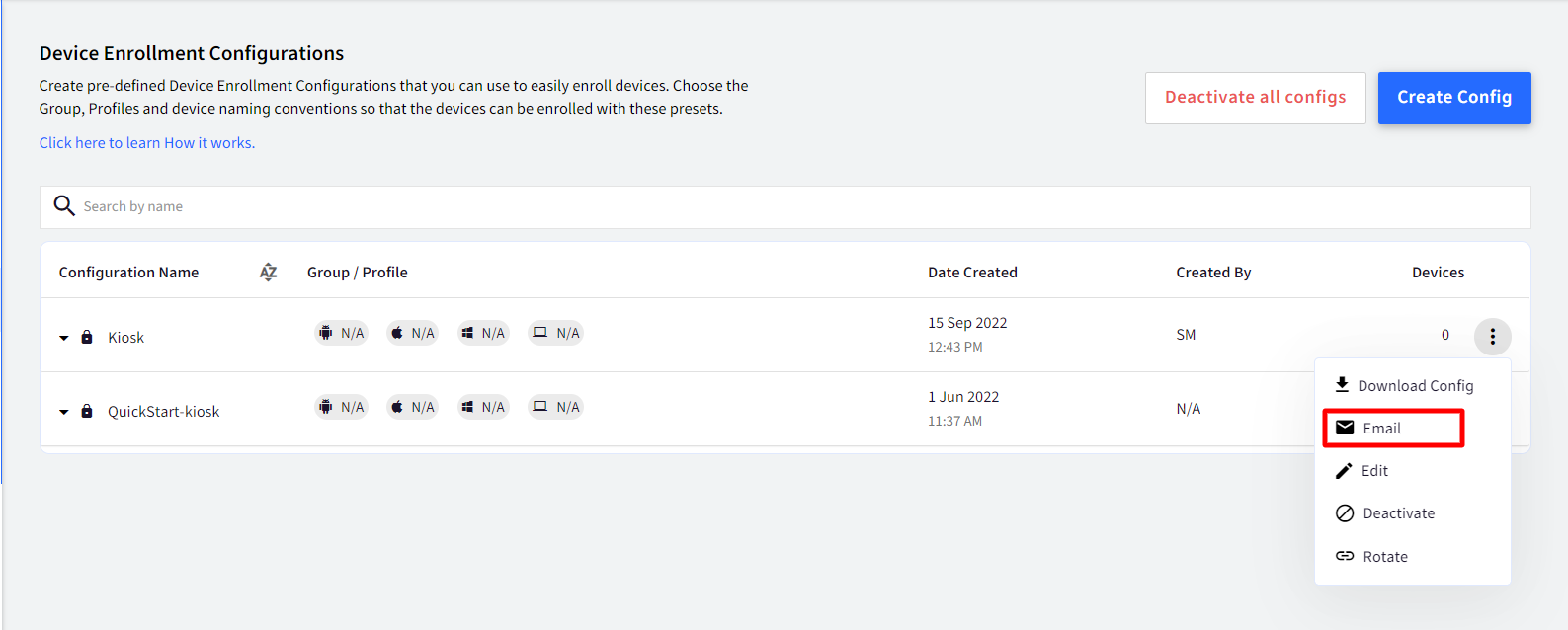 In the Send Enrollment Email dialog which opens on selecting Email option shown above, you can select the Windows OS (10 & above and/or Windows 7&8) and the enrollment information with steps will be sent based on the OS you have selected.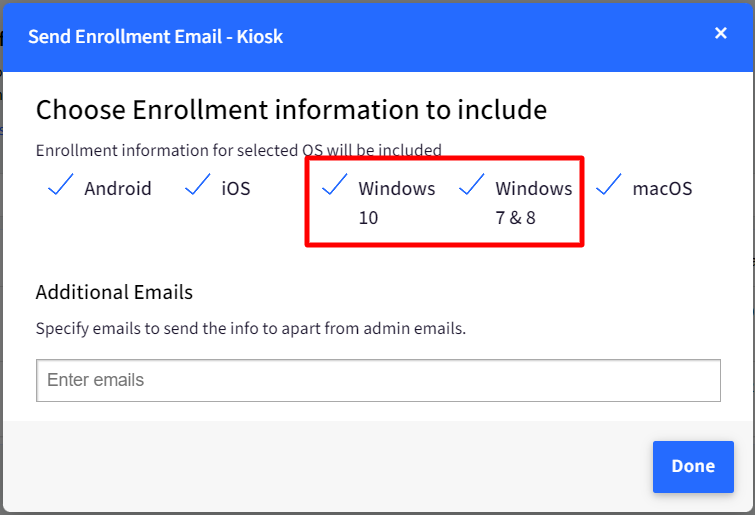 If you use Rotate action, the Enrollment Code will change
Once you have created enrollment configurations and have received the enrollment email, head over to our Enrolling a Company Owned Windows Device guide to learn how to enroll a device.
---
---