Schedule Reports
An additional feature to Reports is to be able to schedule them at set intervals so as to get alerts over email and also enable downloading them all for business use. With Scheduled Reports feature on Scalefusion Dashboard, admins can create a schedule for a report, receive it over email, download them as CSV and also perform other actions.
Let us learn in the document how all this can be achieved.
Who can access
License Plan: Scheduled reports will be accessible to those who have subscribed to Legacy Enterprise or Enterprise Plan. For those who are subscribed to plans other than this, the icon to upgrade would be available.
Roles: Account Owner and Co-account manager will have the access to Scheduled reports and Report Repository. Those who are on custom role, will get access to Scheduled Reports if the Scheduled Reports flag is enabled for them in Permissions.
Which Reports can be scheduled
Following Reports can be scheduled:
Screen time
App Version
Device Availability
Battery History
Device Inventory
There should be data present in each of the reports
How Does it Work
On Scalefusion Dashboard in Reports section, configure Report Schedule via Schedule Report link present inside reports (listed above) in Instant Reports or through Scheduled Reports > Create Schedule
Based on schedule configured, email would be sent to the selected users with link to download the report. The report gets downloaded in CSV format.
The scheduled reports are also listed in the Scheduled Reports section from where actions like reschedule, delete, deactivate etc. can be performed.
Generated report will also be available under Reports Repository. The reports will be available in the repository for 30 days only for download.
Scheduling Report
Sign in to Scalefusion Dashboard
Navigate to Reports & Workflows > Reports or click on Reports icon on the top bar
There are two ways to create a Report schedule:

Navigate to Instant Reports section and click on Schedule Report link inside each of the reports listed above. The Schedule Report link is visible once you generate a report.

Navigate to Scheduled Reports section and click on the button Create schedule

Using any of the methods above, a Create Schedule dialog box opens. Enter the following details to configure Report schedule

The fields Report, Select Device Group and Select Device are not available when you schedule report from Instant Reports section because they are already selected as filters there.

Fields

Description

Name

Enter a name with which the schedule is identified

Report

Select the report from the drop-down for which you want to configure Report Schedule

This field is available only when you are creating a schedule from Scheduled Reports section

Show Report For

For App Version report, select whether the report has to be scheduled for (Select one from the following):

Based on the selection, the next field gets populated for you to select device / device groups

Select Device Group

Lists Device Groups and Sub-Groups in which devices are present. Select a device group/sub-group.

After scheduling report, if device group gets empty that is devices are removed from the group, then the scheduled report is marked as invalid and does not get generated next time.

Select Device

Lists all the enrolled devices. If a Group is selected, then it lists only the devices which are part of that group. Select a device.

If list of devices is long, you can even search devices by name, IMEI number, serial number etc.

Frequency

Select the frequency at which the reports should be generated, from the following:

Daily (selected by default): The report is generated on a daily basis at the selected time.
Weekly: Allows you to select particular days in a week (from Monday to Sunday) on which report should be scheduled. Select the days by putting a check over each
Monthly: Allows you to select specific dates (from 1 to 31) for which report would get scheduled

Time Zone

Select the time zone from the drop-down

Time

Select the time at which the report should be scheduled to be sent

Send To

Select the admin role(s) to whom the scheduled reports should be sent:

Account Owner
Co-Account Manager
Device Admin
Enter Email Ids in the text space, to whom report has to be sent

Subject

Give the subject of the email. By default subject is set as Report Name - DateTime that you select. This can be changed.

Email Body

In the text area, the Email body can be composed. There is already a pre-composed text specified here which can be replaced with the text you want to send as an email along with download link for the report.
After configuring all settings for Report schedule, click Save. Email will be sent to selected user(s) at set interval with link to download report.
View Scheduled Reports
All the scheduled reports can be viewed under Scheduled Reports with a summarized information of the report schedule:
Name
Report Type
Frequency
Last Run
Next Run
Created On
Other details as per selections made while configuring Reports' schedule
Actions on Scheduled Reports
Following Actions can be performed over a scheduled report. These are accessible by clicking on the three dots under Actions menu: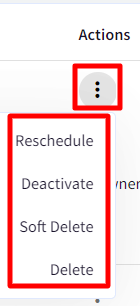 Reschedule: This opens the Create Schedule dialog box where you can make changes to the reports' schedule
Deactivate: If you deactivate, the Scheduled Report will not get executed
Soft Delete: The scheduled report will get deleted from the Scheduled Reports section but it will still be available in the Reports Repository
Delete: The scheduled report will get deleted both from Scheduled Reports section as well as Reports Repository section. After deleting, the user will not be able to download the report from the download link in the email.
Report Repository
All the reports generated as per schedule are listed under Reports Repository along with following additional details as shown in screenshot below. The reports are available in the repository only for 30 days. After that, they automatically get deleted.

Following actions can be performed on scheduled reports from Reports Repository:
Download: Clicking on the download icon downloads the report in CSV format.
Delete: Deletes the report from Reports Repository. After deleting from here, the user will not be able to download that particular report from the download link in the email.
---
---