User Management and Settings
Oneteam makes any organization's team communication easy, simple, accessible, and secure. With features like instant messaging, calling and group chats under Oneteam, organizations can easily bring their non-desk employees together making team communication and team collaboration more effective.
To get access to Oneteam, first sign up your organization on Oneteam application as Super Admin. Then Super Admin adds team members to the organization he created. Members can be added via the Users section.
Only the users who are added to Oneteam have access to Oneteam application on the Web or on devices.
This document describes how users can be added to Oneteam.
Before You Begin
You should be signed up on Oneteam as Super Admin.
Adding Users
Method 1: Add User
To add other members to Oneteam, follow these steps:
Visit https://oneteamapp.com/ and login with your account.
Navigate to the Users tab on the left panel.

Click on ADD USER drop-down on the top right and click Add User

This opens the Add User dialog box. Here, enter the user details.
If you want to add more than one user, click on the ADD MORE button. From the dashboard, you can add a maximum of 5 users at a time.
Log-In with Phone: Enable this if the user has to log in from the device. Log-In with Phone will be activated only when you enter a valid phone number in the Phone Number field.
After entering all details, click DONE

The users will receive an Invite email on the email ID given by the Admin. They need to click on the "Verify email" link or directly log in on the oneteam application.
Once verified, the user(s)/members get added to Oneteam. They are displayed in the Users list.

Any user that super admin adds, gets the role of "oneteam user" by default. The role can be changed via Edit.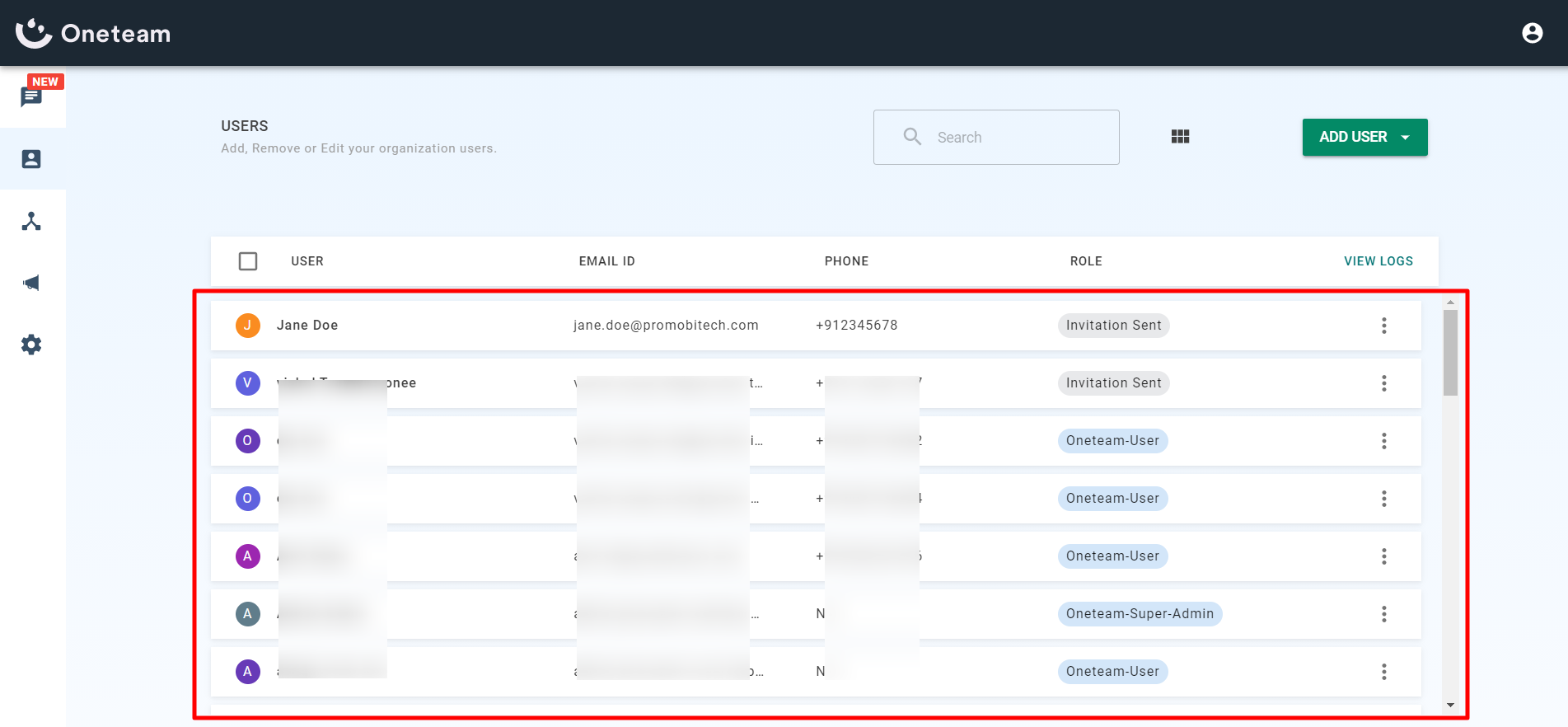 Method 2: Upload CSV
There is another way of adding users to Oneteam in bulk, through Upload CSV.
Under Add User, click on Upload CSV

This opens a new dialog box. Drag & Drop the CSV file that contains the list of users or browses for it on your system and click UPLOAD.

You can download Sample CSV to understand the headings under which user details have to be added

You will get a confirmation box with the list of users successfully added. Click DONE and the users will get added to Oneteam, displaying in the list of users.
Actions on Users
The following additional actions can be performed over a user's account:
Edit
Delete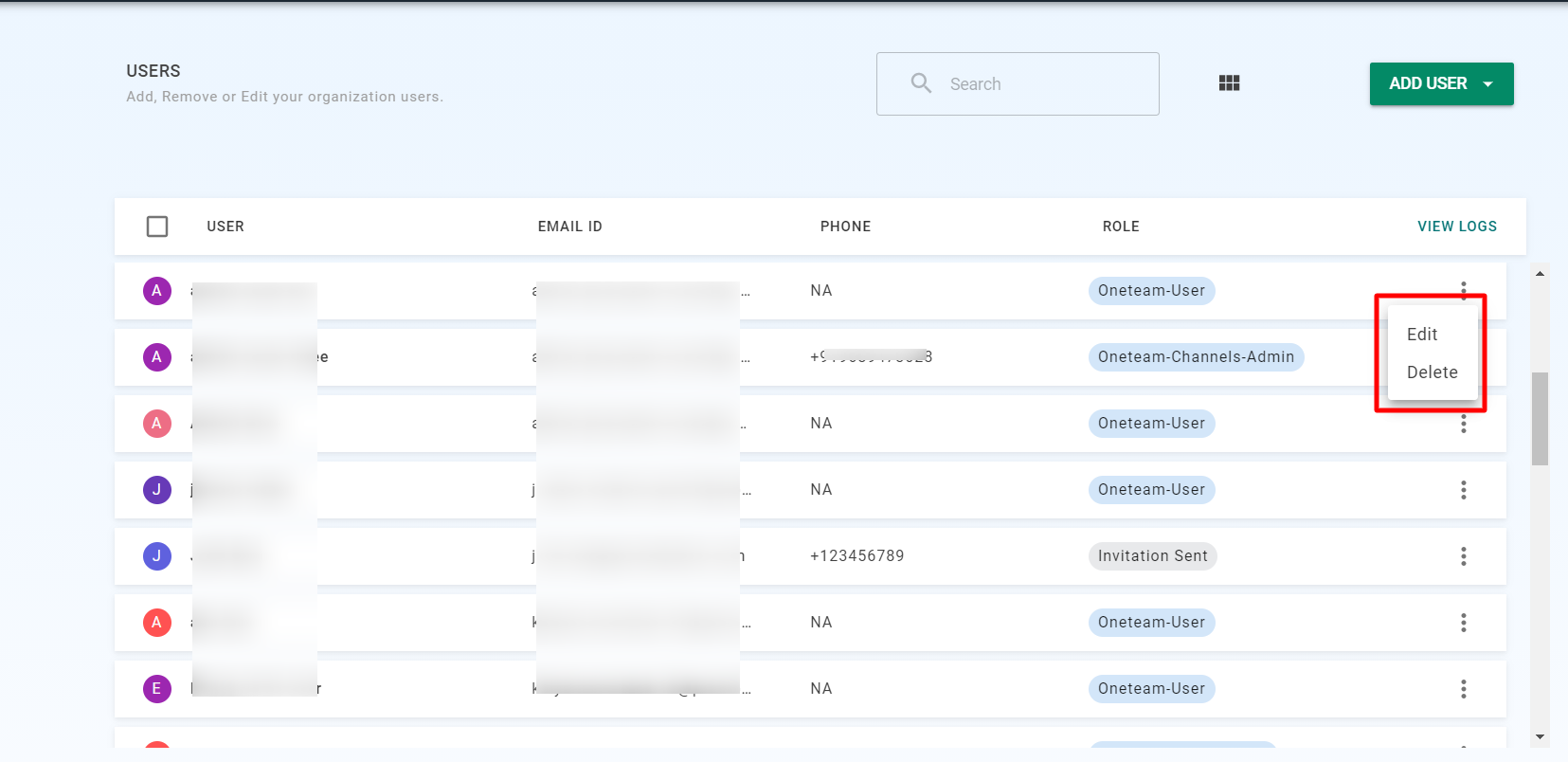 Edit - In the Edit window, you can perform these actions:

Change Phone Number
Enable/Disable Log-In with Phone
Change Role - The roles available are:

Oneteam Super Admin,
Oneteam Channels Admin
Oneteam User

De-activate User

Oneteam Super Admin,
Oneteam Channels Admin,
Oneteam User
First Name, Last Name, an Email address cannot be edited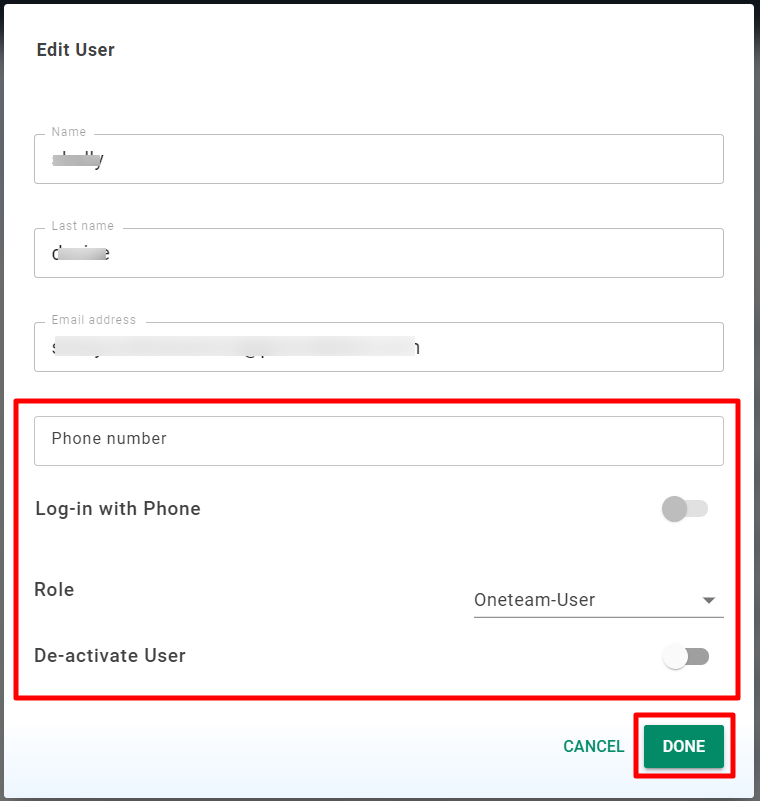 Delete - Deletes the user permanently from the Oneteam application.
Settings
Through the Settings section you can modify your account settings. To access the Settings section, click on the Settings button on the left bar.
Action Settings - Enable/Disable the actions you can perform on messages (shown in the screenshot below)
Media Settings - Set the maximum media file size (in MB) that you want to allow in messages. It cannot be above 50MB.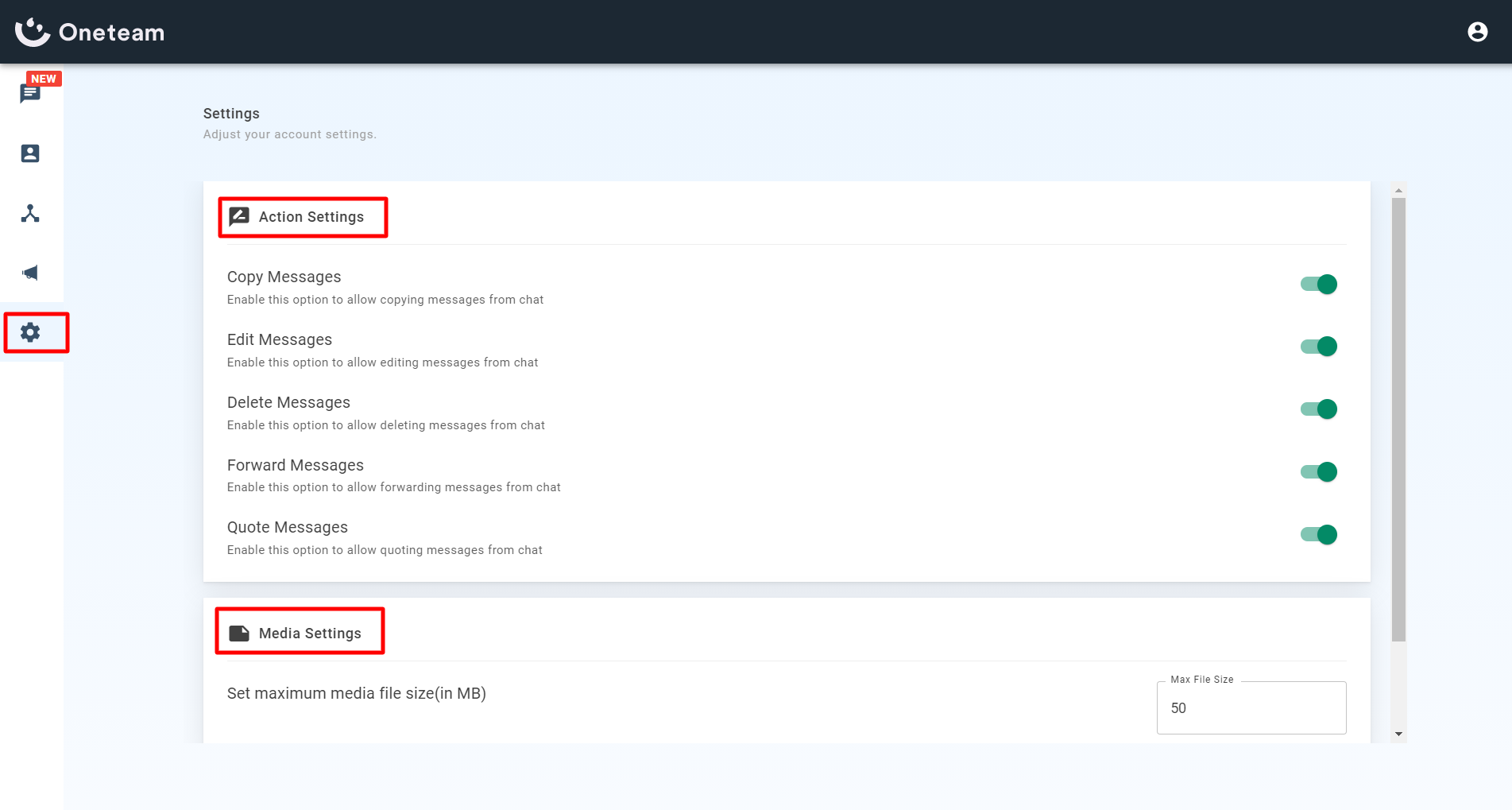 ---
---