Enrolling Personal/Employee owned device for users enforced to sign in via GSuite
This guide helps you to enroll your personal device to Scalefusion for GSuite users enforced to sign in via GSuite.
Before You Begin
Make sure you have access to the corporate email.
Make sure that your IT Admin has invited you to enroll to Scalefusion.
GSuite users should have accounts registered with the respective Identity Service Provider
The setting Enforce Users to sign in using GSuite is enabled in User Enrollment Settings on Scalefusion Dashboard
Steps to Enroll your Personal Device
The users who have configured and signed in with GSuite, and have enabled the setting Enforce users to sign in using GSuite in User Management, will be asked to authenticate by signing in with their GSuite credentials. In this case following will be the process:
If this setting is disabled, the device is enrolled with the normal procedure as described
here
When the setting to sign in using GSuite is enforced, the OTP flow is replaced by authentication using GSuite credentials, at the time of sending invite.
From Google Play Store install Scalefusion on your device and open it
Scan the QR Code or select to Sign In via Email > BYOD
Scalefusion app will try to access the device camera and the device information. Please grant the necessary permissions so that you can see the camera view. Open the email in which you have received the invite and on your device, scan the QR Code which is there in the email.
If you cannot scan the QR Code, then click on Sign In and enter your email id on which you received the invite and enter the org-id that you see in the email.
Once the QR Code is scanned and validated or the Sign In values are validated, the Data Disclaimer screen will come. Click Agree on it.

You will be taken to a Terms of Use page. These are the Terms of Use of your organization, read carefully and tap on I agree and choose Next

After confirming terms of service, you will be asked to create a Work Profile.
Post Creation of Work Profile when the app is started in Container mode following screen will appear asking you to authenticate.
Tap on Sign In using GSuite to launch the default browser and authenticate yourself using the credentials for username/email.
Accept the terms & conditions and tap Accept & Continue

Next, user would be taken to the login page of GSuite where they have to complete login and further handling till authorization succeeds.

Email will be pre-filled and it is recommended not to change it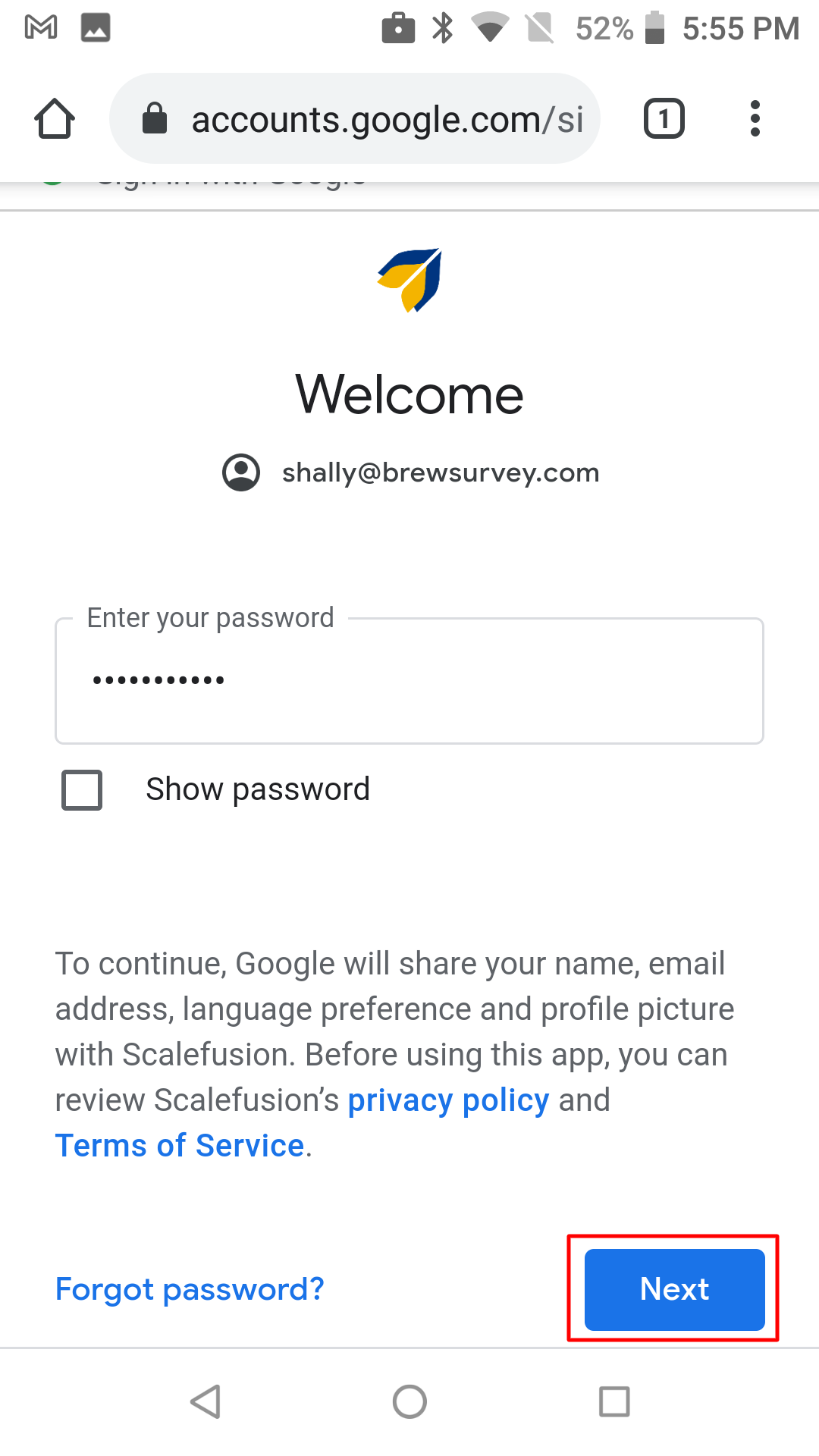 Once authenticated, you will get the Permissions screen where you allow the permissions and the device gets enrolled.
Device Enrollment in case of Authentication Failure
If authentication fails or for some reason you decide to enroll later or press back without confirming, you get the following authentication failure message
In the authentication message, the alternative, that is, OTP enrollment option is available only if Admin has enabled Fallback to OTP in User Management > Settings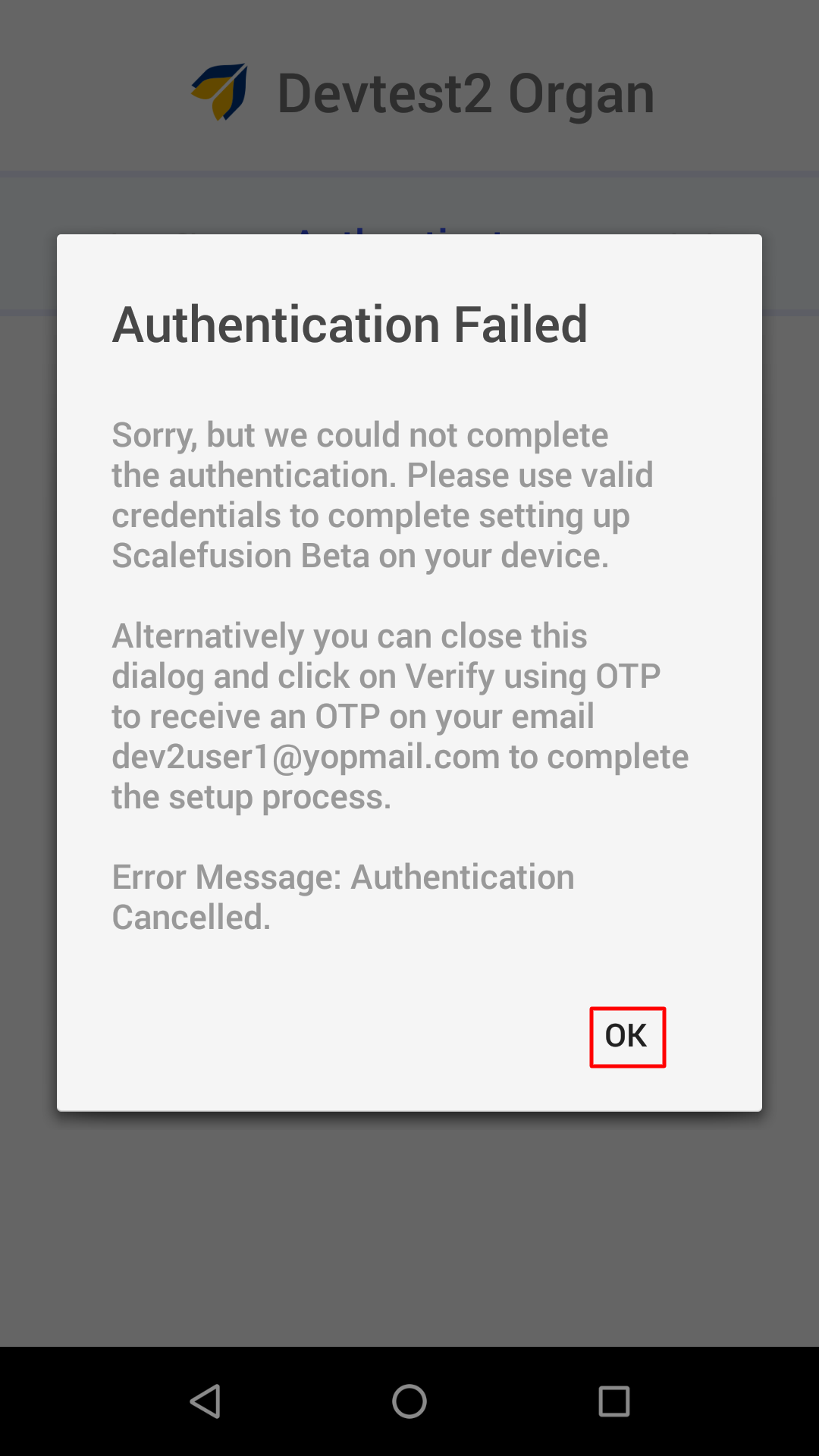 Tapping on Ok will bring up the screen where you get to choose any authentication method from the following, that is,
Sign in using GSuite
Verify with OTP
From this point you can try to authenticate again or use OTP (if Fallback to OTP is enabled) or even remove work profile and start enrollment afresh.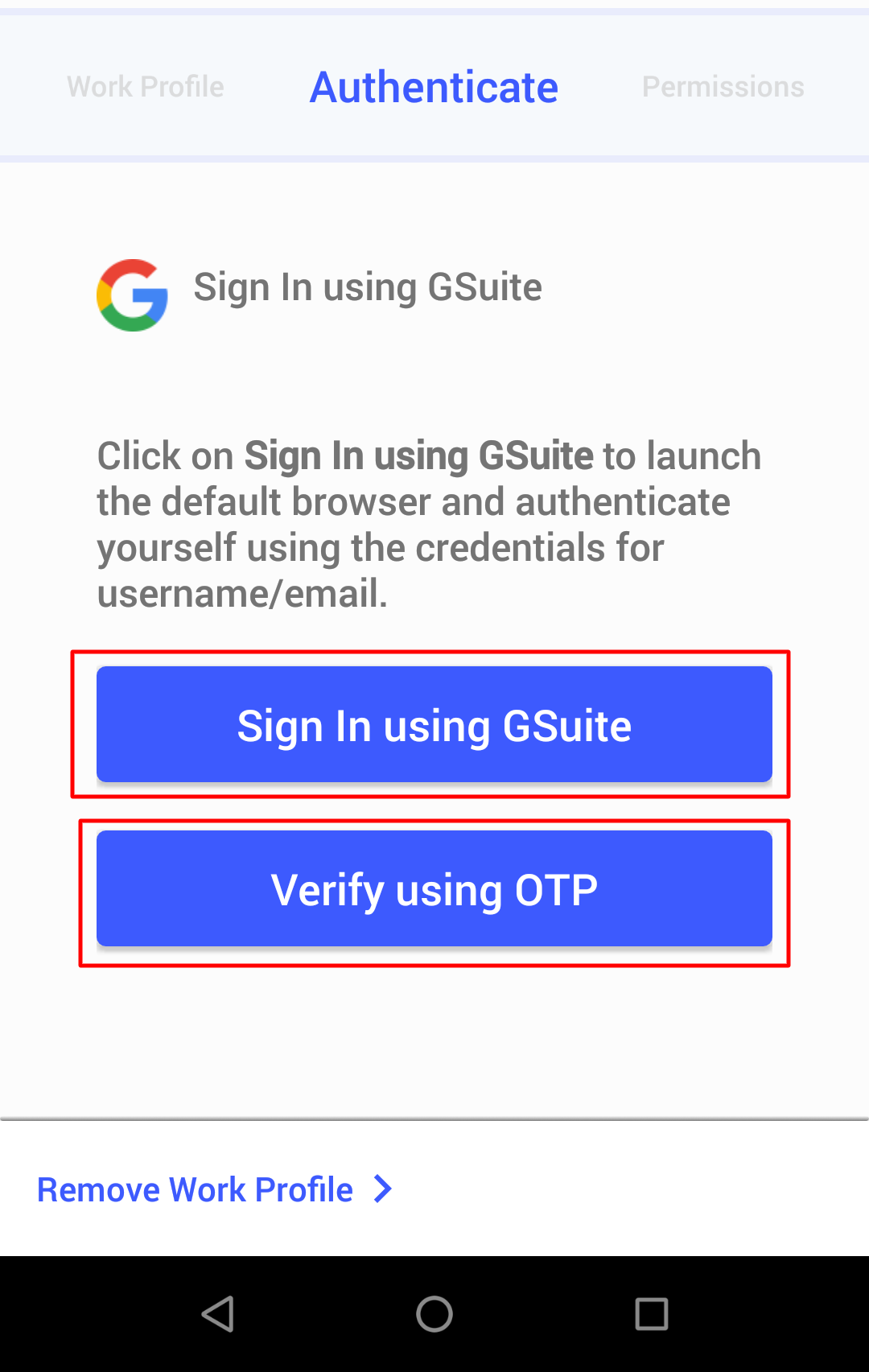 If User removes Work Profile, Scalefusion needs to be uninstalled and installed again
After successful authentication, you will get the Permissions screen where you allow the permissions and the device gets enrolled.
If you have any questions or are having issues enrolling your device, please leave us a message at [email protected] with your Device details and we will get in touch with you.
---
---