Enroll a Employee Owned (BYOD) iOS Device
If you have got an invite from your IT Admin to enroll your devices as shown below, please follow the steps below to enroll your iOS device.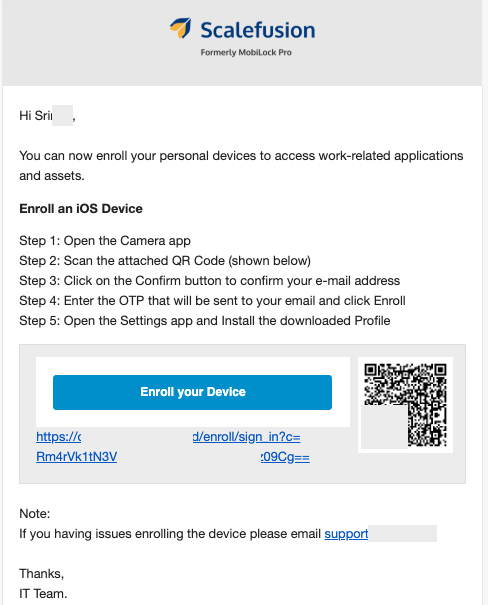 Steps
To start the enrollment process, depending on where you are checking your configuration email, use the appropriate option below,

If you are viewing this e-mail on your iOS device to be enrolled, you can click on Enroll your Device
If you are viewing this email on your laptop/desktop then on your iOS Device launch the Camera app and scan the QR Code

Either of the steps above, will open Safari with the following information. Click CONFIRM so that an OTP is sent to your email.

In this screen, enter the OTP that you received and click CONFIRM


GSuite / O365 / SAML
users who have the setting
Enforce Users to sign in using GSuite/O365/SAML SSO
enabled in
User Management
on Dashboard, will be asked to authenticate by signing in with their GSuite/O365/SAML credentials. Hence, step #2 and #3 (OTP flow) will not come up. Once authenticated, Terms of Service will reflect.
Read the Terms of Service set by your organization and click ACCEPT



On the enrollment screen, click ENROLL.

When you see a dialog to download the configuration profile, click ALLOW



Open Settings application and click on Profile Downloaded option

Click on Install on the top right corner and Install on the action menu


Now the enrollment request is initiated and after a couple of seconds, one more confirmation will be asked for. Verify that the enrollment URL is https://scalefusion.com and Click Install.



The device will show a warning, asking if you Trust this source. Verify Click Trust



This will complete the enrollment process and your device is now managed. The applications and policies pushed by your IT Admin will start getting installed. Click Done to navigate back to home screen.
Frequently Asked Questions
Question: We see the following error while enrolling the devices?

Answer: This error may appear if your IT Admin has limited you to enroll a specific number of devices and you have exceeded the limit. Please contact your IT Admin with this error for further support.
Question: Why do we see an error "Profile Failed to Install" while installing the Profile?
Answer: This can happen if the Serial number or IMEI of your iOS device does not match the Serial number or IMEI that your IT Admin has allowed. Please contact your IT Admin with this error for further support.
---
---