Location Reports
The devices enrolled through Scalefusion MDM are sometimes not located at one single place. However, there are mechanisms on Scalefusion Dashboard through which the locations of devices and other related details can be identified. Location reports give an account of all location related information tracked under Scalefusion Dashboard, in a systematic form.
This document gives description of all location related reports.
We have the following location reports:
Location
Geo-Fence Logs
Who can access
The reports are tied up to the plan that a customer purchases and hence divided in three categories:
Basic: All customers in Pro and Business plan. New Users are allocated Basic during the trial period
Legacy: All customers in a non-Enterprise plan
Advanced: All customers in Enterprise plan
Location
Location report gives complete location information of selected device
Platforms: Android, iOS, Windows
Category: Legacy or Advanced or Basic
Steps:
Navigate to Reports & Workflows > Reports and click on Location
Select Filters
| | |
| --- | --- |
| Filter | Description |
| Date & Timeframe | Select a date and time frame (From and To) for which you want to check Location details. By default current date is selected |
| Show Report For | Select a device from the drop-down |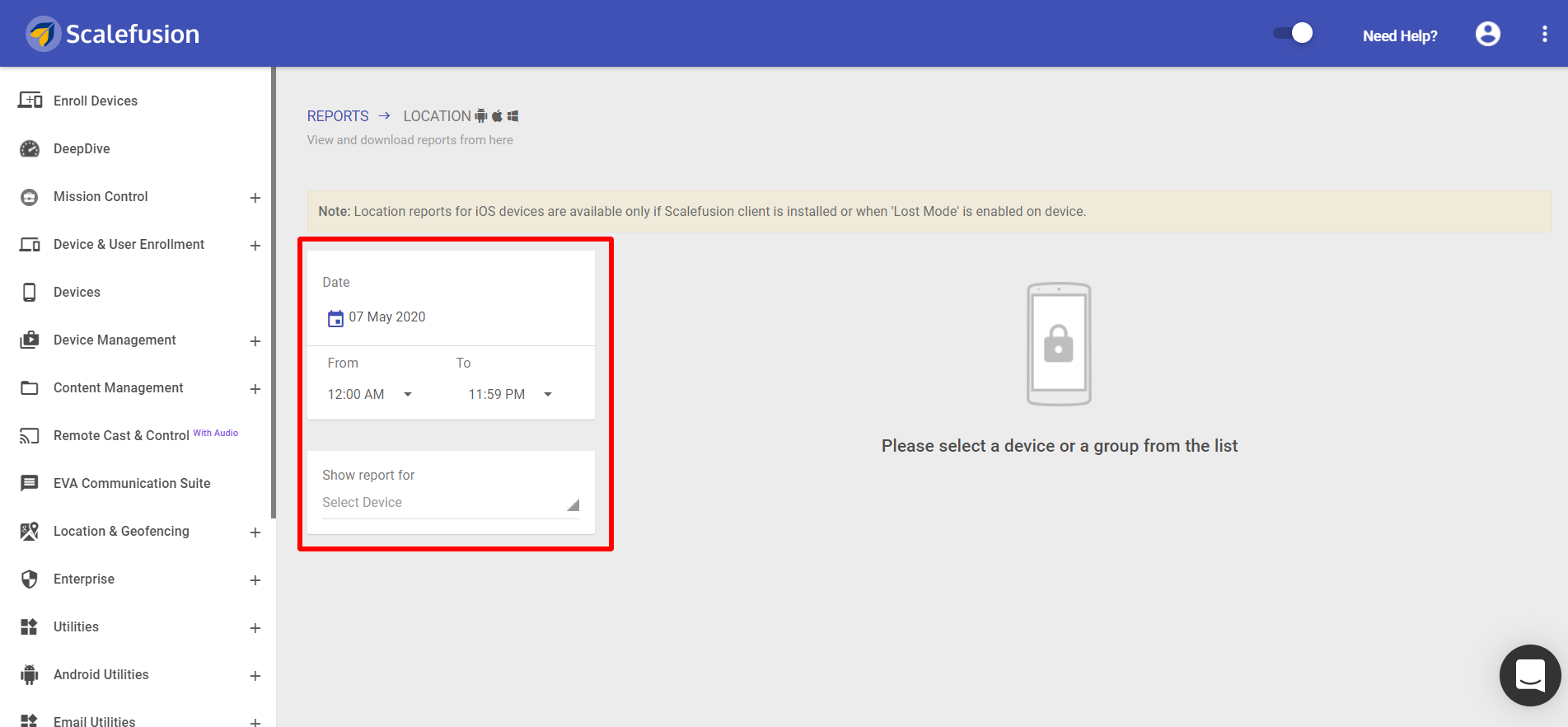 Report Output
Once you select device, all the location details will show up:
IMEI number
Last Seen date and time,
Location co-ordinates (Latitude and Logitude)
Address

An icon on the top left in results indicates Location Tracking setting of the selected device:
- If Location Tracking is Enabled - It is Green
- If Location Tracking is Disabled - It is Grey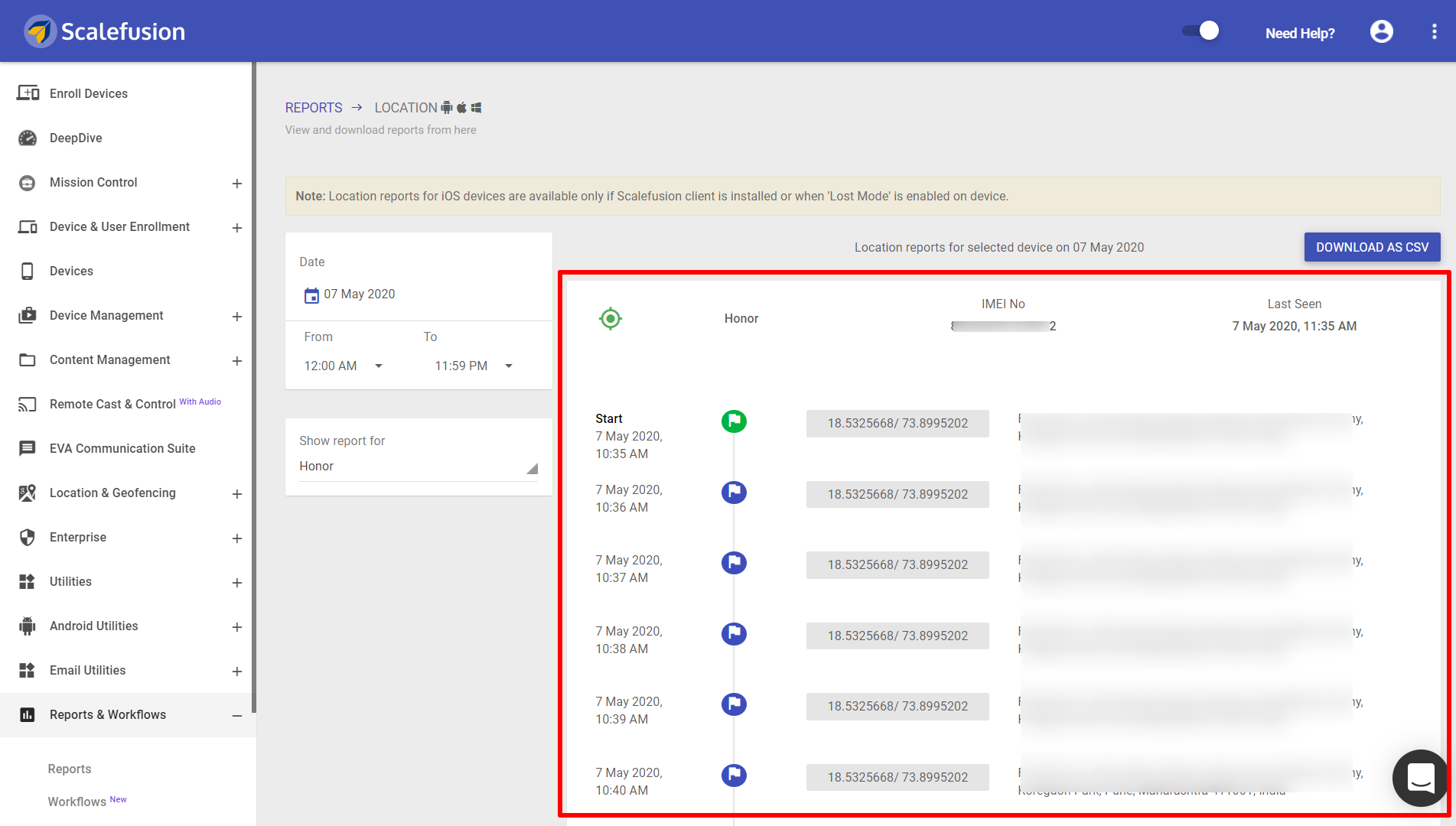 Additional Features
Download - The Location report can be downloaded in CSV format from 'Download as CSV' button on top right
For iOS devices, Location reports are available only if Scalefusion client is installed or when 'Lost Mode' is enabled on device.
Geo-Fence Logs
Geofences can be created on Scalefusion Dashboard by defining Latitudes, Longitudes, Radius etc. and then applied on enrolled devices. This enables admin capture the device's move in/out activities. Geo-Fence Logs report tracks and lists all geofence related details.
Platforms: Android, iOS
Category: Advanced
Steps:
Navigate to Reports & Workflows > Reports and click on Geo-Fence Logs


Select Filters


Filter

Description

Select Geofence

The Geofences created by the user under Location & Geofencing -> Geo Fencing are listed here. By default, All is selected, that is, the logs for all geofences are displayed. You can select one for which you want to view the logs.

Select Group

Lists those Device Groups and Sub-Groups on which the devices have geofence logs reported. You can select one Device Group.

Select Device

Lets you select a particular device for which you want to see the geofence logs. Only those devices on which geofence logs are reported, are listed here.

If you select a group then devices which are part of that group, are listed.

You can select a device without selecting group also.

Select Status

If you want to see report for Moved In or Moved Out status separately, you can select the status here. By default All is selected, that is, report for both status types is displayed.

Select Date

Select the Date Range.

By default, 90 days date range is pre-selected for Enterprise plan users while it is 60 days for Business plan users.

After selecting the filters, click on SHOW LOGS
The report will be generated.

If no filters are selected, the report displays details of all geofences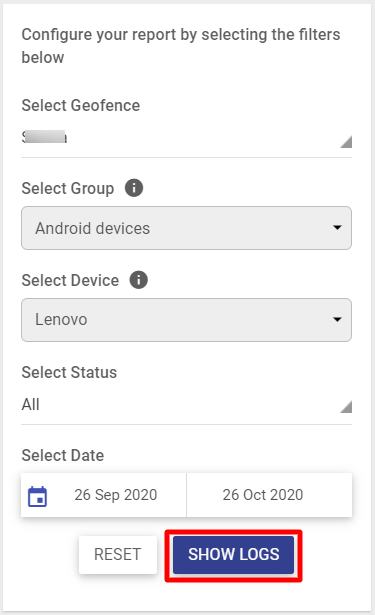 Report Output
Following details are displayed in tabular format on clicking Show Logs:
Geofence Name: The name of Geofence
Device Group
Device
IMEI No: IMEI no. of the device on which Geofence activity took place
Status: Status of geofence activity, that is Moved In / Moved Out
Timestamp: The exact date and time at which Geofence activity took place. The time will display as per user's preferred time zone selected in Account Details on Scalefusion dashboard. However, if user has not set any timezone then it will display in UTC timezone by default.
If Device Group and/or Device is selected in filters, they will not display in report output. However, they will reflect in the downloaded CSV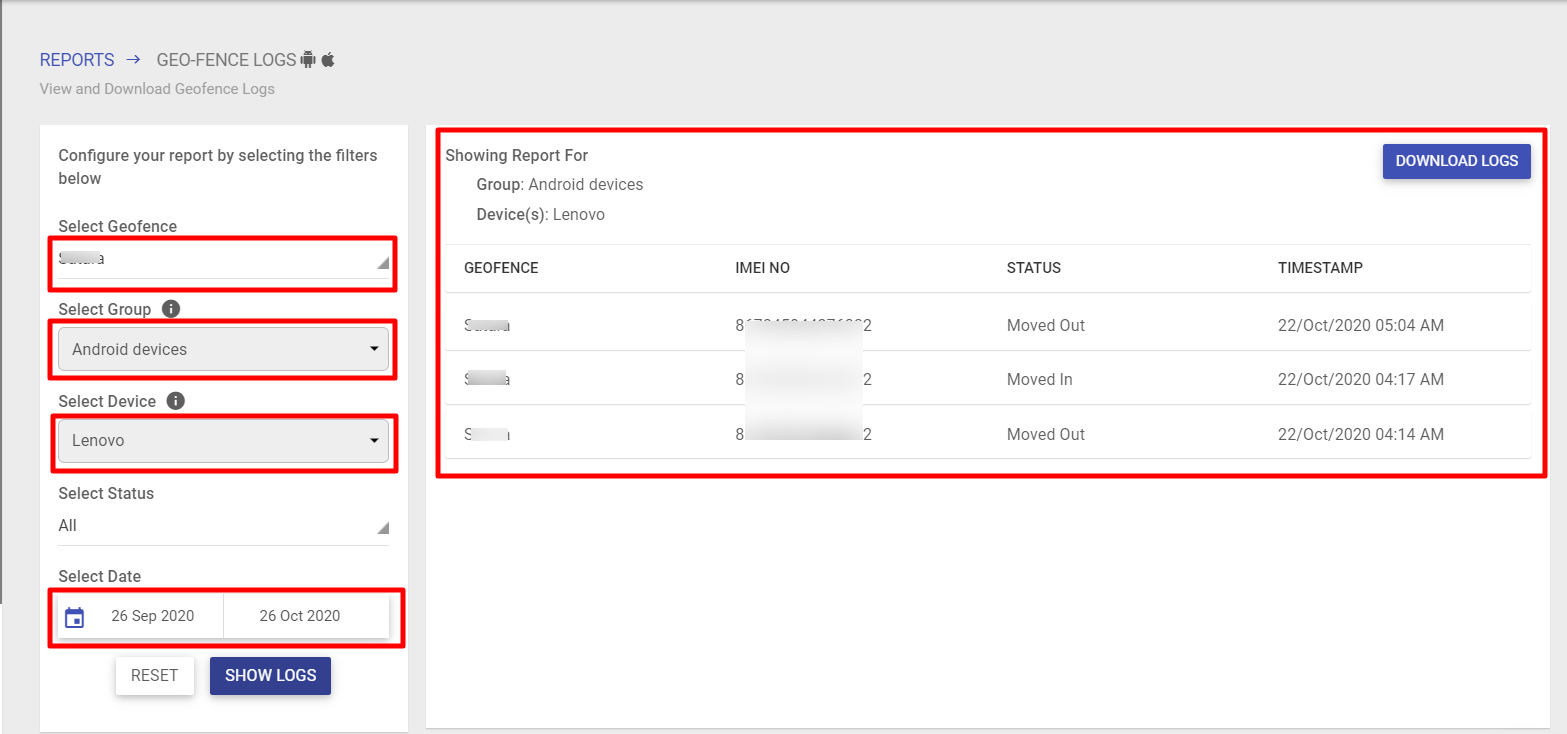 Additional Features
Download Logs - These geofence logs can be downloaded in CSV format by clicking DOWNLOAD LOGS button.

The naming convention of the downloaded CSV files is automatically given based on the selected filters. For example, for a Geofence Logs Report with following filters:
Geofence Name - Japr
Device - QS_kiosk-02
Date - From 26th July To 24th October

The filename assigned would be
Japr_QS_kiosk-02_geofence_logs_report_26-07-to-24-10

Reset filters - The filters selected can be cleared and re-selected. The Reset button clears all filters.
---
---