User Reports
On Scalefusion dashboard, lot of different activities are performed by users. Some such activities can be enumerated as publishing/unpublishing applications, enrolling devices, deleting devices, signing in/out and many more. The user reports give an account of all such activities thus helping in analyzing the general trends followed by users on the dashboard.
This document gives description of all such reports with respect to users.
Who can access
The reports are tied up to the plan that a customer purchases and hence divided in three categories:
Basic: All customers in Pro and Business plan. New Users are allocated Basic during the trial period
Legacy: All customers in a non-Enterprise plan
Advanced: All customers in Enterprise plan
User reports fall under Basic, Legacy as well as Advanced category
In this series, we have the following report:
Account Activity
As the name suggests, the account activity report gives information of all activities performed by a selected user, on the Scalefusion dashboard.
How to access
Sign in to Scalefusion Dashboard
Navigate to Reports & Workflows > Reports
Click on Account Activity report


After clicking on Account activity report, a report of all the activities is listed, from the date the user (who is logged in) registered on Scalefusion dashboard, till current date. These can be filtered using following filters:
Filter Activities

Description

Date Range

Select the date range. By default the 'From' date shows the date on which user got registered on dashboard and 'To' date shows current date.

Activity

Lists all categories of activities performed by user. Select an activity and the results will filter:

Account Activity
Setup & Enrollment
Device Management
Device Actions
Application Management
Settings & Configs
FileDock
Remote Cast
Eva
BYOD
Workflows
Service Integration
Ticket Management
Security Incidents

Select User

All users (under all roles) created on Scalefusion dashboard are listed here. Select a user.

Report Output
The report details are generated in tabular format containing following details:
User: The selected user along with username
Activity: What activity is performed by the user (Content published, Device apps updated etc.)
Date: The date and time at which the activity took place. The time will display as per user's preferred time zone selected in Account Details on Scalefusion dashboard. However, if user has not set any timezone then it will display in UTC timezone by default.
Impact: The no. of devices impacted. This is not applicable on all kinds of activities. For the activity on which impact is not measurable, it shows N/A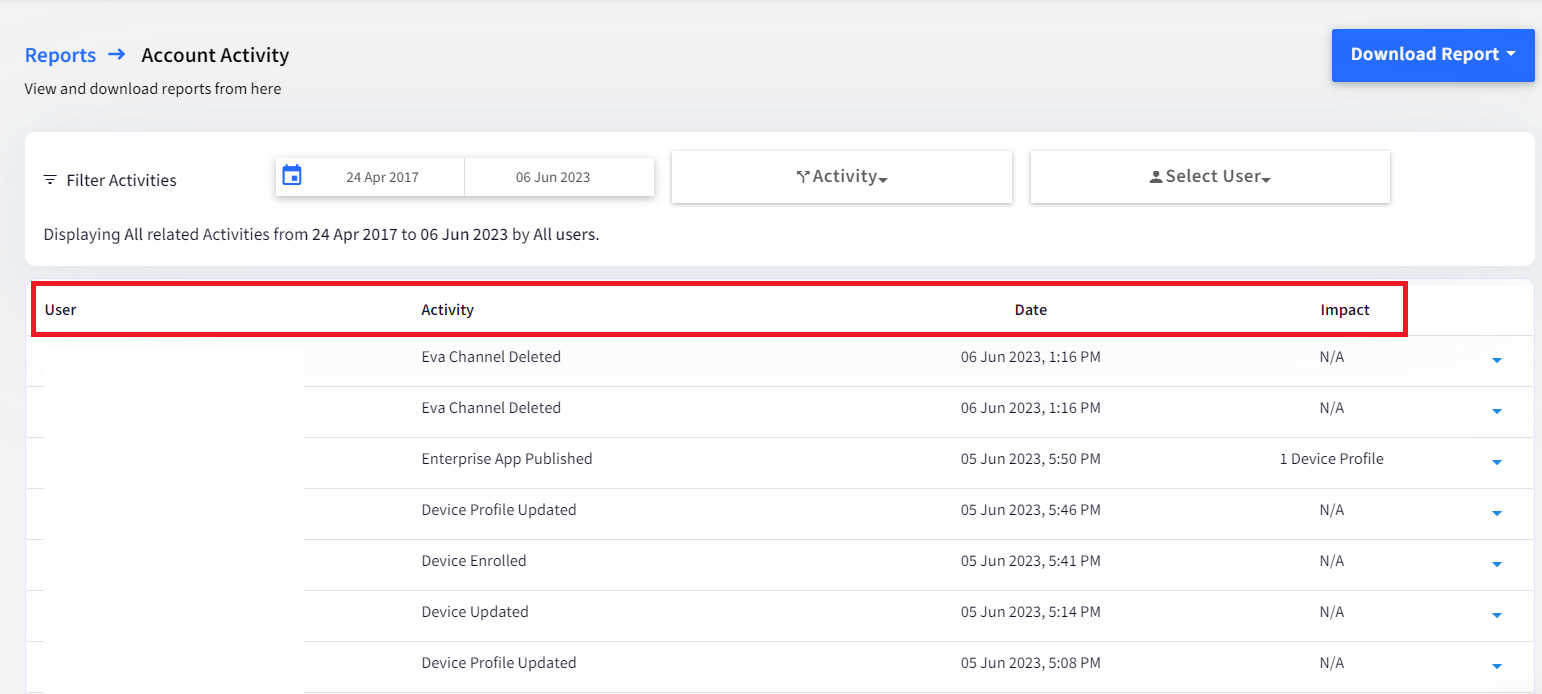 Clicking on the down arrow on the right gives additional information related to that particular activity. For example, if Content is published then clicking on the down arrow shows the device name(s) on which content has been published.

Additional Features
Download - The report can be downloaded in CSV format from 'Download Report' button.
Clear - Clears all the selected filters

---
---