Using afw#mobilock for Android Device Enrollment
Before You Begin
The Android Device must be running Android 6.0 and higher and is android Android Enterprise Ready
Devices are fresh out of the box(Without any account setup) or are factory reset.
These Devices should follow standard Android OOB experience, that allows you to enter GMail account during device setup.
Create a QR Code configuration as described here.
Enrolling Steps
Power On the device.
Switch on the device and select Language and Country.
Select your language and configure a WiFi. A WiFi connection is needed to download Scalefusion client.
When you see the screen asking you to configure GMail account, enter "afw#mobilock"
Wait for the Scalefusion client to be downloaded.
Click Install when prompted.
Once done you should see the Scalefusion landing screen, which shows a camera view. In this screen,

You can scan a QR Code if you have created a QR Code Configuration. You can scan a QR Code that you have created on Scalefusion Dashboard. To create a QR Code configuration refer this document.
If you would like to setup the device using a License Code or Sign-In credentials, then click on 3 dots menu option and navigate to the start page.

You may see this screen. Click Agree

On the Permissions Page, Set Scalefusion as Device Owner.
Complete the Setup (Grant all the permissions to the Scalefusion app). The Scalefusion app will minimize and take you to the home screen of the device. Search for the Scalefusion app on the device and launch it. You will be on the permission page again and click on the complete setup button.

If you have a GSuite id, on permissions page there would a toggle button to Sign In Into GSuite with your GSuite account id. You need to enable this and follow further steps. Once completed, click the Complete Setup button. Please see details in the below section Enrollment with GSuite

Scalefusion performs silent setup in the background to make the device managed, which usually takes 10-15 minutes. You can check the state of the setup by clicking on 3 dots menu and selecting Diagnostics and the AfW Setup card will display the status. 
You will see a Briefcase icon next to the device on the Dashboard if the setup is properly complete.
Enrollment with GSuite
After enabling Sign In Into GSuite, follow these steps to complete enrollment:
Enter your GSuite account id and tap Next
Enter password. Tap Next
This will bring up Google Services page. Tap Accept
Choose an account to continue to Scalefusion. Here, select your GSuite account id.
Once verified, you will get a green check mark next to Sign In into GSuite.
Hit Complete Setup
Enrollment with GSuite will work only if Android Enterprise Setup is done with GSuite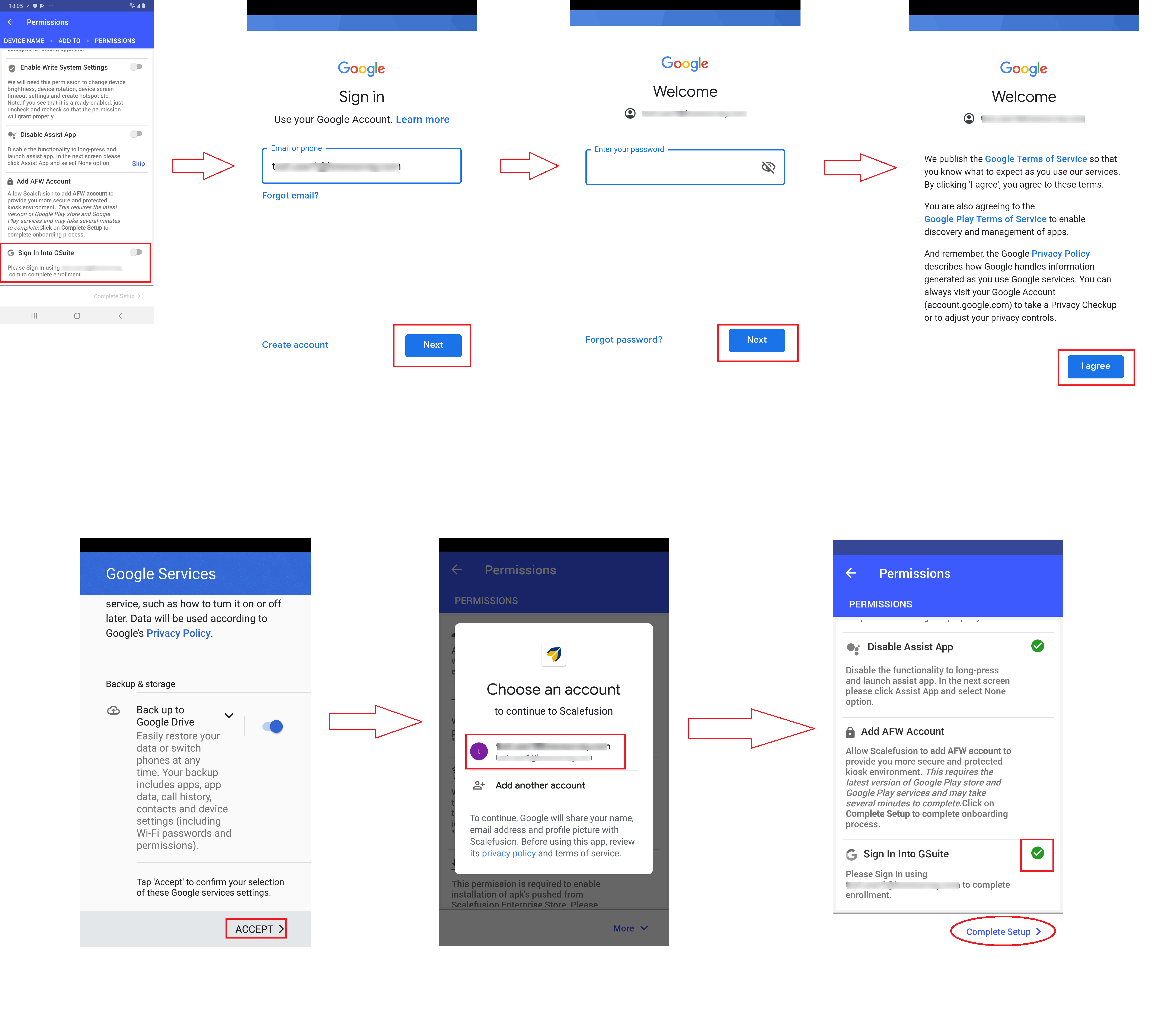 ---
---