Enrolling a Personal/Employee Owned Device
This guide helps you to enroll your personal device to MobiLock. You can use our video tutorial to understand the process easily or walk through the steps to get an idea.
If you have any questions or are having issues enrolling your device, please leave us a message at support@mobilock.in with your Device details and we will get in touch with you.
Before You Begin
Make sure you have access the corporate email.
Make sure that your IT Admin has invited you to enroll to MobiLock.
Visual Guide
Follow our quick visual guide to quickly learn on how to enroll your personal device and understand the basic interface.
Steps to Enroll you Personal Device
On your device, launch Google Play Store and search for MobiLock Pro. Click on the one highlighted as in image,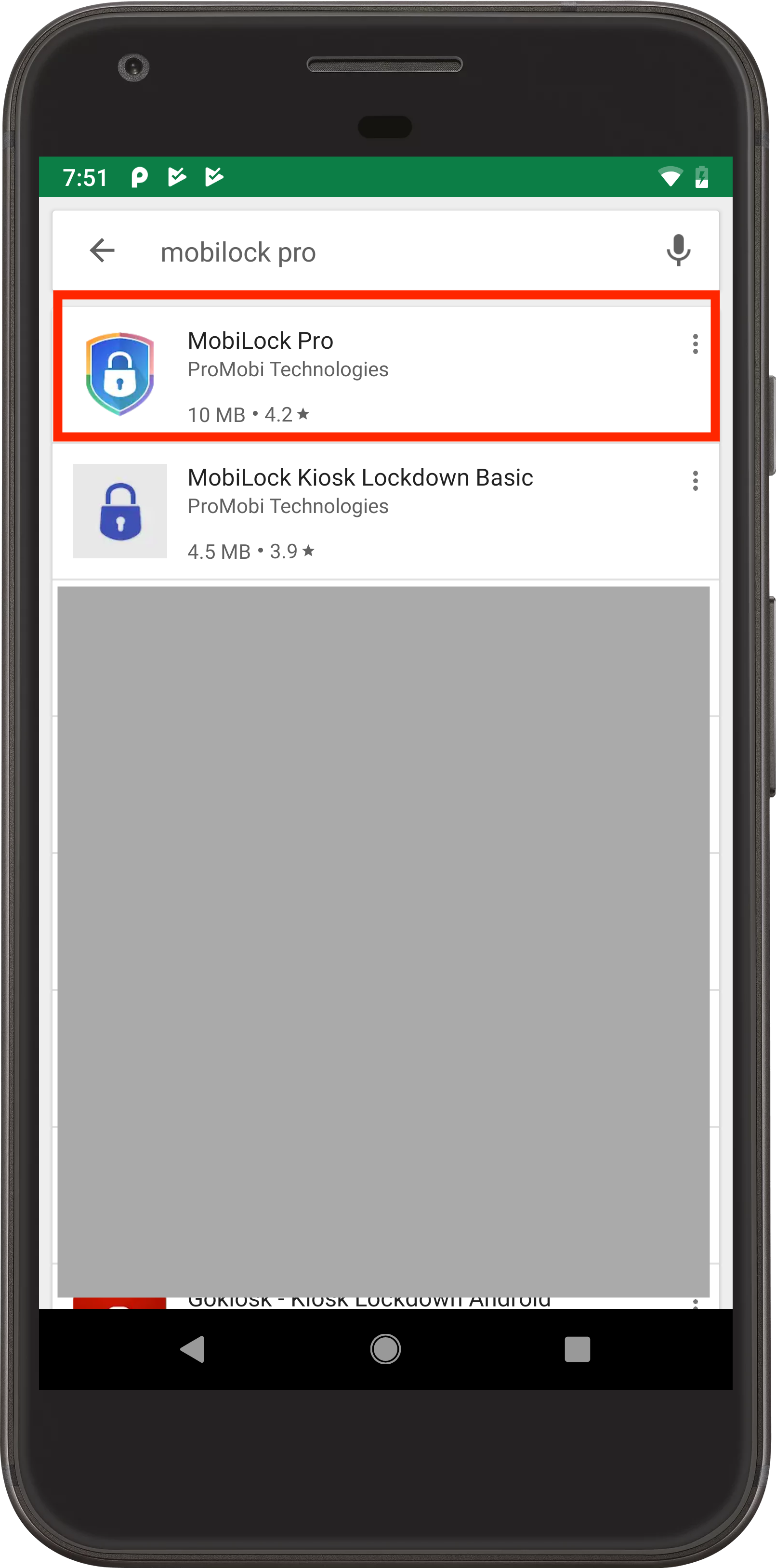 Click on INSTALL to install MobiLock Pro.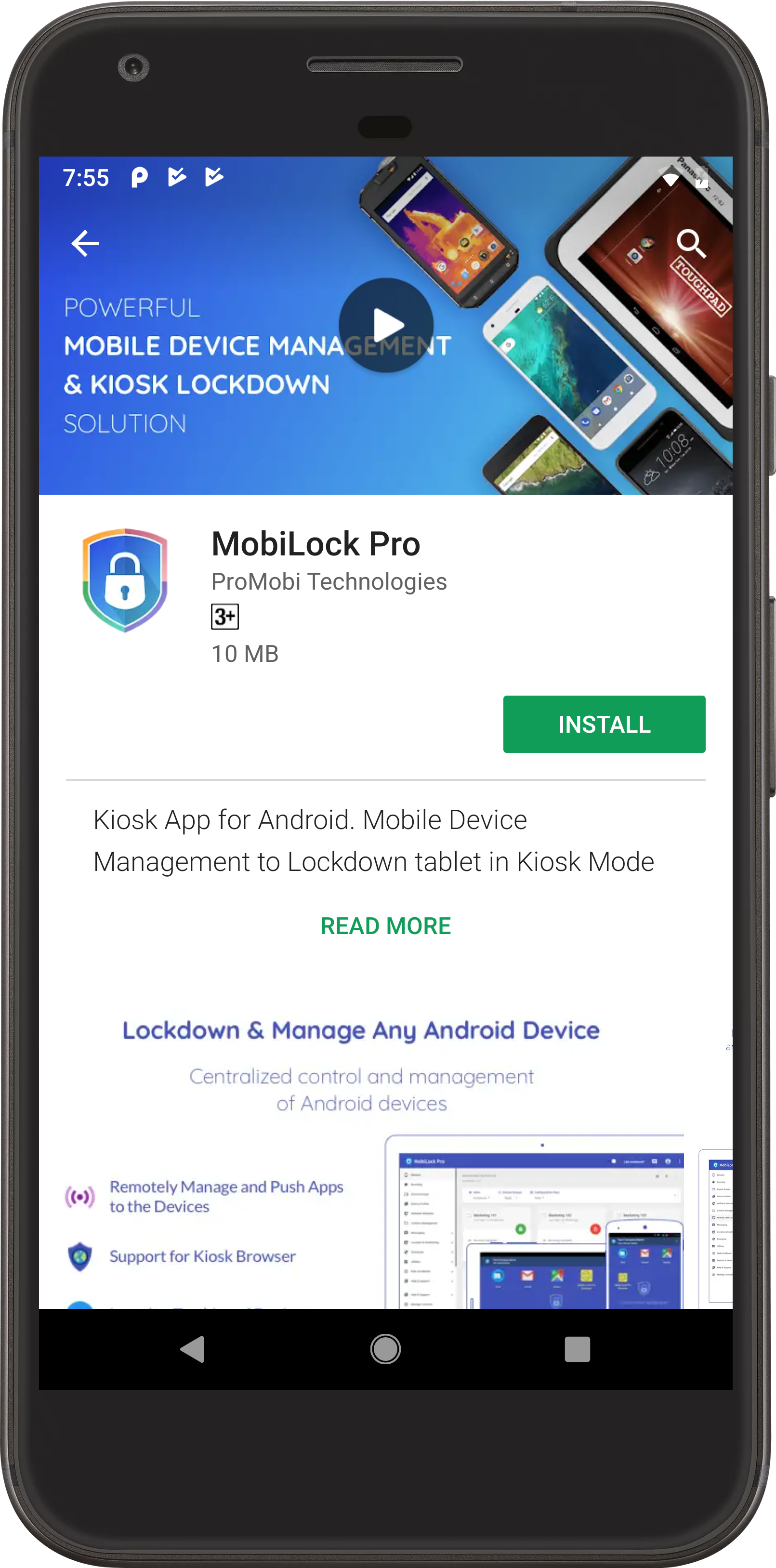 Once installed, click on OPEN.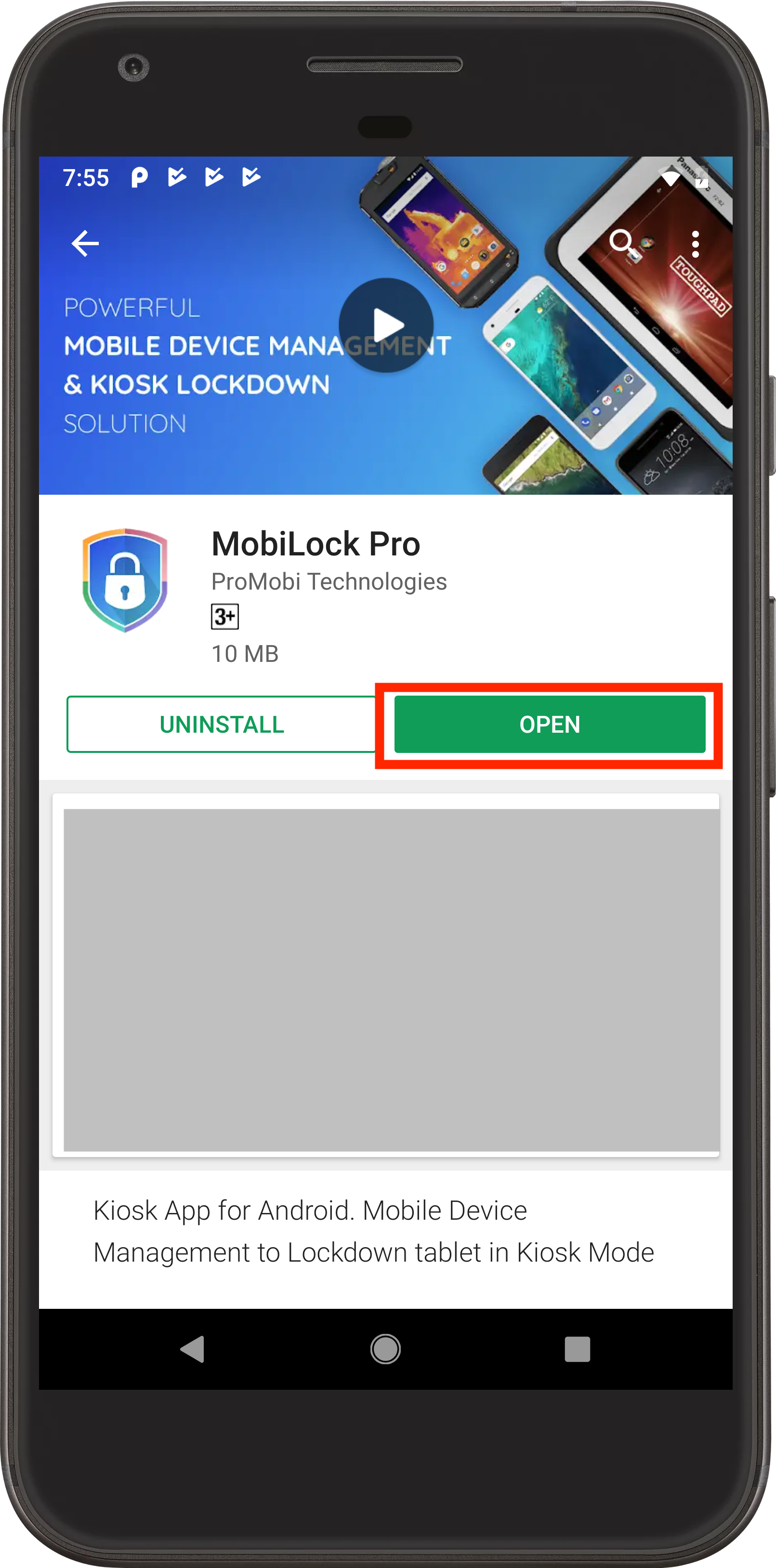 You will see MobiLock's landing page where you would see the option to ENROLL. Click on ENROLL > PERSONAL > QR Code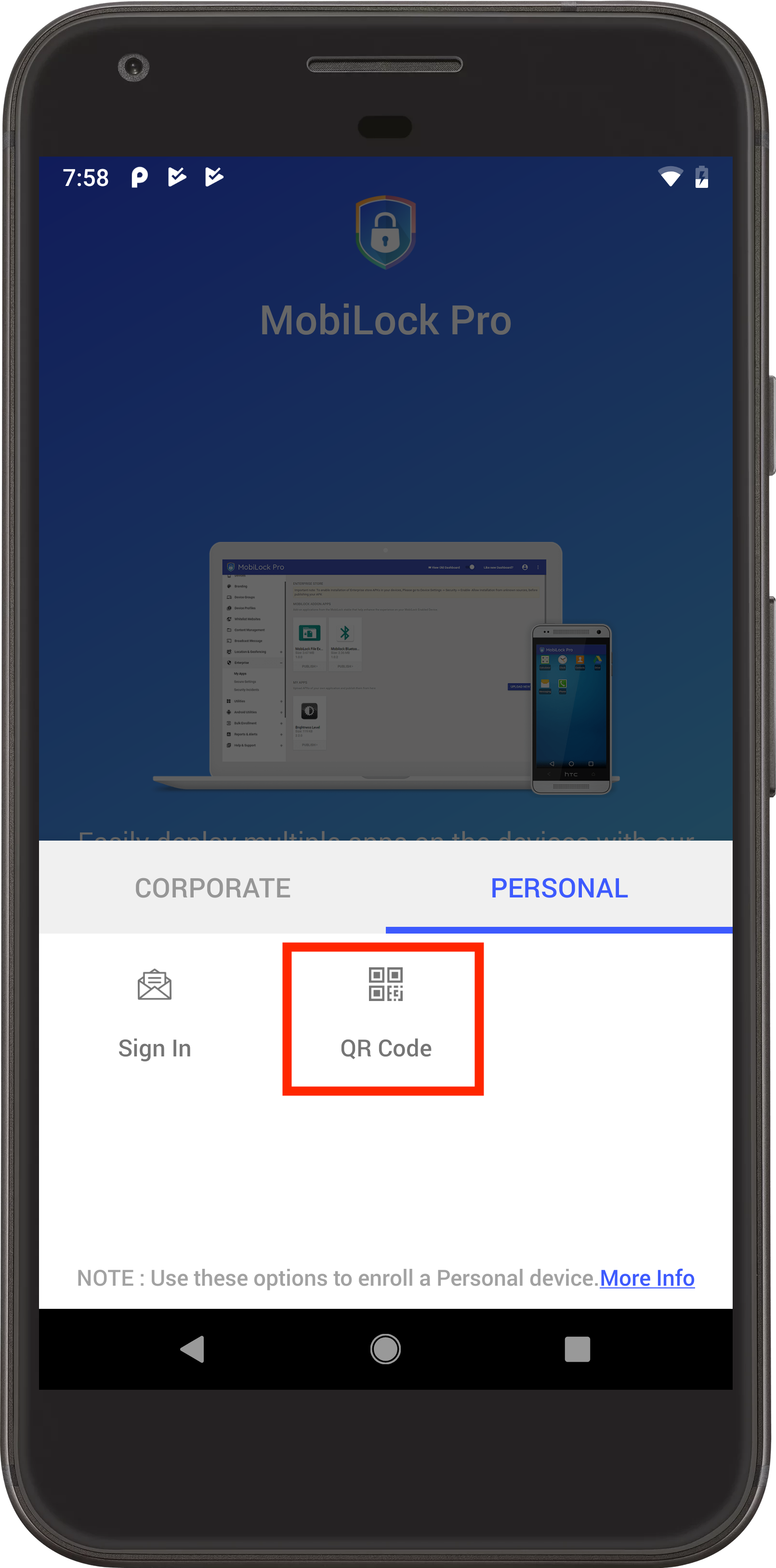 MobiLock app will try to access the device camera and the device information. Please grant the necessary permissions so that you can see the camera view. Open your email and scan the QR Code using the camera view in MobiLock.
If you cannot scan the QR Code, then click on Sign In and enter your email id on which you had got the invite and enter the org-id that you see in the email.
Once the QR Code is scanned and validated or the Sign In values are validated, you will be taken to a Terms of Use page. These are the Terms of Use of your organization, read carefully and Click on I agree and choose Next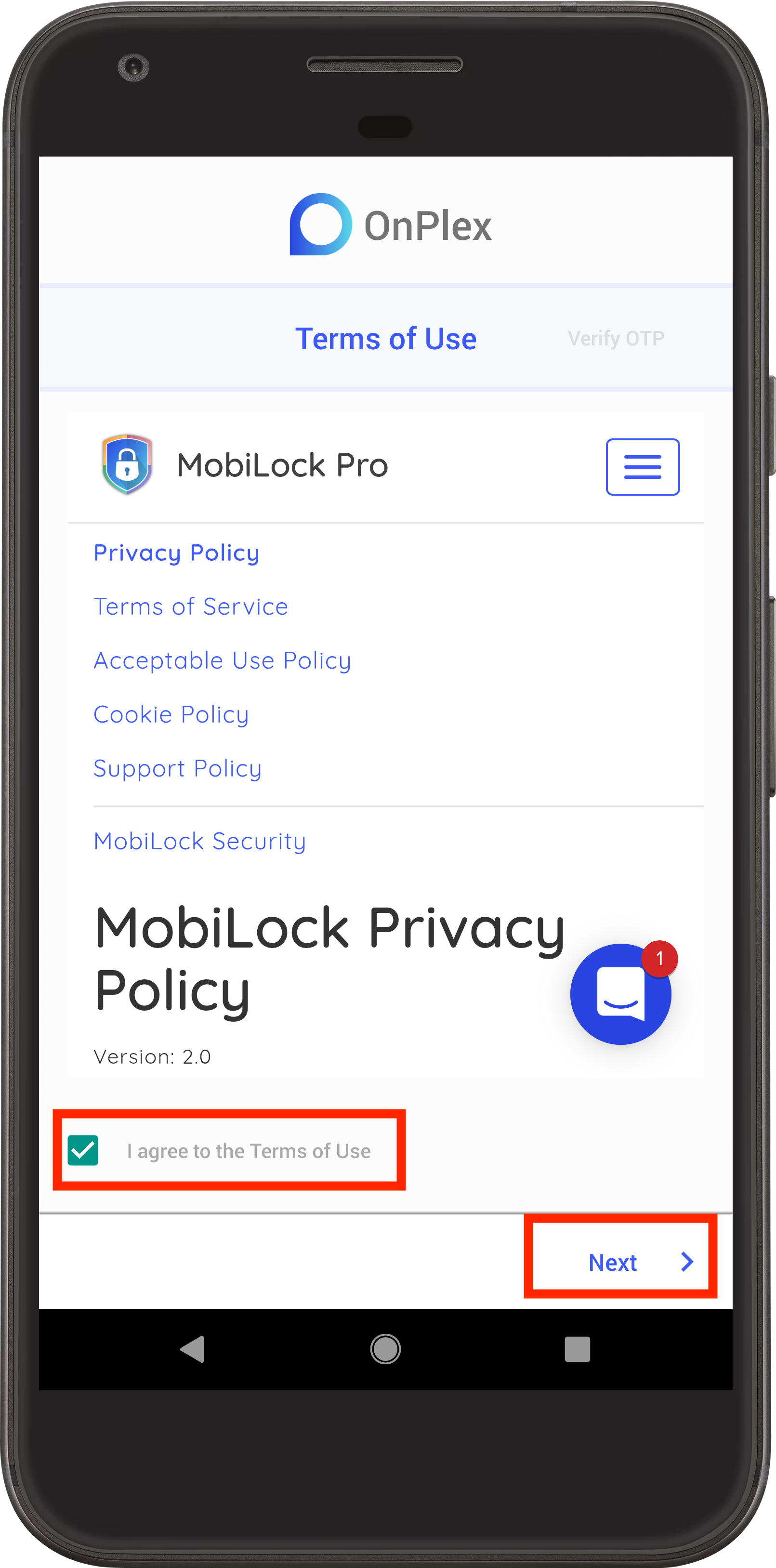 The next screen is to enter the one time password. An OTP will be sent to the email id to which you had received the Invite and scanned the QR Code. Enter the OTP and click VERIFY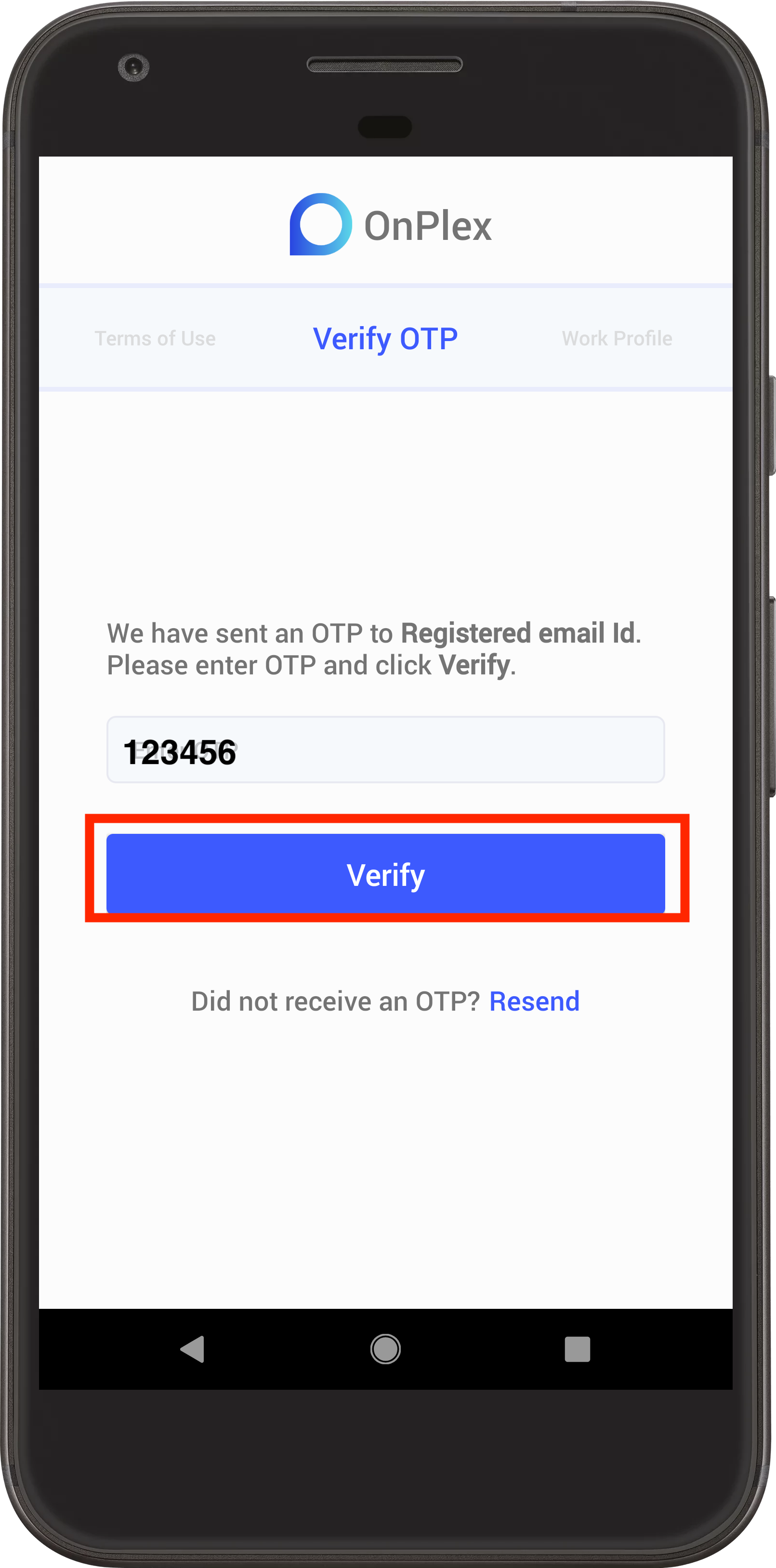 Once the OTP is verified, you will be asked to create a Work Profile. A Work Profile is a special container for all your Work Apps. This way Android keeps your personal and work apps separate. Click on Create when ready.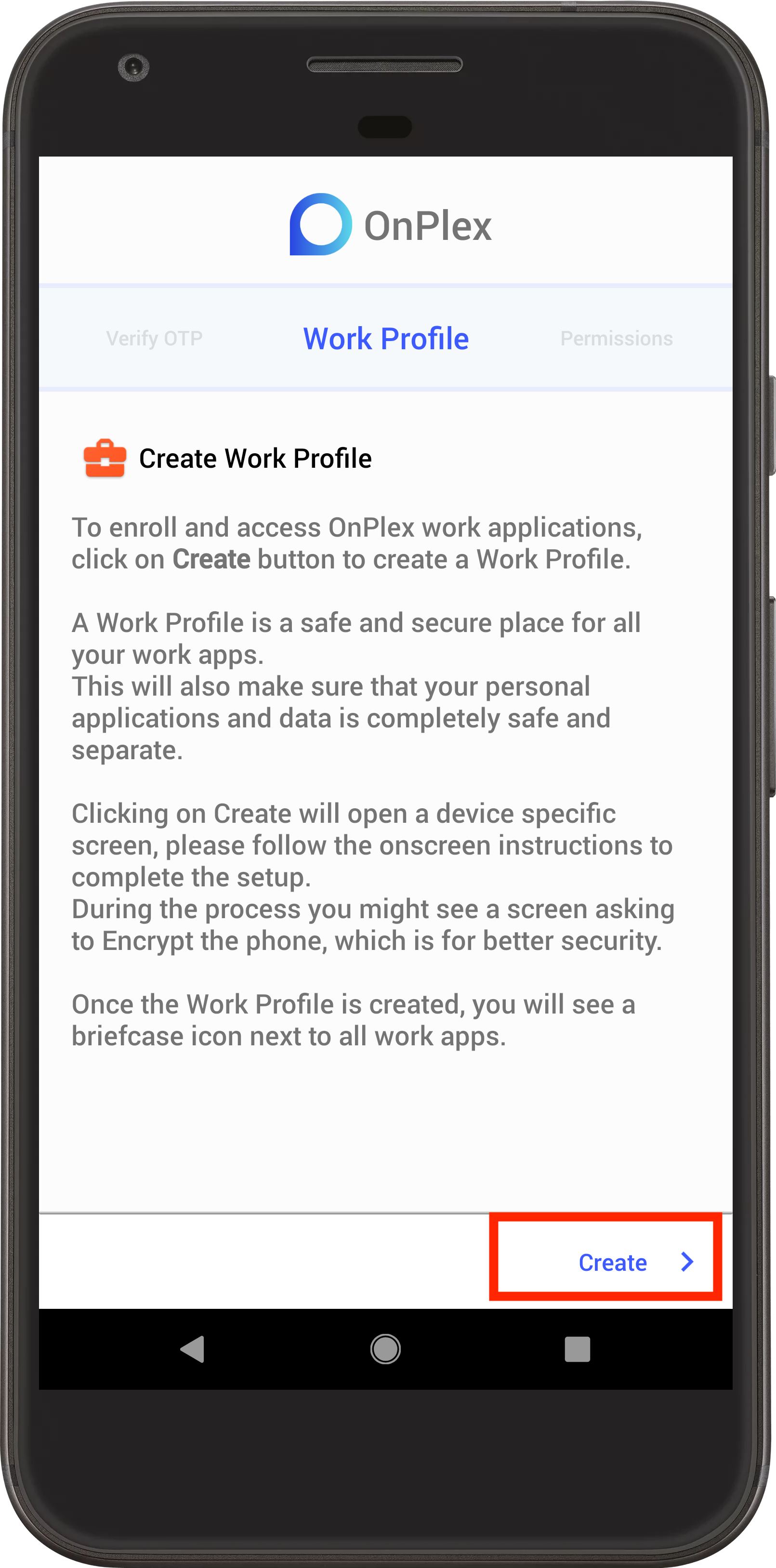 You will be taken to a device specific screen, this screen might differ from device to device, but click on CREATE or Accept & Continue on the device specific screen. The image below is of a Google Pixel.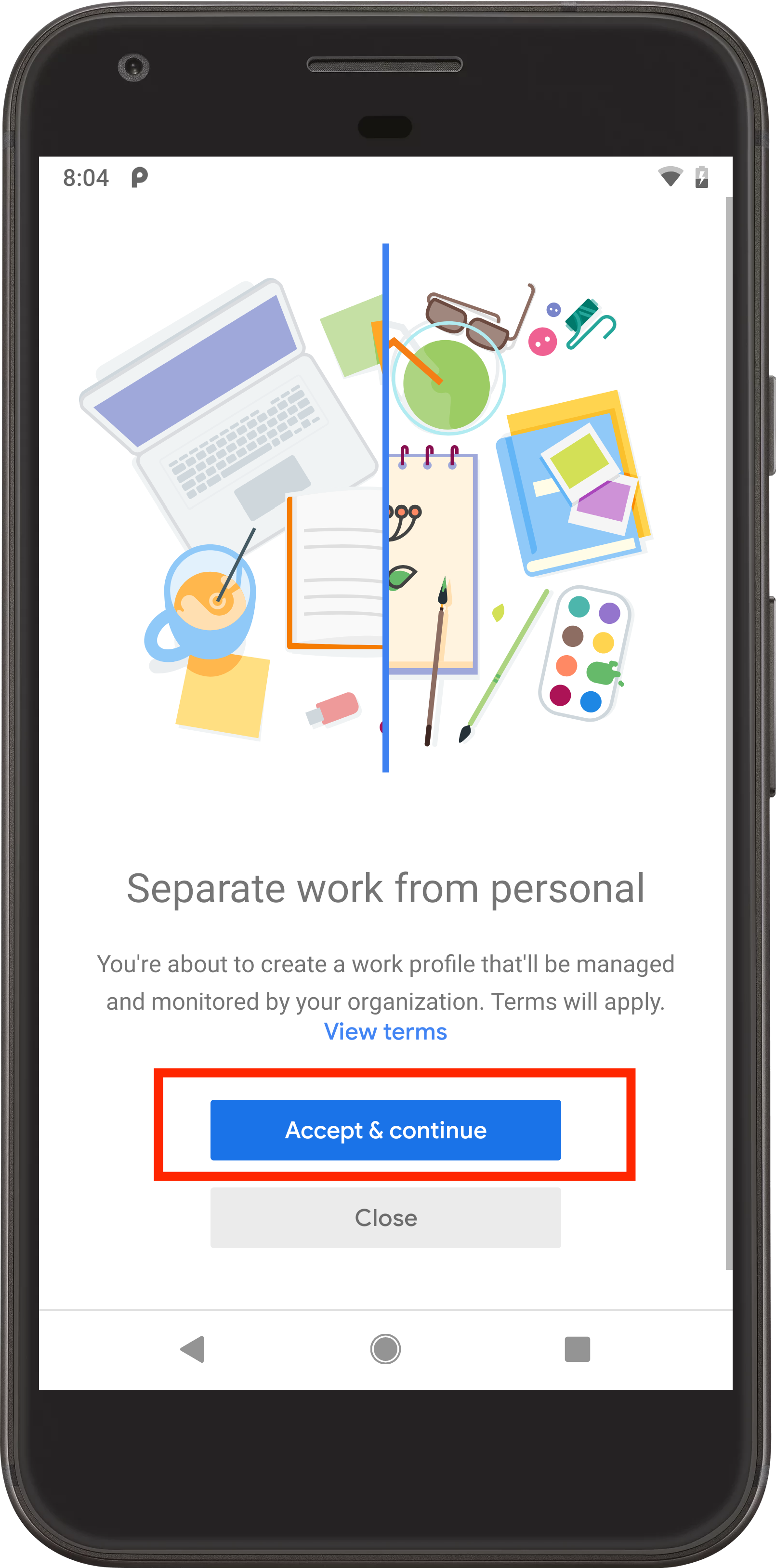 This process will take around two to three minutes. At this point Android is creating a special container for all your Work apps and data. Please wait until MobiLock app is relaunched and you see the screen in the step below.
Once the Work Profile is created, MobiLock will be relaunched and you will be shown the Permissions screen. You need to click on the toggle button on each card and give the permission to MobiLock. MobiLock asks for the following permissions on this screen,

Usage Access: To collect vital information about your Work Apps. NO data about your personal apps is or can be collected by MobiLock.
Install Applications: This gives MobiLock to install your Work Apps that are approved by your IT Admins. This is shown only if you are using Android 8.0 (Oreo) and above.
Set Work Apps Password: This is an optional field and will be shown if your admin has enforced a password requirement for your Work Apps. Work apps password is a special password and is required only when you are accessing Work Apps.

Once you set the Work Apps password, you might be asked to confirm the password again. This is required so that MobiLock can reset the password in case you forger the password in future.

Set Device Password: This is an optional card and will be shown if your admin has enforced a password requirement for your device.


If you have a GSuite id, and you sign in with it, Scalefusion automatically gets downloaded and on permissions page there would a toggle button to Sign In Into GSuite with your GSuite account id. You need to enable this and follow further steps. Please see details in the below section Enrollment with GSuite

If you have given all the permissions and set the password, you will see all green ticks and the Next button will be highlighted. Click on Next to complete setup.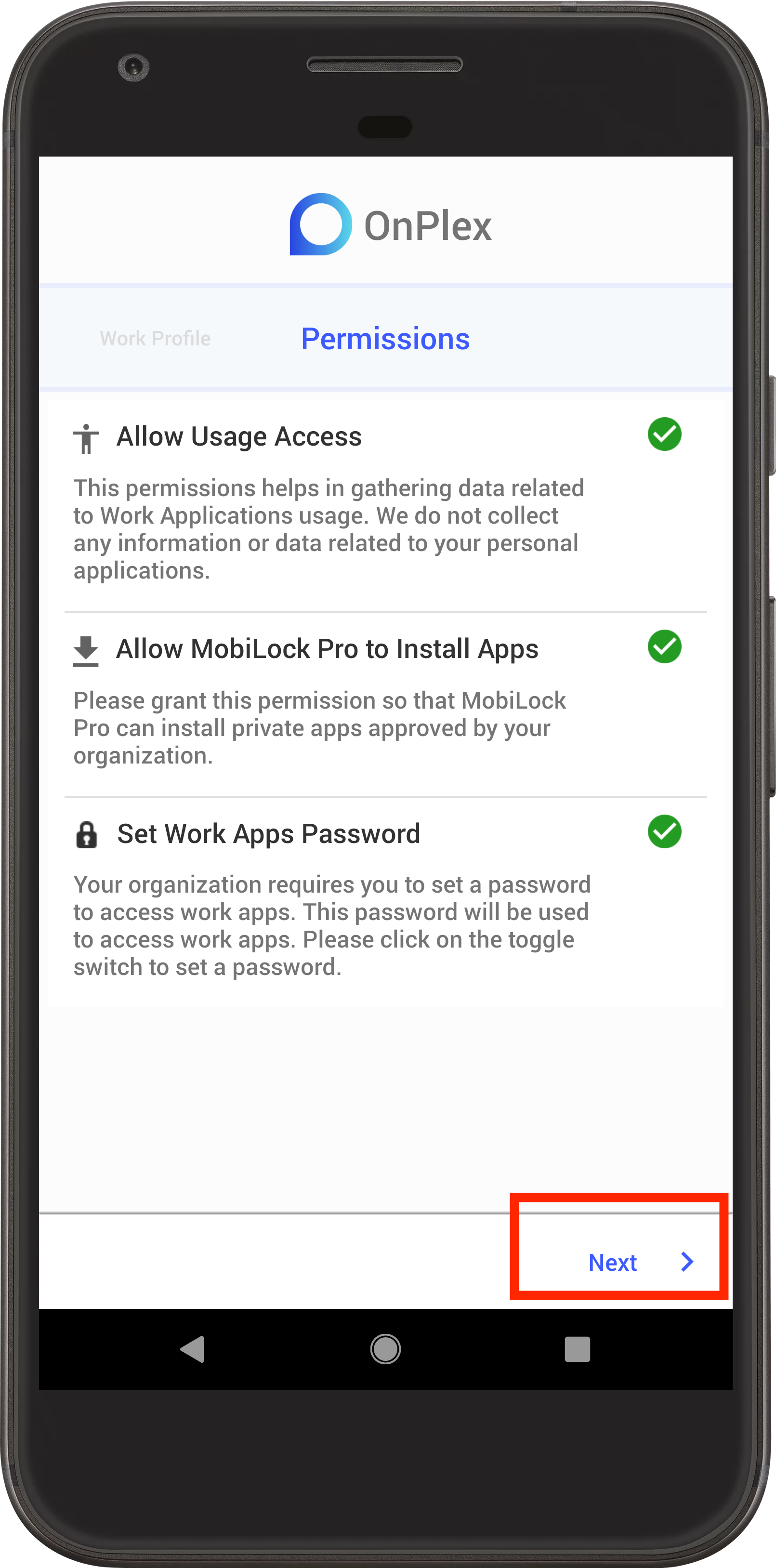 Once the setup is done, you will see the MobiLock Workplace. Workplace is a screen that has all your work apps for quick access. It also has the website bookmarks that the IT Admin might have enabled for your. Here you can also see the Messages that your IT Admin has sent and have a look at all the Policies applied.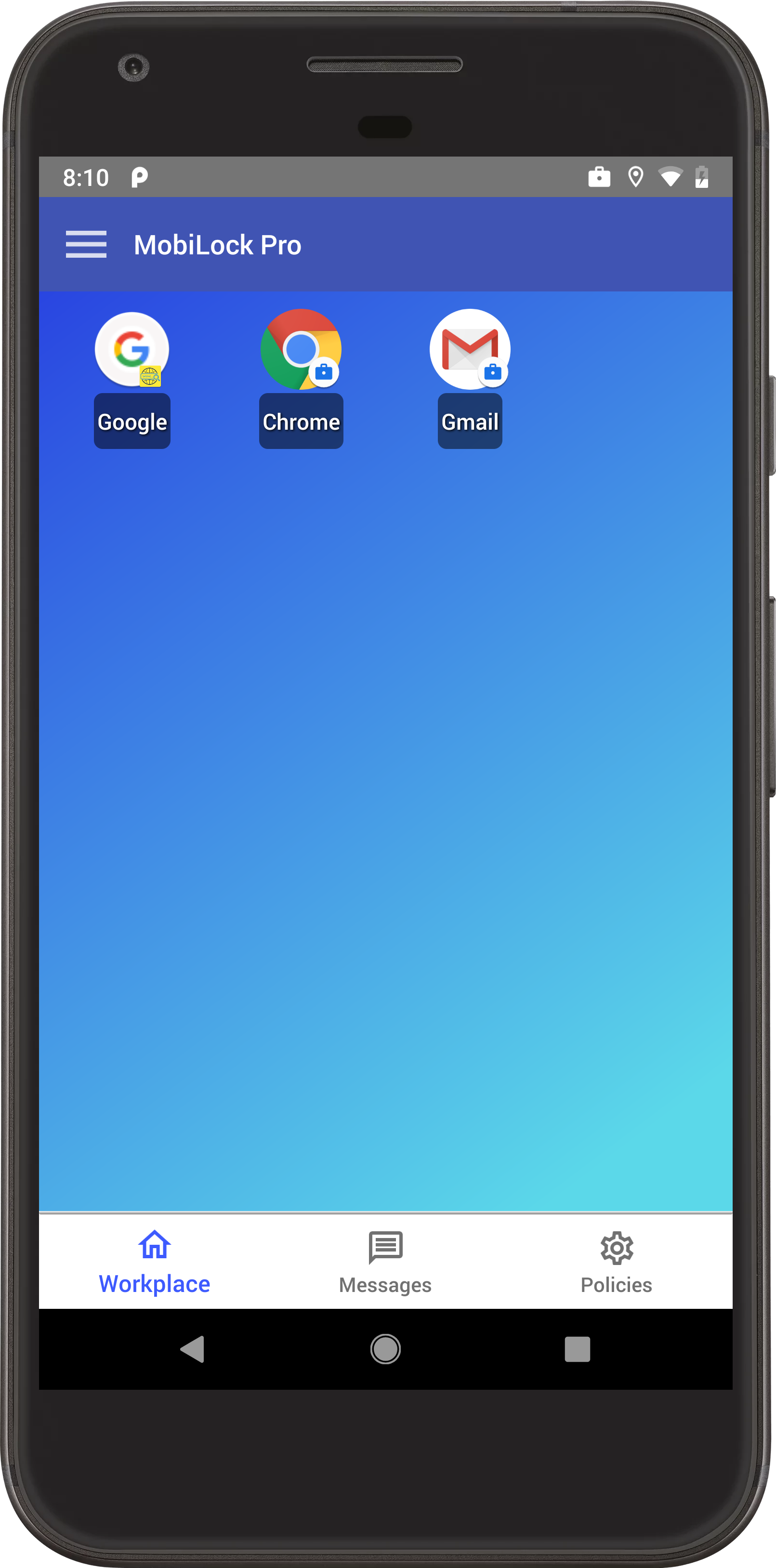 Once you minimize the MobiLock application, you would see that now your device's app launcher will start showing applications with briefcase icon. Any app with such icon is a work application. The User experience of native OS launcher differs from device to device. The screenshot below is of a Google Pixel XL.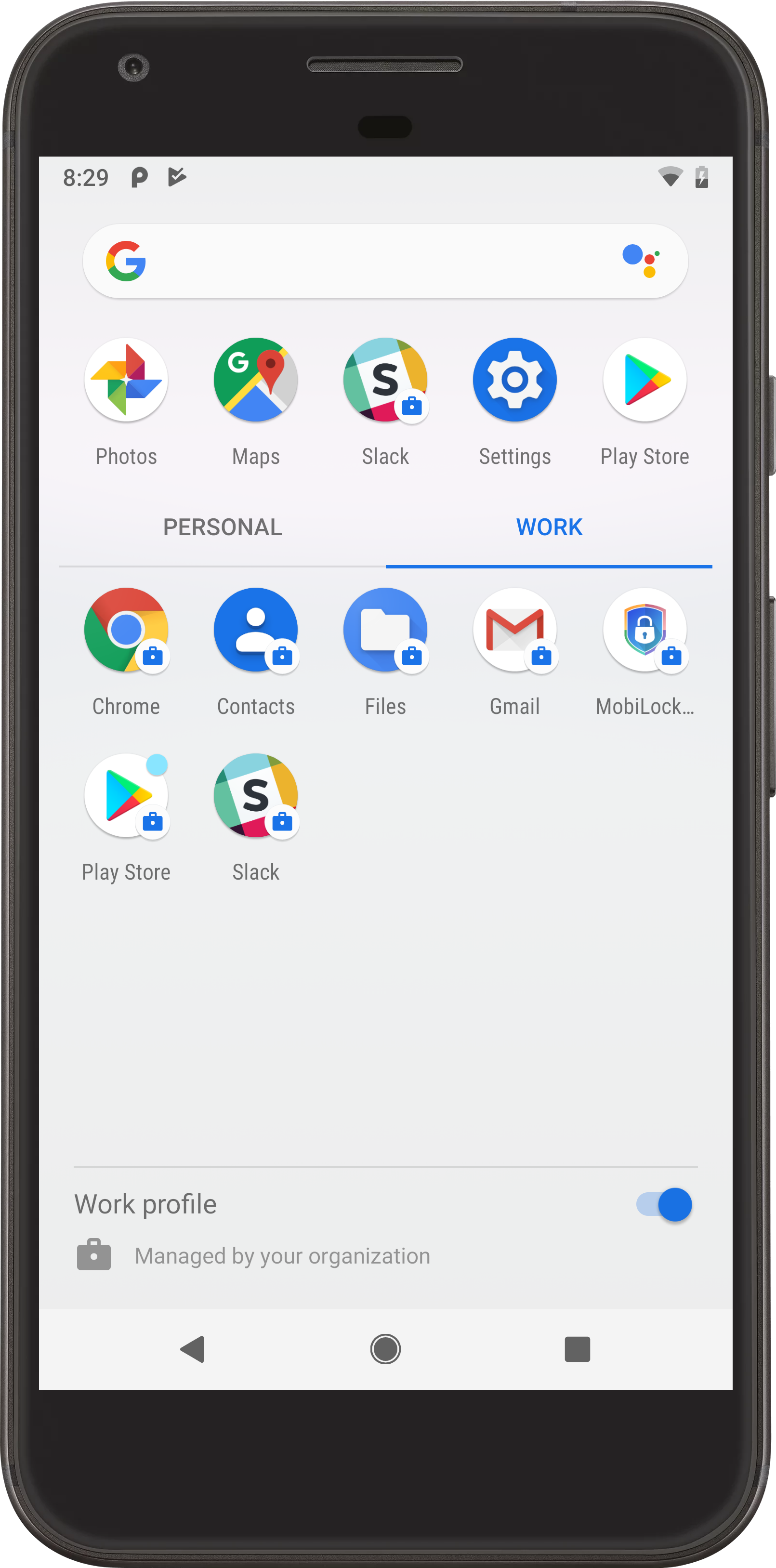 Enrollment with GSuite
After enabling Sign In Into GSuite, follow the steps to complete enrollment:
Enrollment with GSuite will work only if Android Enterprise Setup is done with GSuite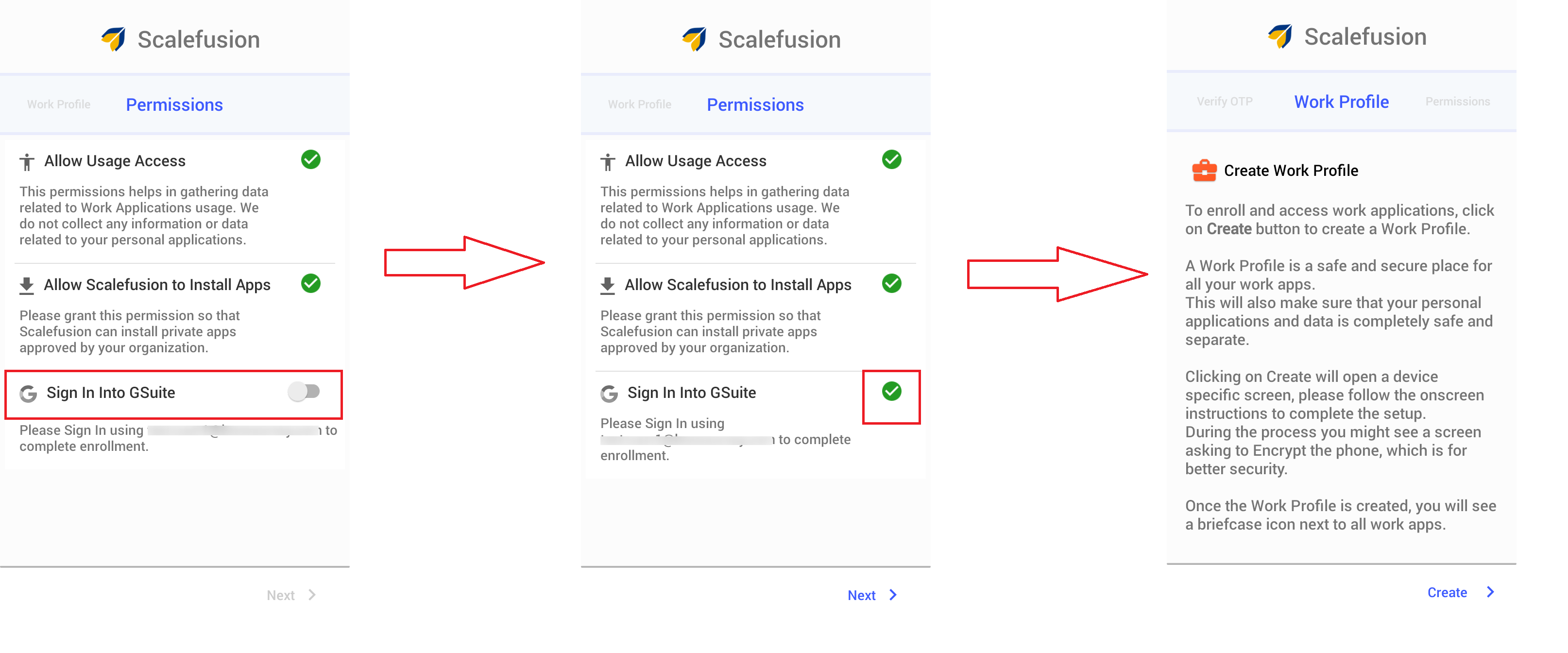 Frequently Asked Questions
Question: I do not see any Work apps or applications with briefcase icon. I only see MobiLock app with briefcase icon. What can I do to see all my work apps?
Answer: Your IT Admin might update the company password policies and if your current password is not compliant, then all the applications are disabled. Launch MobiLock Workplace and update the password again to access all your Work apps.
Question: I do not see MobiLock with briefcase icon?
Answer: This may happen for two reasons,
If you see MobiLock normal icon, make sure that you have setup MobiLock. Click on it to launch and enroll.
If you had previously setup and your IT Admin has removed access to your device, then the Work Profile is disabled and MobiLock is also removed. However as per current Android requirements, we cannot completely remove MobiLock. To completely uninstall MobiLock, launch Google Play Store and search for MobiLock Pro and select to UNINSTALL.
---
---