Enrolling Personal/Employee Owned (BYOD) Windows 10 Devices
If you have got an invite from your IT Admin to enroll your device/s as shown below, please follow the steps below to enroll your Windows 10 device.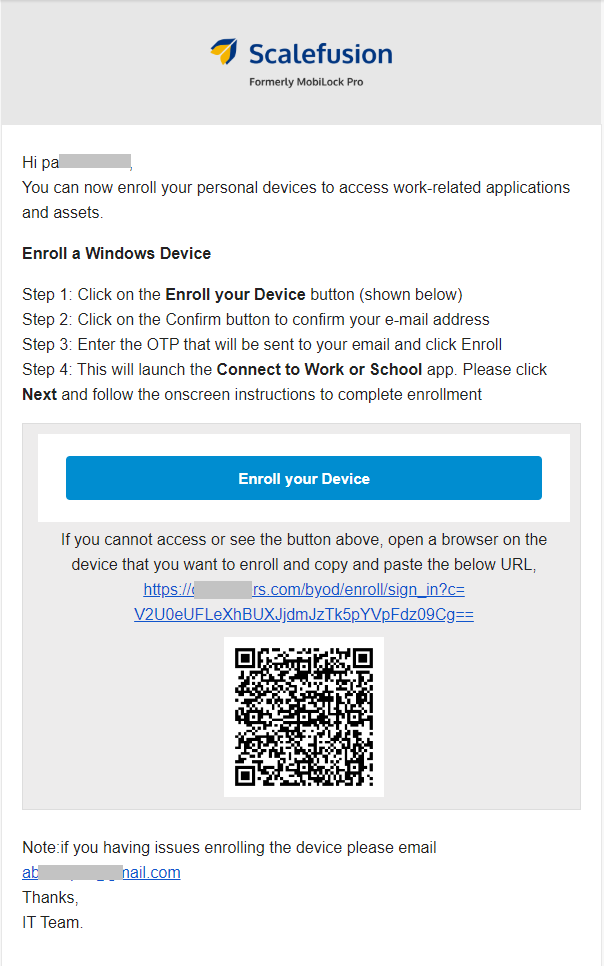 Enrollment Steps
To start the enrollment process, Click Enroll your Device if you are accessing the email on the Windows 10 device that you are trying to enroll.

This will open your default browser and loads up a page to begin enrollment. Verify your email address and Click CONFIRM to receive an OTP.


If you cannot access page with step 2 then open browser on the device that you want to enroll and copy and paste the URL from the email.
We recommend using Microsoft Edge to enroll your devices.

GSuite / O365 / SAML
users who have the setting
Enforce Users to sign in using GSuite/O365/SAML SSO
enabled in
User Management
on Dashboard, will be asked to authenticate by signing in with their GSuite/O365/SAML credentials. Hence, step #2 and #3 (OTP flow) will not come up. Once authenticated, Terms of Service will reflect.
In this screen, enter the OTP that you received and click CONFIRM

Read the Terms of Service set by your organization and click ACCEPT


On the enrollment screen, click ENROLL.
This will start the enrollment process and show you the first below screen. Do not edit any fields and click NEXT

At this point enrollment of the device will start and you will see processing screen.
On a stable internet connection, it should take around a couple of minutes to complete registration. Click Got It when you see below screen.
This completes the enrolling. At this point the device will start communicating with ScaleFusion Dashboard and will take about another couple of minutes for the policies to be applied.
Validating the Enrollment
Once the device is successfully enrolled, it will start appearing on ScaleFusion Dashboard under Devices section as a Managed device.
On the enrolled Windows 10 device if you open the Connect to work or school application, it will now display the device management state.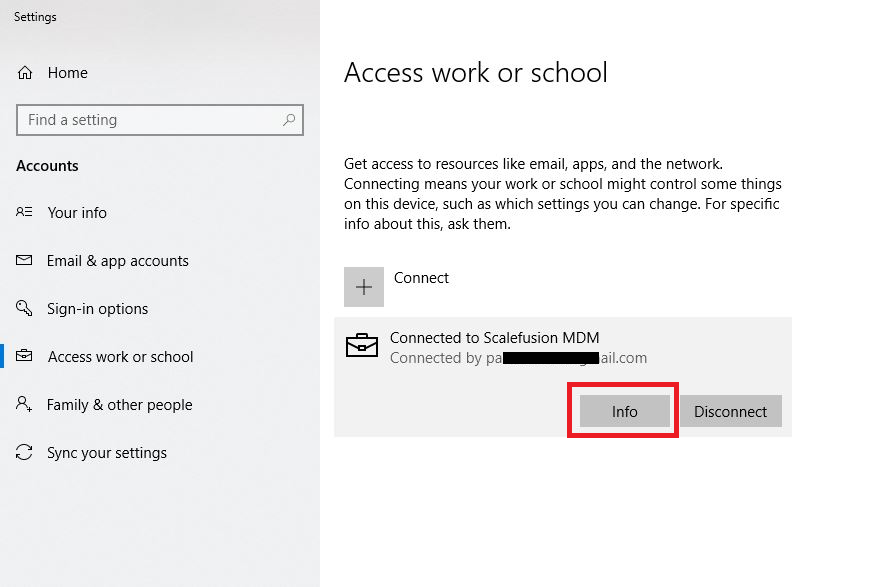 Clicking on the Info button in the above screen, will show you that the device is managed by Scalefusion and will show you the Device sync status.

If you see that the device is not syncing the latest policies, you can use the Sync button in the above screen to initiate a manual sync with Scalefusion Dashboard. 
---
---